Helping Hispanics in Cannabis (Newsletter: October 17, 2022)
Table of Contents
Thank you for tuning into the latest updates! Here is this week's cannabis news roundup:
TOP UPDATES
1. MLB becomes first big-league sports to sign CBD deal.
2. Former Oregon regulator to head New York City cannabis department.
3. 100 pounds of marijuana found on New York woman near Sidney.
4. Giving back to the community, Pharmhouse is collecting pumpkins for schools.
5. Does our health remain at risk while cannabis remains illegal?
NATIONAL CANNABIS NEWS
Helping Hispanics in Cannabis: 'Let's Get You Involved in this New Economy'
"Nearly a century ago, U.S. federal lawmakers began to examine cannabis legislation, which eventually led to its prohibition in 1937. The reason? At that time, an influx of Hispanics were entering the country following the Mexican Revolution, bringing with them bits of their culture, which included "marihuana," according to the Drug Policy Alliance. The flow of new immigrants brought a wave of xenophobia, which eventually led to the demonization of cannabis as a way to quell Hispanics entering the country."
Why Marijuana Legalization Will Continue To Happen State By State
"If you run a hair salon next door to a legal medical marijuana dispensary, you can write off normal business expenses like advertising, rent and salaries under section 280e of the Internal Revenue Code."
Major League Baseball Becomes First Big-League Sports Property To Sign CBD Sponsorship Deal
"Charlotte's Web is launching, via its own e-commerce, a line of CBD products, which will carry MLB's familiar silhouetted batter logo. The brand will run electronic signage during the playoffs and World Series and is planning a World Series sweepstakes promotion, according to the Sports Business Journal (SBJ). Under the terms of the deal, the MLB is also receiving shares in Charlotte's Web Holdings."
Hispanic Cannabis Professionals Discuss Opening Doors for Their Community
"Eric Schlosser, who wrote the best-selling book Reefer Madness, said in a 1994 article for The Atlantic that "prejudices and fears" led to the spread of false accounts about the supposedly menacing weed causing deviant behavior among American citizens after they were introduced to it by immigrants. State laws and eventual federal legislation paved the way for mass incarcerations of cannabis users, a disproportionate amount of whom were—and still are—people of color."
Is Keeping Marijuana Illegal Putting People's Health At Risk?
"Pesticides are not the only cause for health concerns when it comes to a world of unregulated marijuana farming. The soil where the marijuana grows can also have dangerous consequences on the consumer if left unchecked. Marijuana has the ability to absorb heavy metals from soils. These metals include carcinogenic and hazardous metals like lead, mercury, chromium and others. This rare trait in cannabis can sometimes be a great asset to the planet and farmers. Planting hemp in areas contaminated with certain toxic metals can help purify the soil."
Marijuana shop collecting pumpkins for schools
""At the core of Pharmhouse, we really believe in connecting with community and giving back," founder Casey Kornoelje said. "I also think that cannabis operations can be good neighbors and also connect with the community as well as children, the youth. That is where the idea of pumpkins came in. We wanted to do something festive and something that would give back.""
MISSOURI CANNABIS NEWS
Legalized Cannabis in Missouri: What Employers Need to Know
"Amendment 3 would legalize cannabis in the state for anyone 21 and older. Businesses that already have a medical marijuana license could apply to convert to a recreational license. And, 144 micro business licenses would be made available for smaller operators looking to enter the market."
ILLINOIS CANNABIS NEWS
Freeport man arrested, police find 950 grams of marijuana
"Miller was charged with Unlawful Possession with Intent to Deliver Cannabis, Unlawful Possession of Cannabis, and Driving with a Suspended License."
PENNSYLVANIA CANNABIS NEWS
Pa. election 2022: Where Mastriano, Shapiro stand on the opioid epidemic, medical marijuana, and other health issues
"The number of people enrolled in Pennsylvania's Medicaid program skyrocketed during the pandemic, and enrollment now exceeds 3.5 million, recent figures show. The health insurance program is massive — it cost over $38 billion in state and federal money in a recent fiscal year. It provides coverage to eligible low-income adults, children, pregnant women, older adults, and people with disabilities."
NEW YORK CANNABIS NEWS
Former Oregon Regulator to Head New York City Cannabis Department
"Dasheeda Dawson, chairwoman of Cannabis Regulators of Color Coalition and ex-director of the Portland, Oregon, cannabis program, was named founding director of Cannabis NYC by New York City Mayor Eric Adams and Small Business Services Commissioner Kevin Kim, according to a news release on Thursday."
Sustainable Cannabis Packaging, Steps To Consider According To New York Regulations
"As part of its sustainability program, New York requires cannabis businesses to incorporate "at least 25% post-recycled consumer content into their packaging and annually report key metrics on the implementation of their sustainability initiatives.""
OKLAHOMA CANNABIS NEWS
Over 100 pounds of marijuana found on New York woman near Sidney
"Officials said the driver was 48-year-old Victoria Chin, of Brooklyn, N.Y. Chin was lodged in Cheyenne County Jail and arrested for possession of marijuana – more than one lb. and possession with intent to distribute."
Oklahoma state agents focus on seizing illegal marijuana
"In a video sent to KOCO 5 from the Oklahoma National Guard, soldiers helped the Bureau of Narcotics remove illegal marijuana plants. It was a 10-day effort between Sept. 27 through Oct. 7."
MARYLAND CANNABIS NEWS
Maryland's Marijuana Legalization Referendum Could Drive Strong Voter Turnout, Poll Indicates
""We are working hard on digital mobilization and advertising that reaches voters who might otherwise stay home in November," Yes on 4 Campaign Chairman Eugene Monroe, a former NFL player, said in a press release. "Each day, we are having more conversations with Maryland voters who know marijuana legalization will bring jobs and justice to historically underserved communities.""
---
Get Your Medical Marijuana Card Today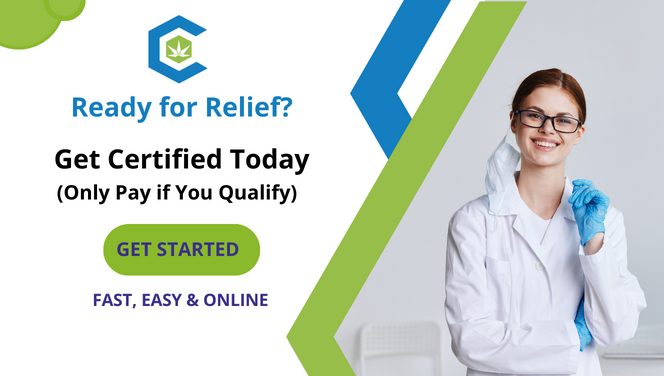 ---
Enjoyed This Content? Read More:
In this guide, you'll learn how to make cannabis-infused coconut oil or MCT oil, decarboxylate cannabis, or choose to infuse cannabis into any oil of your choice.