Medical Cannabis & Combat Veterans: The Battle Beyond
Table of Contents
What does the actual scientific research state regarding the effectiveness of using cannabis for treatment of PTSD? How does the VA, a federal organization, handle cannabis policy with so many states approving its legal, medical use?
This article will explore some of the primary issues concerning medical cannabis and mental healthcare, specifically with regards to PTSD, with respect to our men and women transitioning from the armed forces back to civilian life.
Combating the Aftermath of War with Medical Cannabis
The impossible expectations, harrowing trauma and unforgiving physiological and psychological demands of war take an inevitable toll on many who have served.
With incidences of PTSD, chronic pain, anxiety and substance abuse becoming increasingly prevalent in the veteran population, many are purportedly finding unparalleled—even "life-saving" relief—from medical cannabis treatment 1,2.
Trading In Traditional Treatment and Seeking "Greater Wellness"
Many combat veterans seeking medical care from the VA often depend on and sometimes even addicted to a wide array of addicting medications, from benzodiazepines to opioid narcotics 3.
Those seeking medical cannabis are often at the end of their rope and looking for more sustainable solutions.
"Every day, our doctors see Veterans seeking greater wellness away from the traditional pharmaceuticals they are often prescribed. 
We are proud of the work we do to ensure that integrating alternative medicines into each Veteran's treatment plan will bring them the greatest sense of well-being that they so rightly deserve." – Stephanie Gluchacki, President, Canna Care Docs 
The Harsh Reality Facing US Combat Veterans Today
"According to a study conducted by the RAND Center for Military Health Policy Research:
–Less than half of returning veterans needing mental health services receive any treatment at all,
-Of those receiving treatment for PTSD and major depression, less than one-third are receiving evidence-based care 4."
With estimates indicating approximately 11-30% of veterans suffer from some form of PTSD—a debilitating and sometimes deadly mental illness—the need for safe, efficacious treatment is more pressing than ever.
Cannabis and PTSD: What Does the Science Say?
Studies have shown conflicting findings, however, regarding the efficacy of cannabis in the treatment of PTSD. A prominent 2014 study found over "75% reduction in CAPS symptom scores" when patients self-reported using cannabis 5.
While cannabis seems like a promising candidate based on patient reports, there still lacks high-quality, placebo-controlled clinical trials to corroborate these claims.
A recent 2018 systemic review of the entirety of PTSD and cannabis clinical trials (all five studies) reported inconclusive evidence supporting cannabis being efficacious for PTSD 6.
The problem, however, lies with the research, and the findings are not stating that cannabis is unreliable but that the data available isn't.
Bad Science & Not Enough Research: The Need for Real Research
The most glaring error with the data here is the extremely limited scope of research into PTSD and cannabis as a treatment; those trials were of poor statistical and clinical quality compared to double blind, placebo-controlled trials.
Unfortunately, for cannabis science in the US, that presents entirely new and complex hurdles that are best left to discuss in another blog.
As it stands, the currently available studies on PTSD and cannabis "have major limitations as none have yet been randomized, controlled, clinical trials with active marijuana use" 6.
It's High Time the VA Shifted Their Stance on Medical Cannabis
As the medical cannabis industry continues to thrive across America, many continue to lambaste the Department of Veterans Affair (VA) for its restrictive and archaic policies surrounding the plant medicine. 
While it is generally out of the purview of this author to comment on political matters, I believe the current cannabis policy prevents the VA from doing the very job they have been designed to do: take care of our veterans.
Since the VA is a federal establishment and cannabis is still federally illegal, the VA can in no way aid or recommend patients to obtain medical cannabis.
Virginia Senator Tim Kaine has introduced potential legislation to try and expand cannabis access for veterans through the VA 7.
One veteran, for example, is moving forward to educate and create a new beginning for other vets.
Homelessness in US Veterans
Among the many challenges already discussed in this piece, the issue of homelessness is pervasive and often feeds and fuels other negative or harmful behaviors.
Recent estimates demonstrate that veterans are overrepresented in the homeless population, with about 12.3% of homeless are veterans even though only 9.7% of Americans are veterans 8.
Addressing the issue of homelessness in this important yet vulnerable population is equally important to encourage positive change within our communities.
Closing Thoughts
There is a litany of critically important issues surrounding how we care for our veterans in this country, not the least of which revolve around their physical and mental health.
Medical cannabis advocates claim this is where cannabis can really shine due to its purported efficacy in treating conditions like Post-Traumatic Stress Disorder (PTSD), chronic pain, and anxiety that are affecting the veteran population in greater and greater numbers.
In time, higher-quality research and bigger, clinically randomized, and placebo-controlled trials will uncover more about the therapeutic potential of cannabis for combat veterans.
Get Your Medical Marijuana and Save on Taxes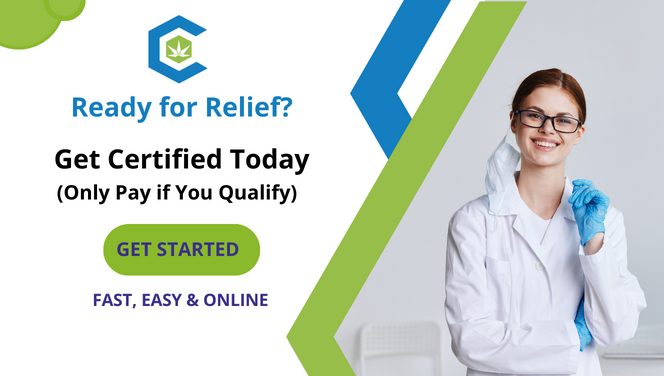 ---
Enjoyed This Content? Read More:
In this guide, you'll learn how to make cannabis-infused coconut oil or MCT oil, decarboxylate cannabis, or choose to infuse cannabis into any oil of your choice.
References:
1. Kintzle, S., Barr, N., Corletto, G. & Castro, C. A. PTSD in U.S. Veterans: The Role of Social Connectedness, Combat Experience and Discharge. Healthcare 6, (2018).
2. 'Cannabis Saved My Life': Veterans Share Stories of Healing and Recovery | Leafly. Available at: https://www.leafly.com/news/health/cannabis-saved-my-life-veterans-share-stories-of-healing-and-recovery. (Accessed: 23rd April 2019)
3. Teeters, J. B., Lancaster, C. L., Brown, D. G. & Back, S. E. Substance use disorders in military veterans: prevalence and treatment challenges. Subst. Abuse Rehabil. 8, 69–77 (2017).
4. Tanielian, T. L., Tanielian, T. & Jaycox, L. Invisible Wounds of War: Psychological and Cognitive Injuries, Their Consequences, and Services to Assist Recovery. (Rand Corporation, 2008).
5. Greer, G. R., Grob, C. S. & Halberstadt, A. L. PTSD symptom reports of patients evaluated for the New Mexico Medical Cannabis Program. J. Psychoactive Drugs 46, 73–77 (2014).
6. Shishko, I., Oliveira, R., Moore, T. A. & Almeida, K. A review of medical marijuana for the treatment of posttraumatic stress disorder: Real symptom re-leaf or just high hopes? Ment. Health Clin. 8, 86–94 (2018).
7. Kaine Introduces Bill To Allow Veterans To Access Medical Marijuana Through The VA | U.S. Senator Tim Kaine of Virginia. Available at: https://www.kaine.senate.gov/press-releases/kaine-introduces-bill-to-allow-veterans-to-access-medical-marijuana-through-the-va. (Accessed: 23rd April 2019)
8. Tsai, J., & Rosenheck, R. A. (2015). Risk factors for homelessness among US veterans. Epidemiologic reviews, 37, 177–195. doi:10.1093/epirev/mxu004