Medical Marijuana vs. Chronic Pain: Two Testimonials
Table of Contents
Chronic Pain is something everyone will deal with at some point in their lives. The immediate reaction to sudden pain is an evolutionary response that helps us survive.
Pain can cease as an injury heals or the body recovers from trauma. However, chronic pain is in a category by itself because the brain continues to receive pain signals from the body long after an injury has healed.
Chronic pain can last weeks or it can last years, but doctors frequently define it as any pain that lasts longer than three months.
Ordinary tasks that were once routine can become almost impossible as endurance, strength, and flexibility are significantly compromised.
One of the most aggravating characteristics of chronic pain is its versatility. It can be dull, sharp, aching, burning, intermittent, steady and can come and go without any reason at all.
Not only that, but any part of the body can be affected.
Cannabis and Its Efficacy
There are still many questions about medical marijuana, but it's hard to doubt it's efficacy when managing chronic pain and many other medical conditions.
The Dent Neurologic Institute in New York conducted a study that kept track of over 200 elderly patients who were prescribed medical marijuana to help them manage their pain.
The subjects were given various CBD products, most in the form of tinctures administered sublingually.
Some of the study's findings are as follows:
Approximately 70% reported some form of symptom relief.
50% reported a reduction in their chronic pain.
Nearly 20% reported an improvement in their sleep.
15% stated their nerve pain had improved.
10% said they were better to manage their anxiety.
One can easily find a plethora of studies and testimonials online that speak to the benefits of medical marijuana. But one of the qualities that make The Medical Cannabis Community so great is the willingness of our members to share their stories.
Two members, Phyllis and Teresa, are all too familiar with chronic pain.
Below are their stories.
Phyllis' Fight with Chronic Pain
The story of 54-year-old Phyllis is one to which many people can relate. She's a hard-working woman who has battled chronic back pain for years.
The pain reached its peak when she was volunteering at Lutheran General Hospital putting the needs of others above her own.
An individual in her care needed to be pushed in a wheelchair on a regular basis. In Phyllis' own words, "It tore my back apart."
She was sent for an MRI where multiple pinched nerves in her spine were discovered.
As time progressed, she was given more pain killers and opiates to hinder the pain.
They didn't help.
Phyllis was then given a grim prognosis from her psychiatrist. If she didn't get off the opiates and other medication, she was going to die.
She admitted she was at such a low point in her life, that she contemplated dying so her battle with chronic pain would finally be over.
She wasn't living the life she wanted to live. So, she decided to end the ineffective prescription regimen recommended by her doctor.
Anyone who truly knows Phyllis says she is genuinely concerned with helping people. Recently, there has been a noticeable difference. 
What's changed?
Since using medical marijuana, the most obvious difference with Phyllis is that she no longer uses her cane to walk.
"Since I've had my medical cannabis card, I've been able to get off opiates," Phyllis said. "My pain has lessened, probably about 95%. With cannabis, I'm in much less pain."
Because Phyllis loves to be outside and is an avid walker, she uses topicals to help manage her pain and inflammation.
She states she sleeps better, and her life has completely changed.
Phyllis isn't the only member of our community who has experienced significant improvement as a result of using medical cannabis.
Teresa's Battle with CRPS
Teresa's story, though much different from Phyllis', started from the same place. They both sought relief from chronic pain resulting from medical complications.
Teresa was suffering from inflamed fluid-filled sacs on one of her toes. After having a medical procedure to address her bursitis, the pain continued to persist two weeks later.
She went to her doctor for a follow-up. Teresa was diagnosed with CRPS, Chronic Regional Pain Syndrome at that point. CRPS is a type of chronic pain that commonly affects a leg or arm and commonly develops after a heart attack, a stroke, an injury or surgery.
Her condition became progressively worse. During her interview, Teresa said, "The first year, I had over 215 doctor appointments. I was working full-time, and seeing at least 2-3 doctors every day, 5-6 doctors a week. The pain was just horrible."
Teresa's life had taken an adverse turn for the worse.
She was unable to do the most routine tasks of daily life. She was immobile and cried regularly from frustration almost as much as the pain. She was reduced to staying at home as she watched her social life wither.
Her life had become a cycle of seemingly endless doctors' appointments and staying at home to deal with her condition.
Teresa worked at an insurance company for more than 3 decades. After being diagnosed with CRPS, she found herself utterly exhausted after a full day of work then medical appointments.
Physicians couldn't comprehend why she continued to work.
She was in constant agony. She was having dizzy spells. She was having trouble focusing often reading something three or four times. If that wasn't bad enough, she had to lie down almost every waking hour of every day.
Teresa added, "After about a year of working, it was out of control. Too much pain. Too much pressure."
She was battling exhaustion and fatigue both physically and mentally. With no other option, Teresa was forced to go on short-term disability which turned into long-term disability.
After working diligently for 32 years, Teresa found not being able to work extremely difficult.
Aside from dealing with chronic pain and the myriad of issues resulting from her condition, Teresa found the lack of coordination among her doctors unbearable.
In fact, one of her many doctors had her taking triple the required medication. Her one-pill-per-day schedule quickly escalated to three.
After gaining 30 pounds, Teresa visited her primary care physician who felt she was being given far too much medication.
Teresa ended up in the emergency room of her local hospital not once, but twice as a result of her condition and not being able to get her hands on the proper dosage of medicine.
Friends who provide support attest how many prescription medications Teresa has tried and how challenging her journey has been.
Those same friends can also vouch for how much medical marijuana has improved Teresa's life.
Once again, she is mobile, social and active with her dogs. None of which could have been accomplished on her previous path.
After spending years listening to traditional doctors, Teresa has accumulated bags of unused prescription medication.
Teresa put it best, "I'm done with drugs. I've had enough pills to last me a lifetime."
Cannabis & CBD Statistically Proven to Change Lives
Reputable organization Consumer Reports has been releasing content about Cannabis and CBD.
One of their articles spoke about a survey they conducted where over 4,000 users of CBD across the country were asked whether cannabidiol affected their lives.
Among many others, participants ranged from a mother who used CBD to manage her child's seizures to veterans hoping to wean themselves off opioids to a nutritionist who wanted to sleep better through the night.
After surveying thousands of people, Consumer Reports found that over 25% have tried CBD to help manage a wide range of physical and mental conditions. Out of that 25%, 1 in 7 mentioned they use CBD daily.
This is just a small representation of the approximately 63 million Americans who have tried cannabidiol over the last two years.
Learn More About the Many Advantages of Medical Marijuana
Join our community for free and become part of the most active medical cannabis group in the country. Become a member or an advocate so we can spread help spread the message of the many benefits of medical marijuana and CBD.
Have these stories inspired you to become an advocate for cannabis? Perhaps you might be interested in joining us and fighting for the cause by making a career out of cannabis.
If so, cannabis education has never been more important. With the rush of legalization, there is a significant demand for knowledgeable and qualified applicants to fill positions at every level of this blossoming industry. The need is palpable, and the time is now.
---
Get Your Medical Marijuana Card in Minutes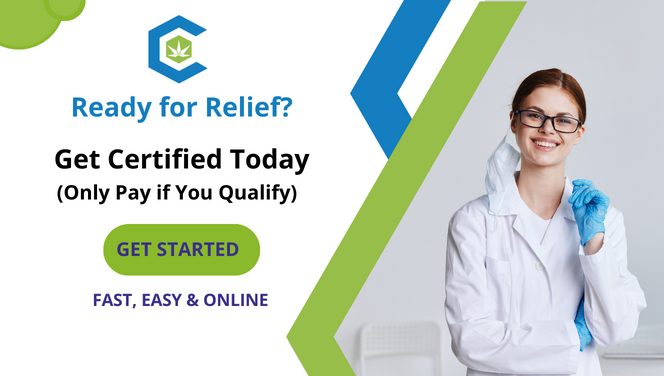 ---
Enjoyed This Content? Read More:
In this guide, you'll learn how to make cannabis-infused coconut oil or MCT oil, decarboxylate cannabis, or choose to infuse cannabis into any oil of your choice.