Maryland Gun Rights Guide for Medical Cannabis Patients
Table of Contents
In 2014, House Bill 881 authorized medical cannabis in the state of Maryland, which created the Natalie M. LaPrade Medical Cannabis Commission, also known as the Maryland Medical Cannabis Commission (MMCC).
It sets the guidelines and laws governing the production, handling, possession, sale, and use of medical cannabis.
Anyone with a qualifying medical condition who resides in the state and whose physician recommends medicinal cannabis as a therapeutic option can register with the MMCC as a patient.
Cachexia, anorexia, seizures, muscle spasms, glaucoma, post-traumatic stress disorder (PTSD), or any other severe chronic medical disease are medical conditions that may qualify a patient to register.
Minor patients must have at least one caregiver, such as a parent or legal guardian older than 21, assigned to their account.
Through this process, the patient can get a medical cannabis card that they can present to a marijuana dispensary that is authorized to offer medicinal marijuana services.
Does Having a Medical Cannabis Card Mean Not Being Eligible for a Gun License in MD?
Yes. According to the Maryland Medical Cannabis Commission (MMCC), gun ownership, possession, or acquisition by medical marijuana patients is still illegal, due to the following reasons:
The Controlled Substances Act (CSA) still lists marijuana as a Schedule I drug and declares use unlawful.
The Gun Control Act of 1968 forbids using restricted substances while owning a firearm.
Residents are still subject to federal law on medical marijuana and gun laws because the state has not yet passed legislation to safeguard gun owners' rights.
In 2019, SB97 was approved by the Senate, but not by the House Judiciary Committee.
This bill would have made it illegal for the state police to reject gun purchasers, owners, and permit applicants because they use medical cannabis.
However, the MMCC clarifies that the patient registry's data stays private and protects health information.
Maryland State Police still question prospective gun buyers to determine if they are medical marijuana patients and block those who reply in the affirmative from completing the sale.
Can You Take Your Gun to a Dispensary in MD?
You can take your gun to a dispensary in Maryland, but you must have a license to carry to do so.
A license is even necessary when buying a handgun. In addition to the license, background checks, fingerprinting, and training are still necessary.
Maryland is a "may issue" state allowing concealed carry, meaning a "good and substantial justification" for carrying a firearm must be proved by applicants.
Residents typically have difficulty obtaining handgun permits, but it's not impossible.
The issuing authority can issue either an unrestricted permit or a permit with several levels of restrictions.
Open carry also requires a license, but private security officers only typically use it in uniform.
Without a license, long guns and vintage handguns may be carried openly.
Some places are off-limits, even having a Wear/Carry Handgun Permit (WCHP).
These include public schools, daycare facilities, state parks, national forests, and rest areas along state highways, state-owned public buildings, and property.
Can You Consume CBD and Own a Gun in Maryland?
Currently, CBD is not considered a Substance I Drug by the federal government, and Maryland allows CBD oil usage as long as the final product is made from hemp and contains less than 0.3 % THC.
Maryland has also legalized CBD so consumers can buy CBD products without a prescription.
Because CBD is legal, if you have a WCHP, you can legally consume CBD and own a gun in Maryland.
Get a Maryland Medical Medical Cannabis Card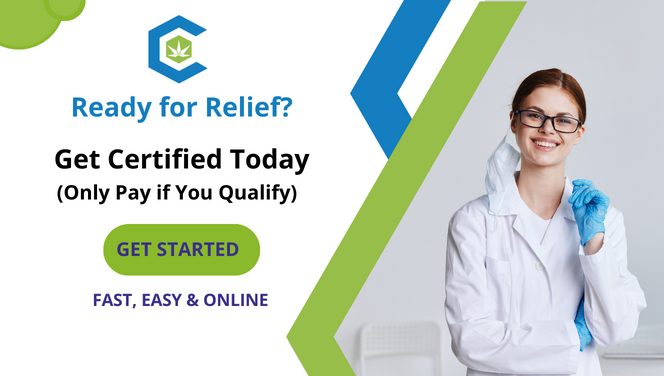 ---
Enjoyed This Content? Read More:
In this guide, you'll learn how to make cannabis-infused coconut oil or MCT oil, decarboxylate cannabis, or choose to infuse cannabis into any oil of your choice.