Nevada Gun Rights Guide for Medical Cannabis Patients
Table of Contents
The Nevada Medical Marijuana Act, also known as Question 9, a ballot initiative to legalize cannabis for medical purposes, was approved with 59% of the vote in 1998.
Because the initiative attempted to modify the state constitution, it had to be approved in two successive elections. In 2000, 65% of Nevada voters approved Question 9, a constitutional amendment allowing qualified patients to use, possess, and produce cannabis.
Patients must be examined by a doctor to determine their eligibility and sign up for a private, state-run registry that produces identity cards to qualify. 
 Question 9 became effective as Assembly Bill 453 (AB 453) on October 1, 2001, making the medical use of marijuana officially legal. Another provision in AB 453 made possession of up to one ounce of marijuana a fine-only misdemeanor that would only result in criminal prosecution for a third conviction.
Nevada was the only state where having any amount of cannabis constituted a crime before AB 453 was passed.
However, the statute's vague language made creating a state licensing scheme for commercial enterprises illegal.
The only legal way to consume marijuana was through personal cultivation for personal medical use, with a limit of 12 plants. The first medicinal marijuana dispensary did not open until July 2015.
The Nevada Department of Health and Human Services (DPHHS) started distributing temporary cards and accepting patient applications online in 2016, making it easier for patients to sign up and get access to medication. Since July 1, 2020, the Nevada Cannabis Compliance Board has been in charge of running the medicinal cannabis program. 
The registry of medical marijuana patient cardholders is managed by the Division of Public and Behavioral Health (DPBH) under the Nevada DPHHS. Nevada's response to COVID-19 included enhanced access options in 2020, including curbside pickup and delivery of medical cannabis, as well as the ability for patients to establish eligibility through telehealth appointments with their doctors rather than in-person encounters.
In December 2022, the ACLU of Nevada fought the Nevada Board of Pharmacy over how cannabis is classified.
This happened because the board continues to list cannabis as a schedule 1 substance, which means it has a high potential for abuse and no accepted medical use.
A bill will also be brought up in the Nevada legislature that could get rid of marijuana's status as a "controlled substance" and could take away the Nevada Board of Pharmacy's authority, which will leave the Cannabis Compliance Board as the only state agency in charge of marijuana.
Does Having a Medical Cannabis Card Mean Not Being Eligible for a Gun License in Nevada?
Despite the fact that marijuana is officially permitted in Nevada, it remains an illegal and restricted drug under federal law.
Under Nevada state law (NRS 202.3657(4)), if a person has "habitually used alcoholic liquor or a controlled substance to the point that his or her normal faculties are impaired" over the past five years, their application for a firearms permit may be denied.
Sadly, medical marijuana patients are included in this section of the statute, as they are considered to be people who are "addicted to a controlled drug." 
Guns are being taken away by law enforcement from law-abiding medical marijuana patients using the state law NRS 202.360, which forbids the ownership or possession of weapons by unlawful people, including convicted criminals, fugitives, or anyone who is an illegal user of or addicted to any controlled substance.
There is a small chance that as a medical marijuana cardholder, you can have a Carry Concealed Weapon (CCW) permit in Nevada if you apply the other way around. If you already have a CCW in Nevada, you can still apply for a medical marijuana card.
The Nevada DPHHS doesn't check if you own a firearm or not.
However, if you already have a firearm and/or a CCW and are discovered by federal law enforcement in possession of a firearm while holding a medical marijuana card, you risk facing significant legal issues.
There is a good chance that marijuana patients and users are more likely to have contact with federal law enforcement in Nevada than they are in other states, as the federal government owns a large portion of Nevada's property.
Can You Take Your Gun to a Dispensary in Nevada?
Nevada is a "shall issue" state, which means that the sheriff must provide a CCW to a person after they have proven they are eligible under the law.
All sales must be made via a federally registered weapons dealer with a background check as of January 2, 2020.
There are exceptions when it comes to sales or transfers of weapons between members of the same immediate family, as well as some temporary transfers.
In Nevada, open carry is permitted without a license. Anyone who is at least 18 years old is lawfully allowed to own a firearm and may openly carry it in almost any place in the state.
Concealed carry of firearms is legal for citizens with a CCW. A person must be 21 years old (18 for military personnel) to pass an authorized firearm safety course and show competency with any handgun to apply for a concealed weapon permit.
These places remain off-limits even with the possession of CCW:
Public and private K-12 schools (including parking lots)

Child care facilities

Facilities belonging to the University of Nevada, the Community College System, or any other vocational/technical school (including parking lots)

Public buildings with metal detectors or signs prohibiting firearms at each public entrance (except for employees who are permitted)

Secured areas of airports.

Law enforcement agency facilities

Prisons, jails, and detention facilities

Courthouses and courtrooms

State legislative buildings or any other places where the legislature conducts its business

The Hoover Dam

Red Rock National Conservation area

Any place where the carrying of firearms is prohibited by federal law or state law or regulation
So long as the business owner permits it, you may open or concealed carry your firearm inside a dispensary in Nevada.
But keep in mind that there is a good chance of running into federal law enforcement in Nevada, and carrying both a medical marijuana card and a firearms license can cause you serious legal problems.
Can You Consume CBD and Own a Gun in Nevada?
Products made from hemp and marijuana are permitted in Nevada but governed by different laws.
Nevada complies with the provisions of the 2018 Farm Bill, enacted by the U.S. Congress, regarding the use and possession of CBD oil produced from hemp.
There are no laws governing CBD derived from hemp in Nevada that have been passed by the state legislature.
Purchasing hemp CBD oil in Nevada is entirely legal because hemp-derived CBD has a THC content of less than 0.3% and does not cause intoxication, which aligns with federal laws.
In Nevada, marijuana is acceptable for both medicinal and recreational uses. It is possible to legally buy marijuana-derived CBD oil without a prescription, but be sure your supplier is licensed and registered and that the product will only be used at home.
That said, it is legal to consume CBD discreetly (inside your residence) while owning a gun in Nevada.
Need a Medical Cannabis Card? Get Certified in Minutes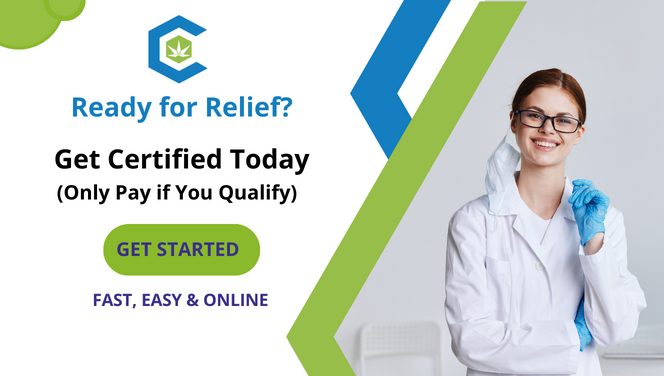 ---
Enjoyed This Content? Read More:
In this guide, you'll learn how to make cannabis-infused coconut oil or MCT oil, decarboxylate cannabis, or choose to infuse cannabis into any oil of your choice.