What Are Nootropics?
Table of Contents
Nootropics — sometimes called "smart drugs" — are supplements that can be taken to enhance brain health and cognitive function.
They are becoming increasingly popular and are used by people seeking improved concentration, focus, and memory. But what exactly are nootropics? What should you know if you're considering taking them? 
This article will explore the basics of nootropics and what you need to know before taking them.
What Are Nootropics?
Nootropics are substances that are believed to improve cognitive abilities and increase mental function. They were first developed in the 1970s by Romanian scientist Corneliu Giurgea, who coined the term "nootropic" from the Greek words for "nous" for "mind" and "tropein" for "bending or turning."
Since then, nootropics have become popular as more people seek ways to enhance their thinking and memory. 
Nootropics are substances that have been designed to improve cognitive performance, such as:
Memory
Focus
Clarity of thought
Creativity
Learning capacity
Motivation
They are sometimes called "smart drugs" or "cognitive enhancers". Nootropics work by altering the levels of neurotransmitters in the brain which affect mood and feelings, such as happiness or anxiety.
They can come in the form of natural herbs or compounds found in plants or synthetically created in a laboratory.
The effects of nootropics vary depending on an individual's biochemistry, with some users reporting increased focus or higher energy levels while other users claim improvements in memory and creativity.
While nootropics can provide a number of benefits, it is noteworthy to do your research before taking them to ensure you understand their potential side effects and potential interactions with other medications or supplements.
Are Nootropics Legal in the U.S.A.?
In the United States, nootropics are generally considered safe to use and have not been subject to regulation by the United States Food and Drug Administration (FDA). However, some manufacturers of these supplements may claim they can improve memory and concentration, reduce stress, and even enhance physical performance.
While these claims cannot be substantiated without further research, it is important to note that nootropics are not FDA-approved.
As such, it is always important to speak with a healthcare professional before beginning any supplement regimen. 
It is important to note that certain nootropics may be illegal in some countries or states; if you are unsure of the legality of a particular product in your area, you should consult with a legal expert before purchasing or ingesting it.
What Are the Common Types of Nootropics?
Nootropics come in many forms. Each nootropic serves a particular purpose and may work differently for every individual. Common types of nootropics include :
Piracetam
Piracetam is generally used to improve cognition and mental clarity. It is believed to help boost memory, learning and focus. It has also been used to help treat age-related mental declines such as Alzheimer's and dementia.
Piracetam increases the amount of acetylcholine in the brain, an important neurotransmitter for memory formation and recall. It also increases blood flow to the brain, providing more oxygen and nutrients for improved cognitive function.
Piracetam can reduce anxiety and stress levels, making it beneficial for those who experience stress-induced mental fatigue or reduced concentration levels.
Aniracetam
Aniracetam is an incredibly popular nootropic used to help increase mental performance, focus, and alertness. It works by improving the brain's communication networks, helping to create stronger connections between neurons, and boosting overall cognitive functioning.
Aniracetam also has neuroprotective benefits, meaning it can improve memory formation and recall. It can reduce anxiety, improve mood and motivation, and enhance creativity.
It is also extremely safe, with minimal side effects when taken in the recommended doses.
Phenylpiracetam
Phenylpiracetam is a popular cognitive enhancer widely studied for its potential to improve mental performance. It is a synthetic derivative of the natural nootropic piracetam and is known for its potency and effectiveness in providing cognitive benefits.
Phenylpiracetam has been found to increase focus, alertness, concentration, and memory recall, as well as reduce fatigue and stress levels.
It also has neuroprotective properties and can help protect the brain from damage caused by toxins or aging. Research suggests it may be helpful in treating anxiety, depression, ADHD, and other neurological disorders. 
Phenylpiracetam is generally considered safe and well-tolerated when taken at recommended dosages. However, individuals should always consult their healthcare provider before taking any new supplement to ensure it is right for them.
Modafinil
Modafinil can be an effective way of improving your cognitive abilities and productivity. It is one of the most studied and widely used nootropics available today.
Modafinil works by blocking certain neurotransmitters in the brain, which can help to improve focus and alertness and reduce fatigue. It has also been known to improve memory and learning ability. 
Modafinil has been shown to be effective in treating narcolepsy, ADHD and depression, but it is most commonly used to increase productivity and mental performance in healthy people.
While it has no severe side effects when taken at the recommended dosage, it should not be taken without consulting a doctor first.
Adrafinil
Adrafinil is a powerful tool for improving mental performance and physical stamina. It is a synthetic derivative of modafinil, a drug that promotes alertness and has been shown to increase focus and reduce fatigue.
Adrafinil also has the potential to enhance memory formation, recall ability, and concentration, as well as improve mood. 
In addition to its cognitive effects, Adrafinil may also positively affect physical performance, such as increased endurance and strength when taken for extended periods.
Adrafinil should be taken cautiously and under medical supervision due to the potential side effects, such as headaches, nausea, and dizziness.
Alpha-GPC
Alpha-GPC is a popular choice among those looking for natural ways to improve their cognitive function without risking severe side effects.
It is a choline supplement that helps increase the production of acetylcholine, an important neurotransmitter for memory, learning, and focus. Alpha-GPC also increases dopamine levels, which can help with motivation and alertness. 
Studies have shown that alpha-GPC can improve brain health and speed of processing information. It also boosts energy levels, reduces fatigue, and can help reduce stress and anxiety symptoms. Alpha-GPC is safe when taken as directed and has few side effects.
What Are the Benefits of Nootropics?
Nootropics are dietary supplements used by those looking to enhance their overall quality of life.
They are increasingly being used by students, athletes, and professionals who want to stay at the top of their game. Some of the potential benefits include the following:
Improves cognitive functions, such as memory, motivation, concentration, alertness, and creativity
Enhances mental clarity and alertness
Promotes focus and productivity
Improves memory recall and retention
Increases motivation
Boosts energy levels
Reduces stress and anxiety
Enhances intellectual abilities
What Are Nootropics Used For?
Nootropics have the potential to be used for many things, but some of their most popular uses in 2023 include the following:
Nootropics for ADHD
Nootropics have been found to benefit people with ADHD, as their compounds can help reduce the symptoms associated with the disorder. Nootropics work by increasing neurotransmitter levels in the brain and helping balance out hormones contributing to mental health issues.
Some research suggests that nootropics can make it easier for people with ADHD to concentrate and focus on tasks, improving their ability to learn and perform specific tasks.
Nootropics may be able to reduce impulsiveness or hyperactivity associated with the disorder. Some studies have shown that nootropics may reduce stress and anxiety associated with ADHD symptoms.
Nootropics for Sleep Disorders
Nootropics are an excellent choice for those looking to get better sleep and wake up feeling refreshed, and they are often used to help people suffering from insomnia.
Nootropics boost neurotransmitter levels in the brain, helping regulate sleep and wake cycles. They also help to reduce stress and anxiety, which can prevent sleep disorders from occurring in the first place.
Nootropics can also increase focus, concentration, and alertness, allowing people to stay productive even when they struggle to sleep at night. 
Nootropics for Migraines
Nootropics can be a beneficial supplement for those suffering from migraines as they offer a natural approach to relieving symptoms and improving overall brain function. Known for their ability to improve cognitive function and brain health, nootropics can help relieve some symptoms associated with migraine headaches.
Nootropics can increase energy levels and reduce stress, which can help alleviate some of the other symptoms associated with migraines, such as fatigue and anxiety.
Some nootropics have been found to reduce inflammation in the brain, which can further contribute to reducing the severity of migraine headaches.
What Are the Side Effects of Nootropics?
Nootropics are substances that provide beneficial effects when used correctly. While there are studies on its general safety and efficacy, some potential side effects are associated with its use. These side effects can include:
Headaches
Anxiety
Insomnia
Dizziness
Nausea
Upset stomach
Heart palpitations
Seizures
Kidney failure in some cases
It's important to talk to your doctor before taking any nootropic to ensure that it is safe for you and won't interact negatively with any other medications you may be taking.
It's also important to pay attention to the recommended dosage, as exceeding the recommended amount could increase the risk of adverse side effects. 
What Dosage Strengths and Forms Do Nootropics Come In?
Nootropics are a class of supplements that have been gaining popularity for improving cognitive function and mental performance. They come in various forms, including:
Capsules
Tablets
Pills
Powders
Liquids
Chewing gums
The most common form of nootropics is capsules or tablets, which are easy to take and convenient to store.
You can also opt for powders or liquids if you prefer something mixed with food or drinks.
Chewing gums are also available as they are convenient for taking nootropic supplements. Some nootropics may also be available as topical creams or patches that can be applied to the skin for absorption into the body. 
Regardless of the form you choose, reading through the ingredients list before purchasing is crucial to ensure what you're taking into your body.
Dosage strengths vary depending on the type of nootropic being taken and its intended purpose but typically range from low doses, such as 10-20mg per day, up to higher doses, such as 1000-2000mg per day.
Nootropics in capsule or pill form typically range from 5-50mg per serving. Powders and liquid extracts of nootropics can range from 10-100mg per serving.
It is important to take the correct dose for your individual needs; if you are new to nootropics, starting with a low dose is generally recommended and increasing gradually as needed. 
It is crucial to consult your doctor before taking any nootropic supplements to ensure they will not interact negatively with any medications you may be taking.
What Should You Do and Not Do With Nootropics?
There are some things you should and shouldn't do when using nootropics:
DO: Consult With Your Doctor Before Starting Any Supplement Regimen
You should first speak with your doctor if you want to take any of these medicines or supplements. You need to ensure there isn't something more serious with your health that your doctor needs to address.
If you already take a lot of medicines, you need to ensure that the nootropics won't mess up anything else you're taking so you can make the safest choice about how to take these medicines.
They can make a big difference in your overall quality of life, but you should only buy them from a reputable store and consume them with your doctor's permission.
DO NOT: Mix Different Types of Nootropics Together Unless Directed by a Doctor
A "stack" is a group of two or more nootropics. Putting together several compounds can make them work better together. However, before putting together a stack of nootropics, you should also know its risks.
When taken together, some drugs and supplements can cause bad and possibly dangerous side effects.
Read about the recommended dosage, side effects, and possible interactions with other nootropics or prescription drugs for every nootropic you're thinking about taking and talk to a trusted medical professional to confirm a nootropic stack you want to try is safe.
DO: Pay Attention to Your Body While Taking Nootropics
Be sure to monitor your mental and physical health while taking nootropics. Be mindful of your dosage, as some can be very powerful. Be aware of any changes in mood and behavior while taking nootropics.
If you experience any adverse reactions or side effects, stop taking them immediately and speak with a healthcare professional immediately. 
While nootropics may offer some cognitive benefits, such as working memory formation or increased alertness, they should not be considered a "cure-all" solution for mental health-related issues.
It's important to note that there is limited scientific evidence on the long-term effects of these substances, so do your own research before taking any nootropic supplement. By following these guidelines, you can ensure that you get the most benefit from these supplements while avoiding potential risks.
Feel Better with Medical Cannabis – Get Certified in Minutes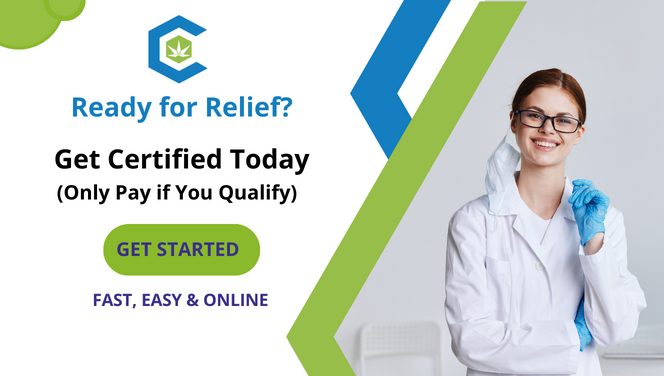 ---
Enjoyed This Content? Read More:
In this guide, you'll learn how to make cannabis-infused coconut oil or MCT oil, decarboxylate cannabis, or choose to infuse cannabis into any oil of your choice.