Arkansas Gun Rights Guide for Medical Cannabis Patients
Table of Contents
The Arkansas Medical Cannabis Act (Issue 7) was a ballot initiative that initially met the requirements to appear on the November 8, 2016, election ballot in AR. However, the Arkansas Supreme Court invalidated the initiative 12 days before the election.
The Arkansas Medical Marijuana Amendment (Issue 6) was a different medical marijuana legalization initiative that qualified for the 2016 general election and received voter approval.
By a vote of 53% to 47%, the Arkansas Medical Marijuana Amendment or Amendment 98 was approved as an amendment to the state constitution. It permits patients to possess up to 2.5 ounces (71 g) of cannabis to treat recognized medical ailments with a doctor's recommendation.
No provision was provided for patients to grow cannabis at home. 
Eligible patients and caregivers can get medical marijuana registry cards from the Arkansas Department of Health. The first dispensary in Hot Springs didn't open until May 2019 and licensed sales didn't start until then.
The state first granted 32 dispensaries from the Alcohol Beverage Control Division, while the AK Medical Marijuana Commission provided five cultivation permits. 
Treatment for any of the following disorders qualifies a person for a medical marijuana card in Arkansas:
ALS
Alzheimer's disease
Cancer
Crohn's disease
Fibromyalgia
Glaucoma
Hepatitis C
HIV/AIDS
PTSD
Tourette's syndrome
Ulcerative colitis
Any chronic or debilitating medical condition (or its treatment) that causes intractable pain and hasn't responded to other treatments in at least six months
In November 2022, AR voters turned down a ballot measure to legalize marijuana for recreational use. This was a setback for efforts to open the first market for adults in a conservative, deep-red Southern state like AR.
Issue 4 didn't have a good chance of passing, and it was opposed by a strong group of political and religious conservatives and progressive cannabis supporters.
In February 2023, Republican state Sen. Joshua Bryant introduced a bill that would change the state constitution to make it legal for adults to have and grow cannabis at home.
Does Having a Medical Cannabis Card Mean Not Being Eligible for a Gun License in Arkansas?
According to a 2022 poll, 57.2% of Arkansans are gun owners. The availability of weapons for prospective medicinal cannabis patients in Arkansas was one of the most frequently asked questions.
The short answer is no. You will not be allowed to buy firearms from a federally-licensed gun dealer or any other source of firearm sales if you obtain a medicinal cannabis card. However, you are not compelled to turn in any firearms you have.
Since cannabis is still illegal at the federal level, even lawyers and legislators recommend adhering to federal law. It will be safer for you to buy firearms once marijuana is officially legalized on a federal level.
Little Rock attorney and public policy advocate David Couch claim that Arkansas medicinal cannabis cardholders will be breaking the law if they buy a gun. Couch authorizes the voter-approved amendment, Issue 6, that legalized medical marijuana in Arkansas.
"Technically, it's a crime or an enhanced crime to have a gun," he said. "If you're a medical marijuana person and have a medical marijuana card, you go to a gun dealer, you either have to commit perjury or don't buy a gun."
The state doesn't have a clear stance on this issue, so if you have a medical marijuana card, it's best not to carry your firearms.
Can You Take Your Gun to a Dispensary in Arkansas?
A license, background check, or registration of guns is not necessary when purchasing a handgun from a private individual. At the state level, the Department of Public Safety issues concealed handgun licenses in Arkansas, a shall-issue, permitless carry state.
This means anyone at least 18 years old who can lawfully possess a handgun can carry openly without a license. Some places are off-limits, such as pubs and schools.
Any adult who can lawfully possess a handgun over the age of 18 and who is traveling (outside their house or property) may also carry a concealed weapon without a license. 
Arkansas offers two different types of handgun carry permits: the Concealed Handgun Carry Licenses (CHCL) and Enhanced Concealed Handgun Carry Licenses (E-CHCL), which permit carrying in a number of places that are otherwise prohibited, including public colleges, the majority of public buildings, less-secure areas of airports, churches, and more.
Eight hours of additional classroom and range instruction are needed for the E-CHCL.
Given that it is against federal law to own a gun and have a medical marijuana card simultaneously, Arkansas' gun regulations may be lax when obtaining gun licenses, but they may be stricter when you bring a gun to a dispensary.
Can You Consume CBD and Own a Gun in Arkansas?
CBD derived from marijuana is not allowed in Arkansas. THC levels in CBD derived from industrial hemp are often relatively low and insufficient to cause intoxication. To reap the health benefits of cannabis without the high, more individuals are turning to this kind of CBD as a health supplement.
You can legally purchase CBD oil in Arkansas if it is made from hemp and has a minimum concentration of 0.3%.
So as long as the CBD product you are using contains the amount of THC, you are OK to own a gun while consuming it.
Get Your Arkansas Medical Cannabis Card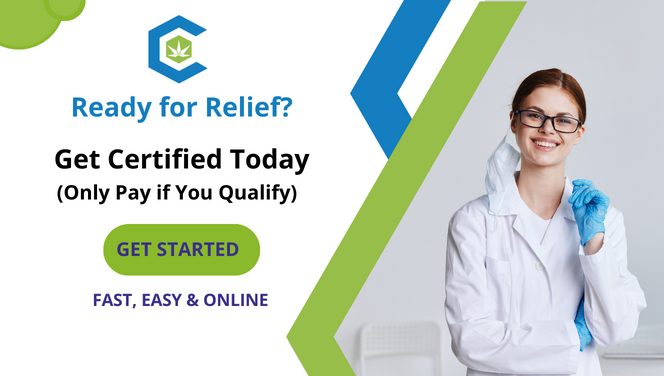 ---
Enjoyed This Content? Read More:
In this guide, you'll learn how to make cannabis-infused coconut oil or MCT oil, decarboxylate cannabis, or choose to infuse cannabis into any oil of your choice.