New Hampshire Gun Rights for Medical Cannabis Patients
In July 2013, Governor Maggie Hassan signed into law the New Hampshire medical marijuana law (HB 573), which permits patients with "chronic or terminal illnesses" and "debilitating medical conditions" to have access to cannabis through authorized Alternative Treatment Centers (ATCs).
This statute is considered one of the strictest medical marijuana laws in the US because of its tough restrictions on patients, including a ban on home grows.
However, improvements have been made since the original statute was passed, most notably by adding Post-Traumatic Stress Disorder (PTSD) and chronic pain to the list of qualifying disorders.
The New Hampshire Therapeutic Cannabis Program (TCP) processes applications and provides cannabis registration ID cards to qualified patients and caregivers.
With the use of their registration ID cards, cardholders can obtain medicinal cannabis from one of the state's authorized ATCs.
The cultivation, processing, and distribution of medicinal cannabis to eligible patients in New Hampshire are handled by the ATCs, which are independently run, not-for-profit organizations.
The program oversees the ATCs' adherence to all relevant rules and regulations and their safety and quality.
In February 2023, the New Hampshire House of Representatives gave its first approval to a bill that would allow adults to use marijuana for recreational purposes. House Bill 639 makes it legal for people over 21 years of age to own and use cannabis.
If the bill passes, New Hampshire would be the last state in New England to pass such a law. The Liquor and Cannabis Commission, as it would now be called, would be in charge of regulating the market for marijuana and giving out business licenses.
The 8.5% Meals and Rooms Tax would be added to cannabis sales to adults.
In March 2023, the NH State House passed House Bill 360, which is a step ahead in making it legal and safe for people over 21 to own and use cannabis.
The bill is now referred to the Judiciary Committee, which will look at its legal and judicial issues more deeply.
If this bill passes the Judiciary Committee, it still needs to be voted on the floor of relevant legislative chambers before it can go to the governor, who would then decide whether or not to sign it and make it a law.
As a law, HB 360 would remove marijuana from the state's list of banned substances.
As of this writing, HB 639 has been amended and will go back to the House for a second vote before the Senate looks at it. HB 360 has been referred to the Senate.
Does Having a Medical Cannabis Card Mean Not Being Eligible for a Gun License in New Hampshire?
According to the Gun Control Act of 1968, people who use or are addicted to cannabis are prohibited from possessing guns and ammunition, and are placed on the same firearm prohibited list as violent criminals and mentally ill people.
In an open letter published in 2011, the Bureau of Alcohol, Tobacco, Firearms, and Explosives (ATF) reiterated its stance that the 1968 statute remains in effect.
According to the letter, everyone who uses marijuana, irrespective of state law, is considered an "unlawful user of" the prohibited drug and is thus unable to own a firearm.
Despite shifting cultural views on marijuana, people who use medicinal marijuana are banned by the federal government from possessing firearms.
Additionally, state law (HB 573, section XI (b)(1)) declares that the New Hampshire Department of Health and Human Services — which supervises the state's medical marijuana program — can give access to any information about qualifying patients, designated caregivers, and agents of alternative treatment centers to their authorized department employees acting in the course of their official duties.
This information can also be accessed by authorized local and state law enforcement members who have stopped or arrested someone claiming to be using marijuana for medicinal purposes.
There are presently no regulations in New Hampshire that expressly regulate the possession of firearms and medical marijuana. New Hampshire is one of the gun-friendliest states in the US.
In 2017, the state abolished the necessity for a concealed, loaded handgun permit, and there are few laws restricting gun ownership or carrying.
It's possible that gun owners might be able to get a medical marijuana card, and those with medical marijuana cards might be able to get a gun license easily because of the relaxed gun laws in New Hampshire.
But keep in mind that in legal matters, the state conforms with what the federal law requires as far as marijuana and guns are concerned.
Can You Take Your Gun to a Dispensary in New Hampshire?
The purchase of a handgun from a private individual does not need a permit, background check, or weapons registration.
Anyone over the age of 18 who may lawfully own a firearm may open or conceal carry it in New Hampshire without a license. Residents and non-residents are both granted Pistol/Revolver Licenses (PRLs) for reciprocity reasons.
You can carry a weapon practically anywhere in New Hampshire except for these locations, even with a PRL:
Residential child care and child day care centers


Courtroom or area used by a court


Any place where carrying of firearms is prohibited by federal law or state law or regulation
Can You Consume CBD and Own a Gun in New Hampshire?
Cannabidiol's legality is dependent on its source. CBD may be made from either hemp or marijuana, and the amount of THC in these two differ significantly.
Anything considered hemp produces minimal levels of this cannabinoid — up to 0.3% —while the THC content of some of the strongest marijuana strains can reach up to 30%.
You cannot purchase CBD oil made from marijuana at a dispensary in New Hampshire.
Only authorized medical professionals can give their patients medicinal marijuana and products derived from marijuana.
As long as you're a patient using medicinal marijuana prescribed by your doctor, you may legally purchase CBD oil made from marijuana.
Unless otherwise specified by state law, all hemp-based products are lawful in the US, according to the 2018 Farm Bill.
Fortunately, no state legislation has been proposed in New Hampshire to control goods derived from hemp.
Because it is governed by the same laws as other hemp-based products, CBD oil made from hemp is completely lawful in the state, which means you can legally consume hemp-derived CBD and own a gun in New Hampshire.
Can I Own a Gun if My Spouse Has A Medical Cannabis Card in New Hampshire?
The right to keep and bear arms is guaranteed under the state constitution of New Hampshire. You don't need a license to buy a gun nor do you have to register your gun. There is also no age limit on who can own a gun.
However, a gun can only be given to someone under 18 by a parent, grandparent, or legal guardian.
As compared to other states, New Hampshire's firearms restrictions are rather lax. Anyone from New Hampshire can possess or carry a handgun at their homes and private properties, even without a license.
Given how relaxed NH gun laws are, owning a gun even if your spouse has a medical cannabis card in New Hampshire shouldn't be an issue.
However, please consult a local lawyer before putting yourself in that situation.
Get Your Medical Marijuana Card in Minutes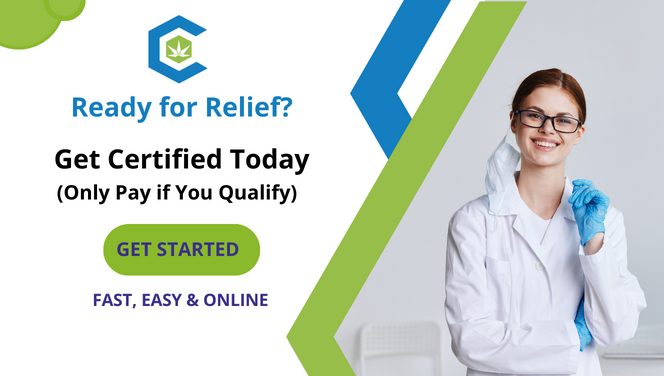 ---
Enjoyed This Content? Read More:
In this guide, you'll learn how to make cannabis-infused coconut oil or MCT oil, decarboxylate cannabis, or choose to infuse cannabis into any oil of your choice.