Terpenes: How Do They Work and What Are Their Effects?
Table of Contents
A terpene is an organic compound found in many plants. This naturally occurring compound has a wide range of effects on the environment, health, and its users.
Terpenes have been used for centuries for medicinal purposes and are increasingly gaining popularity due to their potential therapeutic benefits.
In this article, we'll look at how terpenes work and their potential effects on our health and well-being.
What Are Terpenes?
Terpenes are chemical compounds found naturally in plants and some animals. They are what give different plants their smells, tastes, and colors.
Terpenes are the components of cannabis that give some strains their distinctive flavor or aromaThe smell of cannabis, which can vary greatly between strain.... They are a primary component of plant-based essential oils and can be found in a wide variety of plant species.
Common plants that contain terpenes are:
Tea like green tea
Fragrances like lavender and tea tree
Aromatic herbs like thyme, lemongrass, and Spanish sage
Citrus fruits like lemon and orange
Cannabis
Terpenes may also be good for the human body in some ways but so far, only a small percentage of terpenes have been studied. Cannabis is one of the most well-known plants whose terpenes are used for medical purposes.
Different terpene profiles can be found in different strains of cannabis, creating distinct aromas, flavors, and effects for consumers.
For centuries, cannabis has been used for therapeutic purposes because of its wide range of beneficial effects that help with the following:
Cancer
Bacteria
Fungi
Viruses
High blood sugar
Pain
Inflammation
Parasites
As laws about cannabis get less strict, scientists are looking into these possible benefits more and more.
How Do Terpenes Affect Plants?
Terpenes and their potential benefits are often discussed in relation to humans, but it is equally important to consider their impact on plants.
Helps in Protecting Plants
Terpenes act as a defense mechanism against pests, diseases, and weather conditions by deterring predators and preventing damage to the plant.
Many plants create terpene-containing oils that act as a repellent for various insects and animals, while also providing protection from environmental stressors like UV radiation and extreme temperatures.
Terpenes can also act as antifungal agents, inhibiting the growth of certain fungi that may affect the plant's health.
Helps in Plant Growth
In some cases, terpenes have even been found to stimulate growth hormones in plants, increasing their overall health and vitality.
Terpenes also play an important role in regulating the growth rate of plants, helping them respond quickly to changes in their environment.
Terpenes are even known to regulate the transport of nutrients throughout a plant's body, ensuring that it gets what it needs for good health.
Helps in Inter-organism Communication
Terpenes act as signaling molecules between plants, helping them communicate with nearby plants.
For example, plants may be able to signal the presence of predators or other environmental factors that could affect the health of the plants in question.
Terpenes also help in attracting pollinators with their pleasing aromas. This is why some flowers have an intense smell; they are marketing themselves to possible pollinators.
How Can Terpenes Affect Their Consumers?
Terpenes are found in many aromatic plants that provide a variety of therapeutic benefits. They have been studied for their potential to improve human health and wellness.
Some types of terpenes found in plants such as lavender, lemon balm, oregano, and rosemary are believed to have therapeutic effects on the body when inhaled or applied topically.
Research suggests that these terpenes may reduce anxiety and stress levels while also helping to relieve pain and inflammation in the body.
The terpenes that cannabis produces have also been shown to have anti-inflammatory, antiseptic, and antioxidant properties, making it a beneficial component of medical cannabis.
Studies have also suggested that terpenes produced by cannabis may protect against certain types of cancer.
Some of the effects terpenes may have are:
Improved focus and concentration
Boost immune system functioning
Better sleep quality
Antiviral
Anticancer
Antidepressant
Antimicrobial
Pain relief
Help with anxiety and mood disorders
Reduce stress
Terpenes found in the cannabis plant may have potential health benefits, but they can also have adverse effects on consumers.
Various cannabis strains contain different cannabis terpenes and will have different impacts on those who use them.
For instance, some terpenes may act as a stimulant or depressant, while others may act as an anti-inflammatory or analgesic. Some terpenes may act as a natural sedative or anxiolytic.
Understanding the potential effects of terpenes is essential for making informed decisions before consuming any cannabis products.
How Do Terpenes in Cannabis Work?
Terpenes have been found to have their own benefits, such as:
Relieving stress
Giving you energy
Helping with focus
Giving the feeling of calmness
Terpenes don't have a psychoactive effect — that comes from THC —, but when they interact with other cannabis compounds, they can make you more focused or help you calm down.
When you mix terpene and cannabinoid molecules, you get an entourage effect that can have many different effects.
This can make cannabis more enjoyable and gives cannabis users access to a wider range of possible benefits.
The entourage effect is the beneficial interaction between cannabinoids and terpenes in the cannabis plant. Cannabinoids like THC and CBD are responsible for the psychoactive effects of cannabis, but certain terpenes can also have potential effects on humans.
Terpenes interact with our endocannabinoid system to modify and enhance the effects of THC and CBD. They don't get you high by themselves, but they can influence how potent your high is.
This is why many people prefer full-spectrum products over isolates that don't contain any terpenes.
The precise way that terpenes work is not yet fully understood, but it appears that they interact with our bodies in a variety of ways to help us achieve balance and well-being.
Terpenes are incredibly important for both plants and people. They can help plants in many ways, such as by protecting them and making their lifecycle better.
Terpenes can be consumed with cannabis or they can be used in aromatherapy to help people calm down. Overall, terpenes are very useful substances that can help both plants and people in many ways.
What Are Some of the Most Common Terpenes?
There are over 200 identified terpenes, and each one has a unique smell, taste, and therapeutic potential. Some of the most common terpenes are:
Pinene
Pinene is one of the most common terpenes. It smells like a spicy forest and has been used for hundreds of years to treat inflammation and asthma.
Even though pinene is found in many different strains, it smells strongest in high-quality OG Kush buds.
Other plants that contain this terpene: basil, rosemary, parsley
Myrcene
The most prevalent terpene in cannabis, and the one that is most frequently encountered in nature, is myrcene. It makes up as much as 65% of the total terpene profile in some cannabis strains.
The smell of myrcene is often earthy and musky, like cloves. Myrcene can also smell like fruity red grapes. Special Kush is a strain that has a lot of myrcene.
Other plants that contain this terpene: hops, mango, bay leaves, lemongrass
Limonene
Limonene is an aromatic terpene that is produced in the resin glands of the cannabis flower. It smells like fruit or citrus when it's by itself, and it's found in many common things like fruit peels, cosmetics, and cleaning products.
The terpene profiles of popular strains like Banana OG and Berry WhiteA well-known hybrid cannabis strain, appreciated for its rel... are mostly made up of limonene.
Other plants that contain this terpene: mint, juniper, rosemary
Terpinolene
Terpinolene can be found in many types of cannabis, but usually only in small amounts. It may be the least common terpene.
Terpinolene gives off a smoky, woody aroma and is a key part in the smell and taste of cannabis strains like Dutch Treat and Golden Pineapple.
Other plants that contain this terpene: lilacs, rosemary, conifers
Caryophyllene
Caryophyllene is a terpene that is very common in cannabis and is known for its herbal, spicy, and woody taste. Caryophyllene is one of a kind because it can bind to CB2 cannabinoid receptors in the body's endocannabinoid system after being ingested.
Other plants that contain this terpene: black pepper, basil, oregano
We hope this guide was helpful for you! Which terpene do you enjoy the most?
---
Need a Medical Cannabis Card? Get Certified in Minutes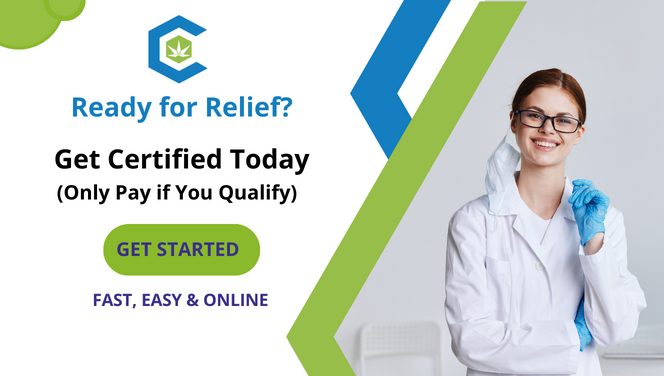 ---
Enjoyed This Content? Read More:
In this guide, you'll learn how to make cannabis-infused coconut oil or MCT oil, decarboxylate cannabis, or choose to infuse cannabis into any oil of your choice.