Pinene: What You Need To Know About This Cannabis Terpene
Table of Contents
Pinene is an abundant terpene found in several plants with a fragrance that is described as fresh, earthy, and woody.
In cannabis, strains high in pinene are typically known to have a distinct pine scent and can provide a more energetic high.
In this article, we'll take an in-depth look at the terpene pinene, including its aroma, effects, and potential benefits.
Whether you're an experienced cannabis user or just learning about the plant, understanding the role of terpenes like pinene is crucial to developing a deeper appreciation for the complexities of this remarkable plant.
What Are Terpenes?
Terpenes are a group of compounds that are found in a wide range of plants that help in making them smell and taste good. T
ypically, terpenes are found in plants with strong smells, such as pine, jasmine, or even orange peel, but cannabis has such a high concentration of them that people tend to think of it when speaking of terpenes.
Terpenes have been used as medicines, fragrances, and flavorings for centuries. T
erpenes can have many different effects on the person who eats or drinks them.
For example, some terpenes can reduce inflammation or act as antioxidants, while others can make you feel calm or sleepy.
Researchers have found that some terpenes may help treat conditions like nervousness and sadness.
Terpenes can also react with other chemicals to make different effects, like making you feel more energetic or calm.
Terpenes have different effects on people based on the type of compound and how much of it is in the product they are using.
What Is The Entourage Effect?
The entourage effect is a phenomenon in which all the components of cannabis work in harmony with one another.
This means that when all of the components are put together, each one has a bigger effect than the sum of their parts.
The compounds found in cannabis are thought to be the main reason why this effect is stronger.
Terpenes are volatile aromatic chemicals that give cannabis its unique smell and taste.
They have also been found to have many therapeutic effects.
The entourage effect is based on the idea that these different cannabinoids and terpenes work together to make a strong healing effect that can help people with a wide range of health problems.
Even though more study needs to be done to fully understand how this relationship works, it seems clear that mixing different cannabinoids and terpenes can lead to better results.
What Is Pinene?
Pinene is a liquid found in different plant materials and is oily, transparent, colorless, and has a distinct taste and aroma that is widely used in a variety of industries.
Pinene is often used in the perfume business because it has an earthy, woodsy smell that makes perfume smell natural. In the food industry, pinene is used as a food additive to give a natural flavor to various food products.
Pinene is found in many types of fruits, vegetables, and spices and is used in many recipes, including baked goods, meat dishes, and other savory dishes.
Pinene is used as a preservative to extend product shelf life and prevent bacteria growth.
Other industries also use pinene regularly, such as cosmetics, aromatherapy, and alternative medicine.
Pinene is incredibly popular in the cannabis industry as it is believed to be one of the primary compounds responsible for enhancing concentration and elevating mood.
Pinene is believed to have therapeutic properties, including anti-inflammatory and anti-bacterial properties.
It also acts as a bronchodilator, which is helpful to ease the effects of asthma and other lung conditions.
Pinene's anti-inflammatory properties make it popular in alternative remedies for chronic pain, as it is believed to reduce inflammation and alleviate pain.
---
Chemical Structure of Pinene
Pinene is either of two colorless liquid isomers — alpha-pinene or beta-pinene — that are found in large amounts in the essential oil of pine trees and which are used as a raw material for making chemicals. Both alpha-pinene and beta-pinene molecules have the same formula C10H16.
This means that there are 10 carbon atoms and 16 hydrogen atoms in a molecule of each pinene.
The primary difference between the two is their solubility. Alpha-pinene is partially soluble in water and ethanol.
Beta-pinene is not soluble in water and ethanol, but is soluble in oils.
Both alpha-pinene and beta-pinene are bicyclic molecules, which means that their structures have two rings.
The difference is Alpha-pinene has a double bond within its ring structure while beta-pinene has a double bond outside of the ring structure.
Both isomers usually occur together, and fractional distillation is used to separate them.
The arrangement of atoms in pinene is responsible for some of its unique chemical and physical properties.
The chemical structure of pinene is important in determining its biological activity.
Large amounts of alpha-pinene are turned into synthetic pine oil or camphene, which is then chlorinated to make toxaphene — a pesticide — or treated with acetic acid to make isobornyl acetate — a perfume that smells like pine needles and a step in making synthetic camphor.
Beta-pinene, like alpha-pinene, has a number of important uses as an artificial fragrance in cosmetics, in the production of home cleaners, and in synthetic flavorings.
Like alpha-pinene, beta-pinene has been shown to have anti-cancer, anti-bacterial and has neuroprotective qualities.
What Are the Effects of Pinene?
Pinene has many potential applications in the pharmaceutical and food industries as it exhibits several beneficial effects on human health.
The two isomers of pinene have different effects on the human body, and both have their own set of benefits.
Alpha-pinene has been used in traditional Chinese medicine for centuries because of its benefits such as:
Anti-inflammatory properties
Reduces swelling and pain
Improves airflow to the lungs for people with asthma
Increases antioxidant capacity that relieves oxidative stress
Increases production of acetylcholine, a neurotransmitter that plays a crucial role in learning and memory
Beta-pinene, on the other hand, has been found to have the following benefits:
Antimicrobial properties
Reduces inflammation and pain
An aromatherapy agent
Has a calming effect on the brain
Alleviates stress and anxiety
Improves neural signaling in the brain, which also improves cognition
Both alpha and beta-pinene can act as bronchodilators, which means that they can help in relaxing the bronchial muscles, making them useful for people with respiratory problems such as bronchitis, pneumonia, and Chronic Obstructive Pulmonary Disease (COPD).
Pinene is also known to enhance the effects of THC, the primary psychoactive ingredient in cannabis. It can increase the activity of cannabinoids in the brain, leading to:
Increased relaxation
Improved mood
Decreased anxiety
What Cannabis Strains Are High In Pinene?
When it comes to cannabis strains that are high in pinene, there are a few noteworthy options to consider:
Jack Herer
This strain is well known for its uplifting, euphoric effects, making it a popular choice for recreational users.
It has also been shown to have some medicinal benefits, such as alleviating stress and depression, providing pain relief, and reducing inflammation.
Blue Dream
This Sativa-dominant hybrid is a favorite among cannabis enthusiasts due to its balanced effects. Blue Dream provides a gentle, energizing high that is perfect for daytime use.
The high levels of pinene in Blue Dream give it a refreshing, piney aroma and flavor that is highly pleasurable.
Sour Diesel
Known for its strong diesel-like aroma, complemented by a sweet, fruity flavor, Sour Diesel is a potent strain that delivers an energetic, euphoric high perfect for socializing or creative endeavors.
The pinene in Sour Diesel has been found to have a range of health benefits, including reducing anxiety, improving memory and focus, and acting as an anti-inflammatory agent.
Pineapple Express
With its fruity, tropical flavor and aroma, Pineapple Express is a strain that appeals to many cannabis users.
Its high levels of pinene contribute to its fresh, spicy scent, making it a pleasurable strain to use.
Pineapple Express is known for its uplifting, creative effects that can help increase focus and provide a boost of energy.
Where Can You Find Pinene Besides Cannabis?
Pinene is a terpene that is commonly found in cannabis, but it can also be found in many other natural sources, such as pine trees.
Some of the other plants rich in pinene include:
Rosemary
Basil
Parsley
Dill
Sage
Juniper
Oranges
Lemons
Limes
Grapefruits
Juniper Berries
Cedar
Eucalyptus
Pinene is a naturally-occurring compound and can be found in many foods and plants, including cannabis, pine trees, and rosemary.
Its distinct aroma and flavor make it popular in several industries, making it a versatile and essential compound.
From providing therapeutic benefits to enhancing flavors in food, Pinene is a multifaceted compound with many applications.
Get Your Medical Cannabis Card in Minutes!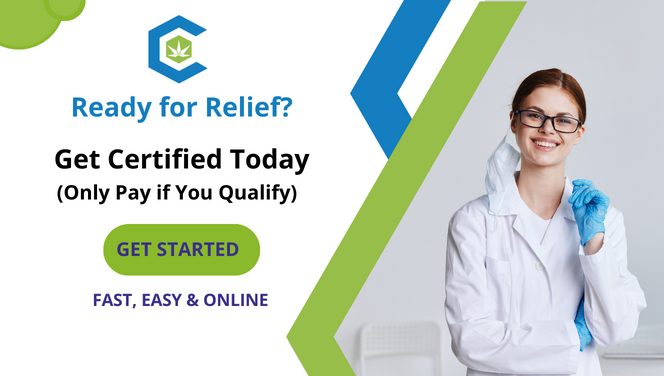 ---
Enjoyed This Content? Read More:
In this guide, you'll learn how to make cannabis-infused coconut oil or MCT oil, decarboxylate cannabis, or choose to infuse cannabis into any oil of your choice.