Limonene: What You Need To Know About This Cannabis Terpene
Table of Contents
Limonene is one of the most prominent terpenes found in cannabis and is known for its citrusy fragrance and potential health benefits.
In this article, we will explore what limonene is, how it interacts with other compounds in cannabis, and its potential health benefits.
We will also take a closer look at which cannabis strains and other plants contain high levels of limonene.
So, let's dive into everything you need to know about this fascinating cannabis terpene.
What Are Terpenes?
Terpenes are organic compounds found in a number of plants that contribute to their aroma and flavor as well as their therapeutic properties.
Each terpene has its own set of benefits, such as having anti-inflammatory, analgesic, or anti-anxiety properties.
Terpenes are often found in plants with strong smells, like pine, jasmine, orange peel, and cannabis, all of which have high concentrations of terpenes.
Terpenes have been used for hundreds of years as medicines, fragrances, and even flavorings.
Terpenes have a wide range of potential impacts on the human body. Some terpenes have anti-inflammatory or antioxidant properties, while others might make you feel relaxed or drowsy.
According to studies, terpenes have demonstrated promise as possible treatments for various illnesses, including anxiety and depression.
When combined with other substances, terpenes can provide a wide range of effects, from increased alertness to reduced anxiety.
People respond differently to terpenes depending on the specific type of terpene and its concentration.
There are approximately 200 terpenes produced by the cannabis plant, and they are all blended together in their own special way in each strain.
Since terpenes are what give many types of cannabis their unique smells and psychoactive effects, they may also add to the overall experience of using cannabis.
What Is The Entourage Effect?
The entourage effect is a phenomenon that occurs when different components of the cannabis plant work together to create a stronger effect than any one component could on its own.
These components — known as cannabinoids, terpenes, and flavonoids — all have unique therapeutic properties, but when consumed together, they can produce a synergistic effect that enhances their individual benefits.
For example, the cannabinoid THC is known for its psychoactive effects, while the cannabinoid CBD is known for its anti-inflammatory and pain-relieving properties.
When consumed together, they can provide a more potent and beneficial experience.
The entourage effect has important implications for the use of cannabis as medicine, as it suggests that whole-plant extracts may be more effective than isolates or single compounds.
There has been a lot of study and discussion around the entourage effect.
Some experts say it is the key to understanding the full medicinal potential of cannabis, while others say it may be overblown or not well understood.
Regardless, it is still an important idea in cannabis science and medicine, and it is often used as a reason to support the use of full-spectrum cannabis products.
As the number of people who use cannabis as medicine continues to rise, hopefully more studies will be conducted to find out more about the entourage effect and how it helps cannabis work as a medicine.
What Is Limonene?
Limonene is a naturally occurring organic compound found in the essential oils of various citrus fruits, such as oranges and lemons.
It is often used as a flavoring agent in food and beverages due to its sweet, citrusy aroma and flavor. In addition to its aromatic properties, Limonene has been extensively studied for its potential therapeutic effects.
It is believed to possess powerful anti-inflammatory properties and may be useful in treating conditions such as arthritis, ulcerative colitis, and asthma.
Limonene has also been shown to have anti-tumor effects in animal studies, suggesting it may be useful in cancer treatment.
Limonene can be found in some strains of cannabis, where it is a primary terpene contributing to the strains characteristic aroma and taste.
There is some evidence that cannabis strains rich in Limonene may also have therapeutic benefits.
For example, Limonene has been found to exhibit potential anti-anxiety effects by interacting with certain receptors in the brain.
Some anecdotal evidence suggests that cannabis strains high in Limonene may also enhance mood and improve focus.
Limonene is a versatile compound not limited to use in cannabis and food. It is commonly used in household cleaning products and as a solvent in industrial applications.
Its clean and fresh aroma makes it a popular fragrance in perfumes and colognes, and it is also used as a flavoring agent in chewing gum and candy. 
Chemical Structure of Limonene
Limonene is a colorless liquid hydrocarbon naturally found in the rinds of citrus fruits, such as oranges, limes, and grapefruits, and it has a chemical formula of C10H16.
The chemical structure of limonene is characterized by a cyclic structure with a double bond, which is a common feature of most terpenes.
It has a tricyclic structure, consisting of two isoprene units fused together to form a bicyclic ring, which is further fused to a single-ring cyclohexene ring through a carbon-carbon double bond.
The structure of limonene consists of two stereoisomers: R-limonene and S-limonene.
The difference between the two isomers lies in the configuration of the double bond, as the two isomers are mirror images of each other.
These two isomers are used in different applications due to their different chemical and physical properties.
The R-limonene isomer — also known as d-limonene — is the naturally occurring form of limonene in citrus fruits.
It is known for its cleansing and refreshing qualities and is used in fragrances, cleaning products, and as a solvent in manufacturing processes.
The S-limonene isomer — also known as l-limonene — is produced synthetically. It is used in the food and beverage industry as a flavoring agent.
What Are the Effects of Limonene?
Limonene is widely used in cosmetics, fragrances, and cleaning products due to its pleasant scent, solubility, and safety.
Limonene has also been extensively studied for its potential health benefits, including its potential uses cases for the following properties:
Anti-inflammatory
Antioxidant
Treating asthma
Reducing Colitis
Inhibiting cancer cell growth and promoting cancer cell death
Limonene also has environmental effects due to its volatile nature and low toxicity. It can be used as:
A natural solvent that can dissolve oils and waxes
An ingredient in cleaning agents and degreasers
An ingredient in many pesticides, such as eco-friendly bug repellents
An aromatherapy oil due to its relaxing and healing qualities
Limonene is also used as a flavoring agent in food and beverages, such as soda, candy, and chewing gum.
Limonene can have negative effects on the environment when it is released into the air or water, and caution should be taken when using limonene-based products.
Limonene can react with other air pollutants to produce harmful secondary pollutants, such as ozone and particulate matter.
Limonene can accumulate in water bodies and potentially harm aquatic organisms, such as fish and crustaceans.
The effects of limonene are diverse and dependent on its concentration, exposure, and application.
Limonene can have beneficial effects on human health, though more research is needed to determine the effectiveness and safety of limonene in humans.
What Cannabis Strains Are High In Limonene?
Limonene is a terpene found in many strains of cannabis. If you're looking for cannabis strains high in limonene, there are many options available, including:
Berry White
Blue Runtz
Clementine
Durban Poison
Gelato
Grapefruit Kush
Jack Herer
Jack the Ripper
Jet Fuel OG
LA Kush Cake
Lemon Diesel
London Pound Cake
Mimosa
OG Kush
Purple Punch
SFV OG or San Fernando Valley OG
Sour OG
Starfighter
Sundae Driver
Super Lemon Haze
Super Sour Diesel
White Fire OG
Where Can You Find Limonene Besides Cannabis?
Limonene is not unique to cannabis and is found in a wide range of plants, including fruits, vegetables, and herbs such as:
Anise
Basil
Bay leaves
Chamomile
Fennel
Ginger
Grapefruit
Hops
Lavender
Lime
Mint
Orange
Parsley
Red pepper
Rosemary, cardamom, and juniper
Sage
Spearmint and other minty teas
Peppermint
Valerian
The discovery of limonene and its numerous benefits has opened up a new world of possibilities for the cannabis industry.
As research continues, this terpene will undoubtedly become an important part of cannabis-based medicines and products.
Whether you're using cannabis recreationally or medicinally, be sure to pay attention to the presence of limonene in your chosen strains for maximum therapeutic potential. 
Get a Medical Cannabis Card in Minutes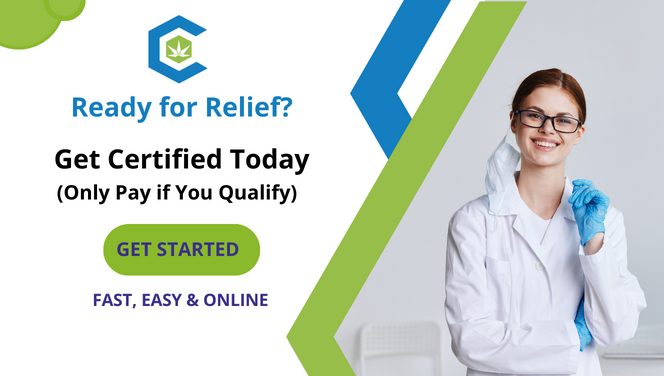 ---
Enjoyed This Content? Read More:
In this guide, you'll learn how to make cannabis-infused coconut oil or MCT oil, decarboxylate cannabis, or choose to infuse cannabis into any oil of your choice.