Unlocking the Secrets of Caryophyllene: The Cannabis Terpene You Should Know About
Table of Contents
Dive into the world of Caryophyllene, the intriguing cannabis terpene that's capturing the attention of scientists and health enthusiasts alike.
Caryophyllene Pronunciation: Car-ee-oh-fill-een
It is known for its distinctive aroma and taste, which has been described as being spicy or peppery.
While Caryophyllene is often associated with its unique flavor profile, it is also believed to have a range of potential therapeutic benefits.
There has been a surge in interest in using this terpene as a natural remedy for a variety of health conditions.
Whether you're a cannabis enthusiast or simply interested in natural remedies, this article will offer valuable insights into this increasingly popular compound.
What Are Terpenes?
Terpenes are chemical compounds present in a wide variety of plants that give them their distinctive perfume, flavor, and, in some cases, medicinal properties.
There are a variety of medical benefits associated with terpenes, including anti-inflammatory, analgesic, and anti-anxiety effects.
Pine, jasmine, orange peel, and cannabis all have intense aromas because they contain high levels of terpenes.
For centuries, terpenes have been used for culinary, medicinal, and aromatic purposes. Terpenes can have various effects on the human body.
Some terpenes may reduce inflammation or act as antioxidants, while others may have a sedative effect.
Researchers have found that terpenes are potential alternative treatments for a wide range of conditions, including anxiety and depression.
Terpenes, when mixed with cannabinoids, may have a broad variety of effects, from boosting alertness to calming nerves.
A person's reaction to terpenes might vary widely depending on the terpene's nature and the concentration's strength.
Each strain of cannabis is characterized by a unique combination of the approximately 200 terpenes generated by the plant.
Terpenes give many strains of cannabis their distinctive aromas and euphoric effects which may enhance the entire cannabis-using experience.
---
Get Your Medical Cannabis Card and Experience the Benefits of Terpenes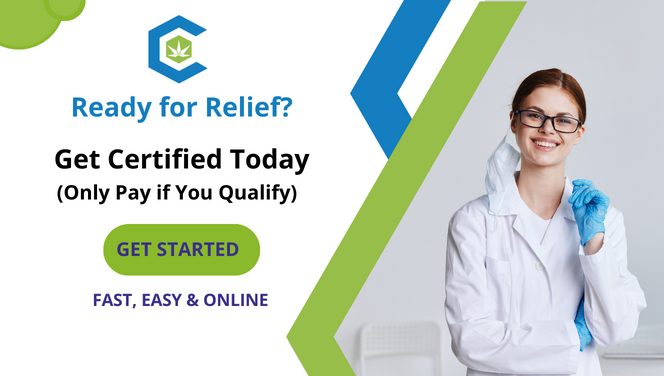 ---
What Is The Entourage Effect?
The entourage effect is what happens when different parts of the cannabis plant work together to make a bigger effect than any one part could on its own.
These parts are called cannabinoids, terpenes, and flavonoids and each one has their own medicinal benefits.
However, when taken together, they can have a combined effect that strengthens each effect. For example, the cannabinoid THC is known for making people feel high, while the cannabinoid CBD is known for reducing pain and inflammation.
When taken together, they can make the experience of both effects stronger. The entourage effect is important for the medical use of cannabis because it shows that whole-plant extracts may be more successful than single compounds or isolates.
The entourage effect has been the subject of extensive research and debate. Some experts say it is the key to understanding the full medical potential of cannabis, while others say it may be overstated or poorly understood.
Despite its limitations, it is still an important idea in cannabis science and medicine and is often used to back the use of full-spectrum cannabis products.
As more and more people use cannabis as medicine, surely more studies will be done to learn more about the entourage effect and how it makes cannabis work as a medicine.
What Is Caryophyllene, or Beta Caryophyllene?
Caryophyllene — also known as beta-caryophyllene — is one of the most common terpenes found in various plants and herbs, like cloves and hops.
The Caryophyllene terpene is a sesquiterpene that is responsible for the sharp, spicy, peppery, and woody notes of some plants commonly used as a food flavoring and aroma compound.
Recent studies have revealed that beta caryophyllene terpenes have a wide range of potential health benefits, which makes it a promising compound for medical research.
Researchers have found that caryophyllene has anti-inflammatory, analgesic, antioxidant, and anti-cancer properties, which can help prevent and treat various diseases.
Caryophyllene is found in the cannabis plant. One of the most remarkable features of this terpene is its ability to selectively bind to the CB2 receptors in the endocannabinoid system.
This means that it can act as a non-psychoactive cannabinoid, producing anti-inflammatory and analgesic effects without causing the high associated with THC.
Caryophyllene is not only present in cannabis but also one of the most abundant terpenes found in the plant, along with myrcene and limonene.
Its concentration varies depending on the strain and the growing conditions, but some strains are known to have up to 50% caryophyllene in their terpene profile.
This terpene is responsible for the aroma and flavor of the plant and may also play a role in cannabis' medicinal properties.
Chemical Structure of Caryophyllene
Caryophyllene is unique in its chemical structure, which includes a cyclic hydrocarbon ring with a trans-double bond and a pendant isopropenyl group.
The molecular formula for caryophyllene is C15H24, and it has a molecular weight of 204.36 g/mol. It has a boiling point of 262°C and a freezing point of −7°C.
The molecular structure of caryophyllene consists of a cyclohexene ring fused with a cyclohexane ring, forming a bicyclic sesquiterpene.
The cyclohexene ring has a trans-double bond, which gives the molecule its characteristic rigid and planar structure.
The planarity of the molecule allows it to form stable ring-stacking interactions, which may play a role in the biological activity of this compound.
Another important feature of caryophyllene's chemical structure is the pendant isopropenyl group, which is located at a position that is alpha to the double bond.
This group is highly reactive and can easily react with other molecules or undergo various transformations. For example, it can undergo oxidative cleavage or oxidation to form the corresponding ketone.
In some cases, this group may also participate in the formation of enzyme-substrate complexes, which can lead to the biological activity of caryophyllene.
Caryophyllene is considered a highly important molecule in natural product chemistry, as it exhibits a wide range of biological activities.
These biological activities are believed to be linked to caryophyllene's unique chemical structure, allowing it to interact with various biological molecules and cellular targets.
What Are the Effects of Caryophyllene?
Caryophyllene is a terpene that has been found to have many potential therapeutic effects on our bodies. It is widely available in food and plants and can be extracted and concentrated for use in supplements, creams, and other products.
Further research is needed to fully understand its mechanisms of action and potential therapeutic applications, but caryophyllene is a promising area of study for the development of new treatments for a range of conditions.
Caryophyllene effects and benefits may include:
A powerful anti-inflammatory agent that can help reduce pain and inflammation


Helps to relieve anxiety and depression by interacting with the endocannabinoid system in the brain


It has antioxidant properties, which can help to protect our cells from damage caused by free radicals.


It helps prevent the development of neurodegenerative diseases such as Alzheimer's and Parkinson's


Prevents the onset of some types of cancer


It has antimicrobial properties and effective treatment for infections caused by bacteria and fungi


It has a potential role in treating addiction and substance abuse.
What Cannabis Strains Are High In Caryophyllene?
When it comes to cannabis strains, there are several that are known to have high levels of caryophyllene.
Some popular strains with caryophyllene are:
Bubba Kush
Candyland
Chemdog
Cookies and Cream
Death Star
Durban Poison
Gelato
Girl Scout Cookies
Jack Herer
LA Kush Cake
Master Kush
Original Glue
Sour Diesel
Super Silver Haze
Caryophyllene vs Myrcene
Caryophyllene and Myrcene are two prominent terpenes found in cannabis, but they offer distinct profiles and benefits.
Caryophyllene is known for its spicy, peppery aroma and is unique in its ability to interact with the endocannabinoid system's CB2 receptors, offering potential anti-inflammatory and analgesic effects without the psychoactive "high."
On the other hand, Myrcene is characterized by its earthy, musky scent, reminiscent of cloves and cardamom. It is famous for its sedative properties and is often found in indica-dominant strains, contributing to the "couch-lock" effect.
While Caryophyllene is being studied for its wide range of potential therapeutic applications, including anti-cancer properties,
Myrcene is often researched for its potential to enhance the psychoactive effects of THC and for its own anti-inflammatory benefits. Both terpenes add complexity to the cannabis experience and are subjects of ongoing research to unlock their full medicinal potential.
Where Can You Find Caryophyllene Besides Cannabis?
While cannabis is certainly a popular source of this peppery terpene, there are many other plants and foods that contain high levels of this potent terpene.
Some of the most common sources of caryophyllene outside of cannabis include:
Basil
Black pepper
Cinnamon
Cloves
Copaiba
Eucalyptus
Hops
Lavender
Oregano
Rosemary
Sage
Thyme
Ylang-ylang
Caryophyllene is a fascinating terpene found in cannabis that offers numerous health benefits.
Its ability to selectively bind to the CB2 receptors makes it a promising candidate for the development of new treatments for inflammation, pain, anxiety, and addiction.
As the research on Beta-Caryophyllene continues to unfold, stay tuned to our blog for the latest insights and breakthroughs.
Get a Medical Marijuana Card in Minutes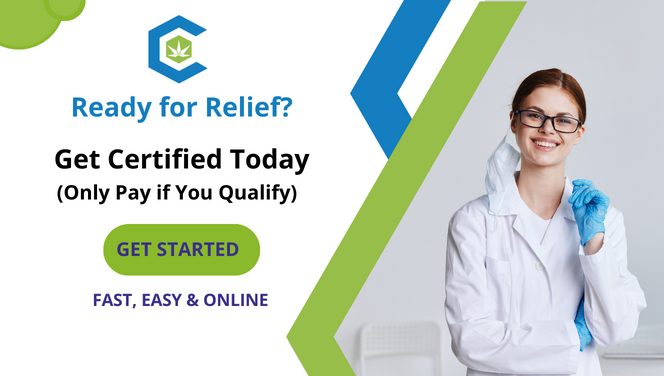 ---
Enjoyed This Content? Read More:
In this guide, you'll learn how to make cannabis-infused coconut oil or MCT oil, decarboxylate cannabis, or choose to infuse cannabis into any oil of your choice.