Alabama Gun Rights for Medical Cannabis Patients
Table of Contents
The passage of Alabama's SB 46 made the state of Alabama the 36th state to legalize medicinal marijuana by enabling registered patients to use and securely acquire cannabis compounds.
The Alabama Senate passed the legislation on February 24, 2021, with a vote of 20-10. Following suit, on May 6, 2021, the Alabama House of Representatives passed a modified version of the measure with a vote of 68-34; the Senate promptly agreed to the House's adjustments to the specifics.
On May 17, 2021, the governor, Gov. Kay Ivey approved the measure.
The Alabama Medical Cannabis Commission is responsible for qualifying patients to be certified to use medical cannabis; licensing and regulating the grows, processing, transporting, testing, and dispensing of medical cannabis; and banning certain types of medical cannabis products.
The Commission is mandated to create a patient registry and a way to track cannabis from seed to sale, to impose taxes, and to give medical cannabis users certain legal protections.
Patients must apply for and get a medical cannabis card in order to take advantage of and obtain cannabis legally for medicinal purposes.
They need to have a qualifying condition and a doctor's confirmation to be eligible. There will be an application fee of up to $65 for a medical cannabis card.
The qualifying conditions accepted in the program are:
Autism Spectrum Disorder
Cancer-related cachexia, nausea or vomiting, weight loss, chronic pain
Crohn's Disease
Depression
Epilepsy or a condition causing seizures
HIV/AIDS-related nausea or weight loss
Panic Disorder
Parkinson's Disease
Persistent nausea
Post-Traumatic Stress Disorder (PTSD)
Sickle Cell Anemia
Spasticity associated with Multiple Sclerosis or spinal cord injury
A terminal illness
Tourette's Syndrome
Legal guardians or registered caregivers must pick up cannabis for patients under 19.
As of mid-2023, the medicinal marijuana program in Alabama is still in its development stages and is not yet accepting applications from patients or caregivers.
The Commission started taking applications for medicinal cannabis businesses on September 1, 2022.
Physicians may start the certification procedure to suggest medicinal cannabis to eligible patients after granting business licenses.
The Commission began issuing licenses for medicinal cannabis businesses on June 12, 2023.
---
Get Your Alabama Medical Cannabis Card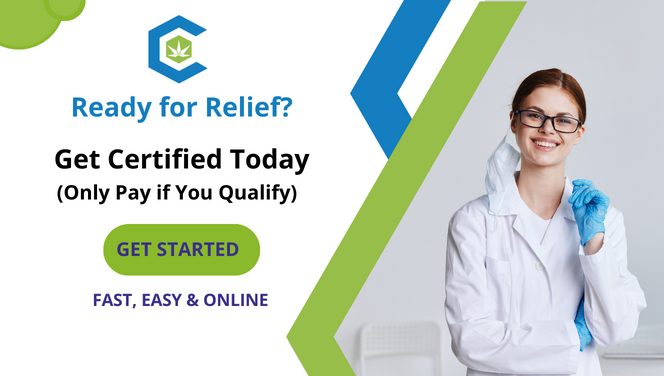 ---
Does Having a Medical Cannabis Card Mean Not Being Eligible for a Gun License in Alabama?
Federal gun laws forbid medicinal marijuana users from possessing weapons.
Marijuana is classified by the Federal government as a Schedule 1 restricted drug, which means the Federal government believes cannabis is extremely addictive and has no therapeutic properties.
The Federal government effectively makes no distinction between heroin or opium and medicinal marijuana.
In addition to casting medicinal marijuana in an unfavorable light, schedule 1 status under the Controlled Substances Act makes it illegal for anybody who uses medical marijuana to own a firearm.
Even though some states have legalized marijuana, the Federal government still views the substance as being illegal.
However, the Federal government is not focused on enforcing marijuana rules in states that have their own marijuana laws.
While federal law says that marijuana users can't have firearms, the Federal government can't get into the Alabama medical marijuana database without a legal search warrant.
Federal prosecutors don't want to waste their limited resources on cases that aren't likely to lead to sentences because it can be challenging to figure out what to do when federal and state rules contradict each other.
Alabama's medical marijuana program is still developing and not currently accepting patient or caregiver applications.
As of mid-2023, no direct state law prohibits a medical marijuana card user from owning a firearm.
Always seek legal representation if you believe your rights as a medical marijuana patient and a gun owner are being violated.
Can You Take Your Gun to a Dispensary in Alabama?
When purchasing a firearm from a private individual, no license, background check, or registration of guns is necessary in Alabama.
Alabama doesn't require a permit for open carry.
Open carry is allowed for anyone at least 19 years old and with the legal right to own a gun.
On March 10, 2022, Gov. Kay Ivey approved HB 272, also known as the constitutional carry bill.
This law states that any law-abiding resident of Alabama or other law-abiding citizens who is at least 19 years old and legally allowed to carry a firearm will no longer need to obtain a permit in order to conceal carry a firearm in Alabama as of January 1, 2023, regardless of the state in which they reside.
For those who wish to carry a firearm in states that need a permit and honor Alabama licenses, Alabama has retained its concealed carry permit system.
In Alabama, no person — with or without a permit — is allowed to possess or carry a firearm in any of the following locations without the express consent of a person or entity with control over the property:
Prison, jail, halfway house, community corrections facility, or other criminal or juvenile detention facility

Police, sheriff, or highway patrol stations

Inside a facility that provides inpatient or custodial care of those with psychiatric, mental, or emotional disorders

Building in which a county commission or city council is currently having a meeting

Inside a courthouse or courthouse annex

Inside any facility hosting an athletic event (that is not related to firearms) which is sponsored by an elementary, secondary, or post-secondary school, although concealed handgun license holders, may carry on the premises with permission

Inside any facility hosting a professional athletic event although concealed handgun license holders may carry on the premises with permission

Inside any building or facility to which access is limited during normal hours of operation by the continuous posting of guards and the use of other security features

Courthouse or building in which a district attorney's office is located

Demonstrations in public places

Alabama State House

University of Alabama

Any place where the carrying of firearms is prohibited by Federal law or state law or regulation
In Alabama, carrying a firearm inside a dispensary is permitted as long as the establishment doesn't have a strict policy against it.
Can You Consume CBD and Own a Gun in Alabama?
You might not find Alabama to be the most cannabis-friendly state. With regard to cannabis and all of its currently available products, they have strict regulations.
However, hemp-derived CBD Is a different story.
In Alabama, hemp CBD oil is entirely legal. It's crucial that the CBD products you purchase have a THC content of 0.3% or less.
If not, it will be regarded as illegal.
You may now buy hemp CBD products at local shops and dispensaries.
You can also order from online merchants and worry-free mail your purchase to Alabama.
Consuming CBD and simultaneously being a gun owner in Alabama is not illegal.
Can I Own a Gun if My Spouse Has A Medical Cannabis Card in Alabama?
Convicted offenders are sentenced to jail terms as punishment for their actions.
In order to compensate for their wrongdoing, they may lose some of their civil rights, such as their ability to vote, hold public office, and participate in jury duty.
In most states, being convicted includes losing the right to own a gun, be in the same place as a gun, or use a gun, even if the gun is legal or belongs to someone else in the home who is allowed to have it.
Laws that say people who have been convicted can't own guns are meant to stop repeat offenses and keep known criminals from participating in new crimes.
Alabama's medical marijuana program continues to be developed, so right now neither patients nor caregivers can apply for a medical marijuana card.
As of mid-2023, no state rules say an Alabaman can't own a gun if their spouse is a medical marijuana user.
So it is safe to say that your spouse's medical marijuana card does not stop you from acquiring a gun. But expect this law to evolve in the future.
You can own a gun in Alabama as long as your partner is not a marijuana-related felon.
---
Get a Medical Marijuana Card in Minutes!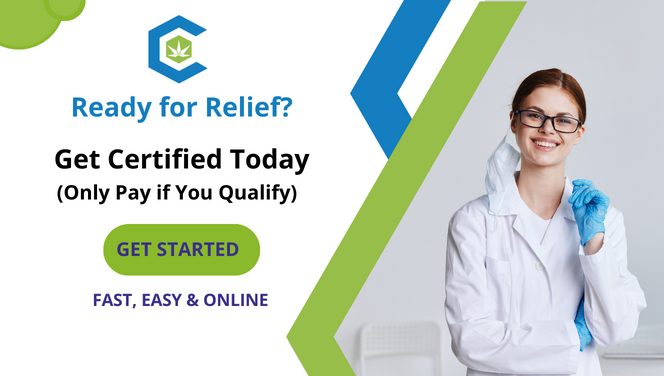 ---
Enjoyed This Content? Read More:
In this guide, you'll learn how to make cannabis-infused coconut oil or MCT oil, decarboxylate cannabis, or choose to infuse cannabis into any oil of your choice.