North Dakota Gun Rights for Medical Cannabis Patients
Table of Contents
Let's Explore North Dakota Gun Rights and Medical Marijuana
North Dakota's stance on marijuana has undergone significant changes over the years.
While medical cannabis is legal in the state, recreational use remains prohibited.
To obtain a medical marijuana card, patients must register with the North Dakota Medical Marijuana Patient Registry, which falls under the administration of the North Dakota Department of Health (NDDOH).
The process allows qualifying patients access to licensed dispensaries and medical cannabis products.
In 2015, House Bill 1430 aimed to establish a medical marijuana framework in North Dakota but faced strong opposition, ultimately getting voted down 26-67.
Concerns about potential risks outweighing benefits for a small group of patients who believed conventional medications were ineffective led to its failure.
Undeterred by the rejection of House Bill 1430, Fargo resident Rilie Ray Morgan took matters into his own hands, initiating a ballot measure for the 2016 general election to legalize medical marijuana.
North Dakota voters demonstrated their support by approving Measure 5 also known as the North Dakota Compassion Care Act, effectively establishing a medical cannabis program in the state.
However, it took two years for the North Dakota Legislative Assembly to implement the provisions of the Act fully.
In April 2017, the North Dakota Department of Health implemented the medical marijuana program, allowing for the production, processing, sale, dispensing, and medical use of marijuana by qualifying patients and caregivers.
Despite the approval of the Compassion Care Act, home cultivation of medical marijuana is not allowed in North Dakota.
Legislators outlawed home medical marijuana cultivation, limiting patients to purchasing from licensed dispensaries.
While this restriction may be a disappointment for some patients, it ensures tighter control over the cultivation and distribution of medical cannabis.
Dispensary licenses were opened in the Bismarck and Fargo areas by July 2018.
In April 2019, Gov. Doug Burgum signed a bill that changed and expanded the state's medical cannabis program.
Under House Bill 1283, physician assistants are permitted to advise eligible patients to use cannabis. House Bill 1417 says that cancer patients can have up to six ounces of cannabis flower if a healthcare worker gives them permission to do so.
House Bill 1519 qualifies a lot more people for medical cannabis therapy. Anyone with autism spectrum disorder, migraines, anorexia, Tourette Syndrome, and other debilitating diseases can now get medical cannabis treatment.
Despite the strides made in medical marijuana legalization, attempts to legalize recreational marijuana faced hurdles.
In 2021, a legislative proposal aimed to allow adults aged 21 and older to possess and purchase up to one ounce of marijuana for personal use.
Although approved by the state house, the state senate rejected the proposal in a 10-37 vote. Activists pledged to pursue their own ballot initiative as an alternative.
The following year, House Bill 1501 was presented to the North Dakota House, seeking to implement a 15% tax on recreational marijuana sales if legalized.
However, the bill faced the same fate as its predecessor and was rejected in the North Dakota Senate.
During the 2021-2022 legislative session, House Concurrent Resolution 3031 was proposed to place a recreational marijuana legalization measure on the 2022 ballot.
The resolution sought to legalize marijuana possession, sale, and use for adults aged 21 and older, commencing from August 1, 2023. Regrettably, HCR 3031 failed to gain enough support and was rejected in the House.
In a separate initiative, the New Approach North Dakota (New Approach ND) organization launched a petition to place a recreational marijuana legalization measure on the 2022 ballot.
Garnering the required 25,000 signatures, the ballot measure called Measure 2 directed regulators to establish an adult-use marijuana program by October 1, 2023.
Despite considerable efforts, Measure 2 was turned down by North Dakota voters in the 2022 elections, with a final vote of 55% against and 45% in favor.
Does Having a Medical Cannabis Card Mean Not Being Eligible for a Gun License in North Dakota?
While obtaining a medical cannabis card grants legal access to medical marijuana within the state of North Dakota, federal law still considers marijuana use illegal.
When purchasing a firearm, every individual must complete the ATF's 4473 form.
This federal form is used to initiate background checks, ensuring that buyers meet the necessary requirements for firearm ownership.
Alongside basic personal information, the form includes a crucial question: 'Are you an unlawful user of, or addicted to, marijuana or any depressant, stimulant, narcotic drug, or any other controlled substance?'
For North Dakotans who hold a valid medical cannabis card, answering this question truthfully could pose a dilemma.
While medical marijuana is legal within the state, federal law still deems it illegal.
As a result, individuals who are registered medical marijuana users must acknowledge that their use of medical marijuana remains illegal under federal law, regardless of state legality.
Although some states with medical marijuana programs might not flag medical cannabis card holders during background checks, the 4473 form is federal.
Any untruthful responses on this form could lead to federal charges, creating a serious legal issue for those seeking to purchase firearms.
While it may seem unfair for North Dakota residents with medical cannabis cards to face such restrictions, it is important to recognize that federal laws supersede state laws in this regard.
Individuals must carefully consider the consequences of their responses on the 4473 form.
Navigating the overlap between state legalization and federal prohibition can be challenging.
It's essential for those seeking a gun license to thoroughly understand the implications of their medical marijuana card and its relation to federal firearm regulations.
When in doubt, seeking legal advice to ensure compliance with both state and federal laws is highly recommended.
Can You Take Your Gun to a Dispensary in North Dakota?
North Dakota follows a shall-issue policy for concealed carry licenses, which means that law enforcement must issue licenses to eligible applicants.
However, they have some discretion in denying licenses to individuals they consider a danger to themselves or others.
To get a concealed carry license, you must apply at the state level with the attorney general.
Buying a handgun from a private individual in North Dakota does not require permits, firearms registration, or background checks.
Residents with a Concealed Weapon License (CWL) and non-residents with a valid resident concealed carry license from a recognized state can openly carry handguns.
The minimum age for open carry is 18, but certain places like bars are off-limits.
The state allows permitless concealed carry for adults who have been residents for at least 30 days and are not prohibited by state or federal law from possessing a firearm.
A new law signed on April 12, 2023, allowed non-residents to concealed carry without a permit and removed the 30-day residency requirement starting August 1, 2023.
Permitless carriers must inform law enforcement of their firearm possession during any in-person contact.
In North Dakota, there are certain places where carrying a gun is not allowed even with a permit or license. These places include:
Schools or school-sponsored events on school property


Churches or other places of worship without permission


Publicly owned or operated buildings


On the Capitol grounds and in any building on the Capitol [N.D. Office of Management and Budget Capitol Grounds Policy]


Any part of a liquor establishment that is set aside for the retail sale and consumption of alcoholic beverages


Anywhere outside of your home while intoxicated or under the influence of alcoholic beverages or drugs


Gaming sites at which bingo is the primary gaming activity


State game refuges


Any place where the carrying of firearms is prohibited by federal law
It's important to note that no laws specifically mention that carrying guns in dispensaries is illegal. However, it's essential to be aware of state and federal gun ownership and use laws.
Being under the influence of drugs while carrying a firearm is strictly prohibited.
No laws protect medical marijuana cardholders who are also gun owners.
Individuals holding a medical cannabis card in North
Dakota should be cautious about carrying firearms and consult legal experts for guidance on their specific circumstances.
Can You Consume CBD and Own a Gun in North Dakota?
When North Dakota voters approved Measure 5, they granted access to marijuana-derived CBD for qualifying patients.
In 2019, hemp-derived CBD with a THC limit of 0.3% or less was legalized under HB 1349. HB 1113 removed hemp and its derivatives from the list of controlled substances in North Dakota, allowing residents to use and possess hemp-based CBD without fear of prosecution.
There are no possession limits for hemp-derived CBD in the state. However, marijuana and marijuana-derived CBD have possession limits for qualifying patients, who can possess up to 3 ounces within a 30-day period.
No laws in North Dakota prohibit CBD users from legally owning a gun. However, being aware of federal regulations is essential, as providing false information on federal firearm forms could lead to legal consequences.
Can I Own a Gun if My Spouse Has A Medical Cannabis Card in North Dakota?
In North Dakota, several prohibitions can prevent individuals from possessing a firearm. These include:
Felony conviction


Misdemeanor convictions for domestic violence or violent crimes involving a weapon


Drug use or addiction


Dishonorable discharge from the military


Renounced US citizenship or being an illegal alien


Protection orders (against the individual who want to possess the firearm)


Being a fugitive from justice


Right to possess a firearm removed by the courts or due to mental health or treatment issues
However, there is no specific mention in the law that being the spouse of a medical cannabis cardholder in North Dakota automatically disqualifies someone from owning a gun.
Each case is considered individually based on the existing regulations and the person's unique circumstances.
It's essential for individuals in such situations to consult with legal experts to understand their rights and responsibilities regarding gun ownership.
Can I Own a Gun if I Have an Expired Medical Card?
Under federal law, individuals who are unlawful users of or addicted to controlled substances, including marijuana, are prohibited from possessing firearms.
Since marijuana remains a controlled substance at the federal level, possession of an expired medical marijuana card could still be considered evidence of past use and may impact your ability to purchase or possess a firearm, even if cannabis is legal for medical use in certain states like North Dakota.
If an individual's medical marijuana card has expired, it may indicate that they were previously using marijuana for medical purposes, which could potentially raise concerns during a background check when purchasing a firearm.
While it is not explicitly stated in the law that an expired medical marijuana card automatically disqualifies someone from owning a gun, it is crucial to be aware that past marijuana use could still be a relevant factor in the eyes of federal law when determining firearm eligibility.
As firearm laws can be complex and vary at federal and state levels, individuals with specific questions or concerns about their eligibility to own a gun should seek legal advice from qualified professionals familiar with gun and marijuana laws in North Dakota.
Can You Own a Gun if You Work at a Dispensary?
At the federal level, cannabis is still classified as a Schedule I controlled substance, which means it is illegal, and federal law prohibits anyone involved in the cannabis industry from owning firearms.
North Dakota has legalized medical marijuana, but selling cannabis for recreational purposes remains illegal.
State laws might allow you to work in the medical marijuana industry if you comply with the state's regulations and licensing requirements.
If you are involved in selling cannabis — even for medical purposes — you might face difficulties when trying to purchase or own firearms due to federal restrictions.
Selling cannabis is still illegal under federal law, and this could impact your eligibility to own firearms, as federal law prohibits gun ownership for individuals involved in the cannabis trade.
We recommend you consult with legal experts and stay updated on any changes in laws and regulations in your state and at the federal level.
If you are considering working in the cannabis industry while also owning a gun, it's crucial to be aware of the potential legal consequences and seek proper legal advice.
Get a North Dakota Medical Marijuana Card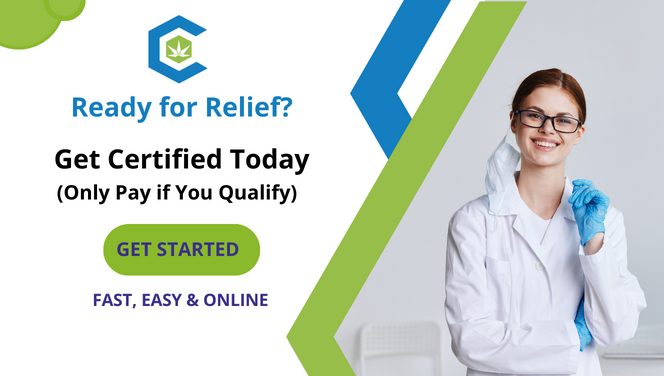 ---
Enjoyed This Content? Read More:
In this guide, you'll learn how to make cannabis-infused coconut oil or MCT oil, decarboxylate cannabis, or choose to infuse cannabis into any oil of your choice.