Unlock the Benefits of Terpineol: 7 Must-Know Facts About This Cannabis Terpene
Table of Contents
As the cannabis industry has exploded in recent years, a lot of attention has been paid to the different cannabinoids and their effects.
The lesser-known terpenes in cannabis are also gaining recognition for their unique and varied benefits.
One such terpene is Terpineol, which has been found in many strains of cannabis and is also commonly used in perfume, cosmetics, and flavorings.
This article will delve into the world of Terpineol, exploring its origins, chemical properties, and therapeutic benefits.
We will also examine the various strains of cannabis that contain Terpineol and the common products and industries in which it is used.
What Are Terpenes?
Terpenes are the natural chemical compounds responsible for the aroma and flavor of many plants, including cannabis.
These chemicals are made in the same glandular trichomes as THC, showing that terpenes and cannabinoids have a significant connection inside the cannabis plant.
Terpenes are the chemical molecules responsible for the fragrances and tastes of plants, which can range from citrusy and floral to earthy and piney.
Terpenes play a significant role in the cannabis industry as they differentiate strains and can improve the overall experience.
There are more than 100 different terpenes in cannabis, each with its own scent and potential therapeutic uses.
Terpenes do more than stimulate the senses.
The entourage effect describes how the addition of terpenes to cannabinoids boosts the latter's medicinal properties.
Terpenes are chemicals that can be found in a wide variety of foods, not just cannabis. They're also used in aromatherapy and other forms of alternative treatment.
Both recreational and medical marijuana consumers can benefit from learning more about terpenes so they can have a more rewarding and informed cannabis experience.
What Is The Entourage Effect?
The entourage effect refers to the synergistic interaction between several chemicals contained in cannabis, such as cannabinoids, terpenes, and other plant-based components.
When these compounds are mixed in their optimal proportions, their therapeutic effects are enhanced.
These chemicals are often consumed together because their combined effects are believed to be greater than the sum of their parts.
The entourage effect assumes that the synergy and interdependence among cannabis' numerous components contribute to the drug's therapeutic efficacy.
This theory says that to get the most health benefits and a more complete medicinal experience from cannabis, you need to use products with a full spectrum of cannabinoids or extracts from the entire plant.
What Is Terpineol?
Terpineol is a terpene that occurs naturally in various essential oils derived from pine trees and lilacs.
It has a pleasant, floral scent and is commonly used in fragrances and cosmetics.
Terpineol also has several properties that make it useful in medicine and other applications.
Terpineol's uses expanded beyond just perfumery after it was discovered that
Terpineol had antibacterial properties, which led to its adoption as an ingredient in soaps, cleaning products, and other household items.
It was also found to be useful in the manufacturing of synthetic resins, paints, and coatings.
The state of Terpineol Today
Today, this terpene is primarily produced synthetically rather than extracted from natural sources.
It is used in a wide variety of consumer products, including air fresheners, laundry detergents, and personal care items.
Its pleasant scent and mild antimicrobial properties continue to make it a popular choice as a fragrance enhancer and cleaning agent.
Terpineol's applications in the food and beverage industry include its use as a flavor enhancer in baked goods, non-alcoholic beverages, and confectionery.
It can impart a pleasant floral aroma to alcoholic beverages such as wines and vermouths.
It can also function as a solubilizer, emulsifier, and preservative.
Terpineol's therapeutic benefits have led to its use as an active ingredient in topical creams, ointments, and gels for the treatment of various skin conditions such as eczema, psoriasis, and acne.
Although Terpineol is generally considered safe for use in consumer products, it can cause skin irritation or allergic reactions in some individuals.
As with all chemical compounds, it is important to use Terpineol responsibly and according to product instructions.
Chemical Structure of Terpineol
The chemical structure of Terpineol consists of a cyclohexane ring with three substituent groups.
Two of these groups are methyl groups, which are attached to the ring at positions 1 and 3, while the third group is a hydroxyl group (-OH), which is attached to the ring at position 4.
This gives the molecule a molecular formula of C10H18O.
Terpineol exists in several different isomeric forms with slightly different chemical structures and physical properties.
The most common isomer is alpha-Terpineol, which has a floral aroma and is often used in perfumes and other fragrances.
Beta-Terpineol is another isomer that is produced by some plants and has slightly different aroma and chemical properties.
The chemical structure of Terpineol is relatively simple, but its versatility and usefulness make it an important compound in many different industries.
What Are the Effects of Terpineol?
This terpene has been widely studied for its various medical benefits.
Some of the potential therapeutic benefits of Terpineol include:
Antimicrobial properties
Antitumor and anticancer properties
Analgesic properties
Anti-inflammatory properties
May produce a calming and relaxing effect on the nerves
May improve sleep quality
Antioxidant properties
While Terpineol is generally safe to consume, it is important to note that overconsumption may lead to unwanted side effects.
Higher doses of Terpineol may cause dizziness, nausea, or vomiting.
It is essential to follow the recommended dosage and consult a healthcare provider before incorporating Terpineol into your daily routine.
What Cannabis Strains Are High In Terpineol?
Not all strains of cannabis have high levels of Terpineol, so it's important to know which ones to look for if you're interested in experiencing its benefits.
Some of the popular cannabis strains with Terpineol are:
Blue Dream
Fire OG
Girl Scout Cookies
Jack Herer
OG Kush
Pineapple Express
Pineapple Kush
Royal Jack Automatic
Skywalker OG
Super Lemon Haze
Trainwreck
White Widow
The concentration of terpenes, including Terpineol, can vary depending on the cannabis strain, cultivation method, and other factors.
It's important to do thorough research to find strains and products that contain Terpineol and other terpenes that suit your needs.
Where Can You Find Terpineol Besides Cannabis?
Aside from cannabis, Terpineol is also found in a variety of plant sources such as:
Apples
Cajuput Oil
Cardamom
Cumin
Lilacs
Lime Blossoms
Petitgrain Oil
Pine Oil
Pine Trees
Terpineol is a versatile compound with a broad range of industrial and medical applications.
Its medical properties make it a valuable addition to various food, cosmetics, and pharmaceutical products.
What are the side effects?
As with any potent compound, excessive exposure to Terpineol can cause adverse effects.
Further studies are needed to fully clarify the pharmacological mechanisms underlying Terpineol's therapeutic benefits.
It is clear that the demand for Terpineol will continue to grow in the coming years, as consumers seek natural and effective remedies for various health and wellness concerns.
Get Your Medical Cannabis Card in Minutes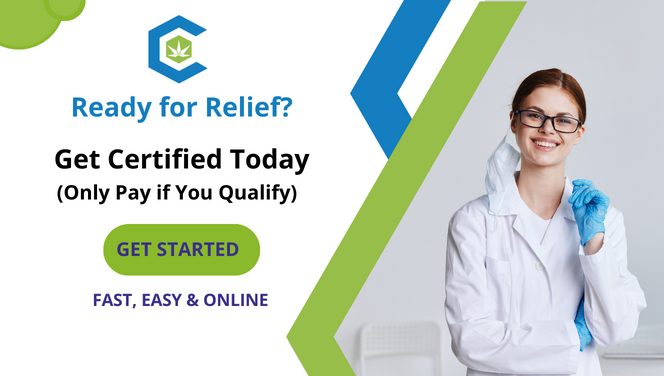 ---
Enjoyed This Content? Read More:
In this guide, you'll learn how to make cannabis-infused coconut oil or MCT oil, decarboxylate cannabis, or choose to infuse cannabis into any oil of your choice.