D.C. Gun Rights for Medical Cannabis Patients
Table of Contents
In the District of Columbia (D.C.), medical marijuana has been legal since the passage of the Legalization of Marijuana for Medical Treatment Act in 2010.
This law allows residents of D.C. to buy, possess, and use cannabis to treat specific qualifying medical conditions and related symptoms as long as it is recommended by an authorized health practitioner.
The program has been overseen by the Alcoholic Beverage Regulation Administration (ABRA) since October 1, 2020, when it was transferred from the D.C. Department of Health.
The medical cannabis program in D.C. offers various forms of marijuana, including concentrates, flowers, edibles, transdermal products, seeds, and seedlings.
The initiative to legalize medical cannabis was first approved by D.C. voters in 1998 through Initiative 59 (I-59), but its implementation was blocked by Congress until 2009.
After Congress dropped its opposition, the D.C. Council passed the Legalization of Marijuana for Medical Treatment of 2010 Initiative, replacing I-59.
The law initially allowed registered patients to purchase up to two ounces of cannabis or its equivalent in other forms within a 30-day period, which was later raised to four ounces in 2016.
The program also provides reduced rates when purchasing medicine for patients with income below 200% of the federal poverty level and lower application fees for medical cannabis cards.
In 2014, emergency legislation allowed physicians to recommend cannabis for any condition where it would be beneficial, and the registered cultivation center plant limit was increased from 95 to 500 plants, and raised again to 1,000 plants in 2015.
While D.C. voters approved adult-use possession and use of cannabis in 2014, they still cannot purchase cannabis from licensed medical dispensaries due to opposition from Congress.
However, they can possess and use cannabis if they are 21 years old and above and are allowed to grow up to three mature and three immature plants at home.
Prior to April 6, 2018, patients had to select one dispensary for medication, but now they can access any licensed dispensary in the District.
Reciprocity was also extended to patients from other states with equivalent medical cannabis programs, allowing patients from 27 states to obtain medical cannabis from D.C. dispensaries.
To protect workplace rights for patients, the D.C. city council passed emergency measures starting in 2018 to prevent discrimination against medical cannabis users.
Other reforms for the medical cannabis program were planned for 2020 but were put on hold due to the COVID-19 emergency measures.
These emergency measures included declaring cannabis businesses as essential, enabling curbside pickup and delivery, and allowing telehealth for medical cannabis renewals.
On January 31, 2023, D.C. Mayor Muriel Bowser signed into law a bill that greatly expanded the District's medical marijuana program.
The Medical Cannabis Amendment Act of 2022 eliminates the limitation of the number of licenses a cannabis business can get, lowers taxes for operators, supports social justice even more, and makes new types of regulated businesses, like on-site consumption facilities.
The law also makes it possible for people over the age of 21 to self-certify as medical cannabis users. This allows them to buy cannabis from shops without a recommendation from a doctor.
Does Having a Medical Cannabis Card Mean Not Being Eligible for a Gun License in D.C.?
In D.C., if you want to own a firearm legally, you need to register it with the Metropolitan Police Department (MPD). But federal law says that if you're an "unlawful user" of a controlled substance, like marijuana, you can't have a gun.
Even though medical marijuana is allowed in D.C., it's still considered illegal under federal law.
If you have a medical cannabis card and use marijuana, you might be seen as an "unlawful user" in the eyes of the federal government, which has its most active presence in Washington D.C. And that could mean you won't be eligible for a gun license.
If you're thinking about getting a gun or have a medical cannabis card, it's best to talk to a lawyer who knows the ins and outs of the laws in D.C. Staying informed and following the rules is crucial to avoid any legal trouble
Can You Take Your Gun to a Dispensary in D.C.?
In Washington, D.C., concealed weapons licenses are issued by the Metropolitan Police, and the district follows a "shall-issue" policy.
This means that applicants are entitled to receive a concealed carry license once they meet the necessary requirements.
To possess firearms in D.C., individuals must go through a registration process, which also serves as a permit to purchase. Ammunition possession is only allowed for those with a valid firearm registration.
Open carry is prohibited in D.C., meaning firearms cannot be openly displayed in public. Reciprocity for concealed carry licenses is not honored by Washington, D.C., meaning that the district does not recognize CCW licenses issued by other states.
Certain places in D.C. remain off-limits even with a CCPL, including:
The public memorials on the National Mall and along the Tidal Basin, and any area where firearms are prohibited under federal law or by a federal agency or entity, including U.S. Capitol buildings and grounds


The White House Complex and its grounds, up to and including the curb of the adjacent sidewalks


The U.S. Naval Observatory and its fence line


Any place while consuming alcohol or while impaired


On the premises of the Smithsonian


Any premises, or portion thereof, where alcohol is served, or sold and consumed, on the premises (although there are exceptions for on-premises retailers with specific classes of licenses)
A stadium or arena


A public gathering or special event open to the public when the organizer has provided notice and posted signage prohibiting the carrying of pistols in advance of the gathering or special event


The building and grounds, including any adjacent parking lot, of any child care facility, preschool, public or private elementary or secondary school, or a public or private college or university


A building or office occupied by the District of Columbia, its agencies or instrumentalities


A hospital or an office where medical or mental health services are the primary services provided


A penal institution, secure juvenile residential facility or halfway house


A polling place while voting is occurring


A public transportation vehicle, including the Metrorail transit system and its stations


Within 1,000 feet of a dignitary or high-ranking official of the United States or a state, local or foreign government that is moving under the protection of law enforcement


Within a perimeter of 1,000 feet of a demonstration in a public place posted as off-limits to firearms or by officer's order


Private residential property, unless otherwise authorized by the property owner or person in residential property


A place of religious worship, unless the property is posted with conspicuous signage allowing the carrying of a concealed pistol, or the owner or authorized agent communicates such allowance personally to the licensee in advance of entry onto the property


Non-residential property that is posted with conspicuous signage prohibiting the carrying of a concealed pistol


Any place where the carrying of firearms is prohibited by federal law or state law or regulation
When thinking about bringing a gun into a cannabis dispensary in D.C., it's important to look at both the laws of D.C. and the practices of the dispensary itself.
Cannabis dispensaries are private establishments, and they may have their own rules about firearms on their premises.
If a cannabis dispensary prohibits carrying firearms on its property, you must comply with their rules or risk legal consequences.
Even if you have a valid CCPL, private businesses, including dispensaries, can impose their own restrictions.
Can You Consume CBD and Own a Gun in D.C.?
CBD oil is legal in Washington D.C., if it adheres to certain restrictions. Residents can use, possess, and sell hemp-derived CBD oil, as long as the THC content in the product is below 0.3%.
However, no specific CBD laws have been enacted in the district, and an industrial hemp program has not been implemented yet, despite the 2018 Farm Bill.
If you're consuming CBD derived from hemp, which contains less than 0.3% THC, it is generally legal under federal law.
Since hemp-derived CBD with low THC content is not considered a controlled substance, it wouldn't typically disqualify you from owning a gun under federal law.
In Washington D.C., cannabis is legal for medicinal and adult use. Medical marijuana cardholders can buy CBD derived from marijuana at regulated dispensaries.
If you're using CBD derived from marijuana — which contains higher levels of THC — it's a bit more complicated.
Marijuana is still illegal under federal law and you might be seen as an "unlawful user" of a controlled substance under federal law, which could potentially impact your eligibility to own a gun.
To summarize, in Washington, D.C., the legality of owning a gun while consuming CBD depends on whether the CBD is derived from hemp or marijuana.
Can I Own a Gun if My Spouse Has A Medical Cannabis Card in D.C.?
Since marijuana is classified as a Schedule I controlled substance under federal law, individuals who are users or have medical cannabis cards may be ineligible to possess firearms.
It is essential to remember that federal law takes precedence over state laws when it comes to firearms regulations.
Washington, D.C., allows for medical marijuana use under specific conditions, but this may not necessarily protect individuals from federal firearms restrictions.
If your spouse has a medical cannabis card and you are considering owning a gun, it is a good idea to seek legal counsel to understand the specific implications and navigate the federal and state laws that apply to your situation.
Can I Own a Gun if I Have an Expired Medical Card?
D.C. residents must register with the D.C. Department of Health to become medical marijuana patients, and their registration is typically valid for one year.
If a medical marijuana card has expired, it is likely that the individual is no longer considered an active registered patient, which could potentially affect their eligibility to possess firearms under federal law.
If you have an expired medical marijuana card or are considering owning a firearm, consult with legal counsel familiar with both firearms and marijuana laws in Washington, D.C.
Can You Own a Gun if You Work at a Dispensary?
In Washington, D.C., it is generally illegal to concealed carry any deadly or dangerous weapon — including firearms — in places other than your home, place of business, or on other lands you own.
However, there is an exception for individuals who hold a valid District of Columbia CCPL.
If an employee in a dispensary has a valid CCPL, they would be legally allowed to concealed carry a handgun.
The CCPL permits the holder to carry a concealed handgun for personal protection outside their home or business.
It's important to note that the CCPL only applies to handguns and does not cover other types of firearms or dangerous weapons.
Even with a valid CCPL, there are still places off-limits for concealed carry, such as schools, government buildings, and certain public areas.
If an employee in a dispensary is considering carrying a firearm, they need to familiarize themselves with all applicable laws and regulations regarding concealed carry in Washington, D.C.
Get a Medical Card Certification in Minutes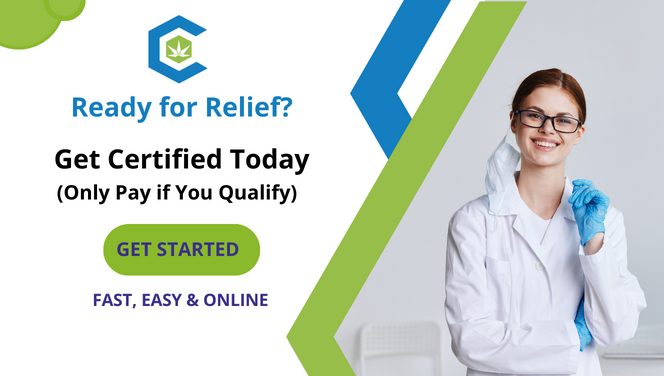 ---
Enjoyed This Content? Read More:
In this guide, you'll learn how to make cannabis-infused coconut oil or MCT oil, decarboxylate cannabis, or choose to infuse cannabis into any oil of your choice.