Valencene: What You Need To Know About This Cannabis Terpene
Table of Contents
When it comes to cannabis, terpenes are a fascinating group of compounds that contribute to its unique aromas, flavors, and potential therapeutic benefits.
Among the diverse array of terpenes found in cannabis, one notable terpene is Valencene.
Although the Valencene terpene is commonly associated with citrus fruits, it also makes an appearance in certain cannabis strains, adding a delightful citrusy twist to their aromatic profiles.
In this article, we delve into the world of this citrusy terpene, exploring its origins, characteristics, and potential effects.
Let's uncover the secrets of this intriguing cannabis terpene and discover why it has garnered attention from cannabis enthusiasts and researchers alike.
The Citrusy Terpene Journey from Oranges to Cannabis
What Are Terpenes?
Terpenes are a type of organic substance that can be found in the cannabis plant and many other plants.
They are what give different types of cannabis their own smells and tastes.
Terpenes serve multiple functions in plants, including attracting pollinators, repelling pests, and protecting against environmental stressors.
They are synthesized in specialized structures called glandular trichomes, which are tiny, hair-like structures found on the plant's surface.
Terpenes also play a part in plant physiology. They can act as antioxidants, helping to protect plants from oxidative damage caused by sunlight and other factors.
Terpenes may also have antimicrobial properties, assisting in defending plants against pathogens.
Terpenes are not exclusive to cannabis; they are found in a wide range of plant species, including fruits, vegetables, herbs, and flowers.
Each plant species has its unique combination and concentration of terpenes, resulting in a diverse array of aromas and flavors.
These aromatic compounds have been utilized for various purposes, such as in perfumes, aromatherapy, and traditional medicine.
What Is The Entourage Effect?
The entourage effect is the way that different substances in cannabis, like cannabinoids, terpenes, and other phytochemicals, work together to make an impact that is more powerful.
Instead of working on their own individual effects, these compounds work together to make each other's impacts stronger and possibly improve the total therapeutic benefits.
In the case of cannabis, the entourage effect suggests that the combined presence of multiple cannabinoids, such as Tetrahydrocannabinol (THC) and Cannabidiol (CBD), along with an array of terpenes and other compounds, may produce more significant effects than any single compound on its own.
It implies that the whole plant, with its complex chemical composition, may be more valuable than isolated compounds when it comes to therapeutic potential.
The entourage effect is thought to arise from the interactions between these compounds, which can influence how they are absorbed, metabolized, and ultimately affect the body's endocannabinoid system (ECS).
What Is Valencene?
Valencene is a type of terpene that is often found in citrus food items such as Valencia oranges, where it gets its name. It's what gives oranges and other citrus foods their typical sweet, citrusy smell and taste.
This terpene is also present in small amounts in other plants, including some cannabis strains.
Due to its strong and pleasant citrus scent, it is a popular ingredient in perfumes and colognes.
It provides a refreshing and energizing effect and is often used in citrus-based fragrances.
Valencene's aroma is also utilized in the production of scented candles and air fresheners, giving off a natural and uplifting fragrance that can improve the atmosphere of a space.
Valencene is not only known for its fragrance but also for its taste. It adds a zesty and tangy flavor to foods and beverages.
It is frequently used in the production of natural fruit-flavored drinks and beverages.
Valencene enhances the citrus taste and provides a unique twist to the overall flavor profile.
It is used as a flavoring agent in various food products such as candies, chewing gums, and desserts.
Its natural and refreshing taste makes it a desirable choice for food manufacturers looking to create citrus-infused products.
Valencene has been the subject of research due to its potential health benefits and various properties.
It exhibits antioxidant and anti-inflammatory properties, which may contribute to its potential therapeutic applications.
Valencene has also been studied for its insect-repellent properties, making it a potential natural alternative for pest control.
Chemical Structure of Valencene
Valencene is a sesquiterpene, which means it is composed of three isoprene units. Each isoprene unit consists of five carbon atoms and eight hydrogen atoms.
The chemical formula of Valencene is C15H24, indicating that it contains 15 carbon atoms and 24 hydrogen atoms.
It's chemical structure can be visualized as a complex arrangement of these carbon and hydrogen atoms.
It consists of a bicyclic structure with two rings connected to each other. The larger ring, known as a cyclohexene ring, consists of six carbon atoms forming a hexagon shape.
Attached to this cyclohexene ring is a smaller cyclopentane ring, which consists of five carbon atoms forming a pentagon shape.
The carbon atoms in Valencene's structure are bonded to hydrogen atoms, forming single bonds.
There are double bonds present in the structure, which contribute to its overall stability and shape.
These double bonds create a degree of unsaturation in the molecule, adding to its reactivity and potential for interacting with other compounds.
Valencene is a hydrophobic molecule, meaning it is not soluble in water but is soluble in organic solvents such as ethanol or hexane.
This property makes it suitable for use in flavoring applications where it can be dissolved in oils or alcohol-based formulations.
The chemical structure of Valencene also gives rise to its physical properties. It has a high boiling point of around 230°C, making it stable at typical cooking temperatures.
It is also a viscous liquid at room temperature with a density of 0.920 g/cm³.
These properties make it easy to handle and incorporate into various products.
What Are the Effects of Valencene?
Some of the potential health benefits associated with the terpene Valencene are:
Exhibits antioxidant activity

Has shown potential to be an anti-inflammatory compound

Has potential antimicrobial activity

Known for its natural insect-repellent properties

Enhances the potential benefits of other cannabinoids or terpenes, potentially leading to more significant therapeutic effects
Valencene has positive health effects, but it may also have negative ones.
Some individuals may be allergic or sensitive to Valencene.
Allergic reactions can range from mild symptoms like skin irritation or congestion to more severe reactions.
The effects of it can vary from person to person.
Factors such as dosage, individual biochemistry, and the specific combination of terpenes and cannabinoids present in a product can influence the overall experience and effects.
It's essential to approach Valencene with awareness and moderation. If you have any concerns or questions about using Valencene or any other terpene, it's best to consult with a healthcare professional.
What Cannabis Strains Are High In Valencene?
Here are a few cannabis strains that are known to contain notable levels of Valencene:
ACDC
Agent Orange
California Orange Bud
Clementine
Gushers
Jack Frost
Jillybean
Sour Diesel
Sour Tangie
Super Lemon Haze
Tangie
Where Can You Find Valencene Besides Cannabis?
Although commonly associated with cannabis due to its presence in certain strains, this terpene is not limited to the cannabis plant.
It is a natural terpene found in various other botanical sources, particularly citrus fruits. Here are some common non-cannabis sources where Valencene can be found:
Grapefruit
Guavas
Lemons
Mandarins
Mangoes
Nectarines
Orange
Passionfruit
Tangerine
Valencia oranges
Some berries
It is a fascinating terpene found in both cannabis and various citrus fruits.
Its distinctive citrusy aroma and flavor contribute to the sensory experience of cannabis strains and make it a sought-after terpene in the industry.
While research on Valencene is still evolving, it has shown potential antioxidant, anti-inflammatory, and insect-repellent properties.
Whether you encounter Valencene in cannabis strains or citrus fruits, its presence adds a refreshing and uplifting element to the experience.
Experience the Benefits of Cannabis and Get a Card in Minutes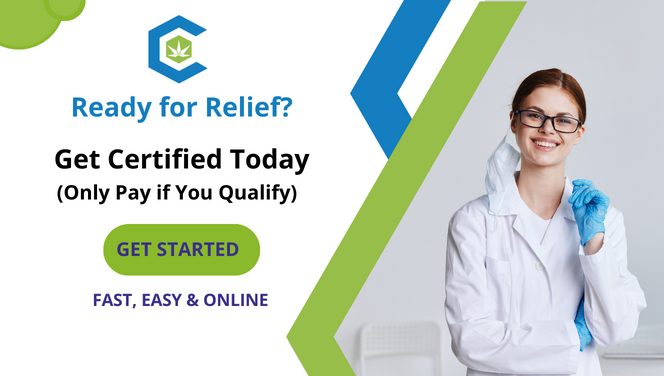 ---
Enjoyed this article? Read More:
In this guide, you'll learn how to make cannabis-infused coconut oil or MCT oil, decarboxylate cannabis, or choose to infuse cannabis into any oil of your choice.