Virginia Gun Rights for Medical Cannabis Patients
Table of Contents
Virginia has made significant strides in recent years to legalize marijuana for both medical and recreational purposes.
Back in 1979, Virginia made history by becoming one of the first states to legalize medical marijuana.
The Code of Virginia § 18.2-251.1 allowed the possession and distribution of marijuana prescribed by qualified medical doctors for treating cancer or glaucoma.
The Virginia Board of Pharmacy is in charge of regulating medical marijuana in the state and issuing medical marijuana cards.
The Virginia Department of Health Professions oversees the board.
In 2018, Virginia House Bill 1251 expanded access to medical marijuana.
The bill permitted medical patients to obtain marijuana for medical purposes based on the recommendations of registered medical practitioners.
To access medical cannabis, patients needed to obtain a Medicinal Marijuana (MMJ) card, which allowed them to purchase medical marijuana in the state.
Unlike some other states with specific lists of qualifying medical conditions, Virginia does not limit medical marijuana to certain ailments.
Patients qualify for medical cannabis with any medical condition or symptom, as long as a licensed practitioner diagnoses and approves them for the program.
In July 2020, Virginia took a progressive step toward marijuana decriminalization. Senate Bill 2 and House Bill 972 decriminalized simple possession of up to one ounce of marijuana, reducing the penalty to a mere $25 fine.
The bills also sealed past marijuana convictions from schools and employers.
The push for decriminalization was influenced by reports indicating the disproportionate impact of marijuana arrests on African-American residents and the high costs associated with enforcing marijuana laws.
In 2021, Virginia made further strides toward full marijuana legalization. Approximately 68% of Virginia voters supported the move, leading to amendments to Senate Bill 1406 and House Bill 2312.
These amendments accelerated the home cultivation and use timeline, allowing recreational use to take effect on July 1, 2021.
Retail sales, however, will not begin until January 1, 2024.
The new law established the Virginia Cannabis Control Authority to oversee the cultivation, production, wholesale, and retail sale of cannabis products.
The Board of Directors of this authority determines regulatory measures, issues fines, and approves retail sale licenses, subject to the Cannabis Oversight Commission's approval.
Applications for licenses were accepted starting on July 1, 2023.
Before July 2022, patients and caregivers had to register with the Board of Pharmacy to obtain medical marijuana.
However, effective July 2022, registration was no longer required. Instead, medical marijuana patients, caregivers, and parents must present a government-issued ID and a written certification from a registered practitioner at dispensaries to purchase cannabis products.
Does Having a Medical Cannabis Card Mean Not Being Eligible for a Gun License in Virginia?
Virginia gun rights for medical cannabis patients can be tricky. In Virginia, you can use cannabis and own a gun, but not both at the same time.
While medical marijuana is legal in the state of Virginia, the federal government's stance complicates the matter.
According to federal law, individuals with medical marijuana cards are prohibited from owning guns.
This contradiction poses a significant dilemma for those seeking to benefit from both medical marijuana and Second Amendment rights.
Purchasing a gun in Virginia involves filling out an ATF form, which specifically asks about illegal marijuana use or addiction.
Although using marijuana is legal in Virginia for medicinal purposes, answering "yes" to this question on the ATF form could disqualify you from buying a firearm, as it remains illegal under federal law.
This even applies to individuals with medical marijuana cards, leading to some gun retailers turning away customers.
While the federal government doesn't have access to the list of individuals using medical marijuana in Virginia, the state does conduct criminal background checks during gun purchases.
These checks primarily focus on active warrants, restraining orders, or convictions linked to higher gun violence risk.
However, unless it's a machine gun, gun owners in Virginia are not required to register their firearms.
The issue of medical marijuana use and gun ownership in Virginia remains ambiguous.
While federal law contradicts the state's marijuana regulations, the complexities of Second Amendment rights and legal cannabis coexist uneasily.
As individuals consider their rights to both medical marijuana and gun ownership, seeking information to make informed decisions becomes vital.
The evolving landscape of marijuana laws and the Second Amendment calls for continuous awareness and education.
As Virginia continues to address this intersection, individuals should stay up to date on legal developments to safeguard their rights and lifestyles.
Can You Take Your Gun to a Dispensary in Virginia?
In Virginia, firearm possession is heavily regulated, and it becomes even more complex when combined with marijuana laws.
According to the Code of Virginia § 18.2-308.4, possession of controlled substances listed in Schedule I or II of the Code of Virginia Drug Control Act makes it unlawful to simultaneously possess any firearm with knowledge and intent.
This offense is a Class 6 felony, constituting a separate and distinct felony from the primary drug-related offense.
If you're unlawfully in possession of a controlled substance classified in Schedule I or II and simultaneously possess a firearm on or about your person, you're committing another Class 6 felony.
A conviction under this subsection carries a mandatory minimum imprisonment term of two years, which runs consecutively with any punishment received for the primary felony.
Virginia's laws are particularly strict when it comes to firearms and drug-related offenses.
If you possess, use, or display a firearm in a threatening manner while committing or attempting to commit the illegal manufacture, sale, distribution, or possession with intent to manufacture, sell, or distribute a controlled substance classified in Schedule I or II, you're committing a Class 6 felony.
Moreover, if you possess more than one pound of marijuana while committing or attempting to commit these offenses, it's considered a more serious offense and will be treated as a separate Class 6 felony crime.
The person must serve at least five years in prison as a minimum sentence if convicted.
A conviction under this subsection results in a mandatory minimum imprisonment term of five years, which is in addition to any punishment received for the primary felony.
People who own guns and use medical marijuana in Virginia are in a tough spot because of the state's rules.
Even though medical marijuana is allowed in the state, it is against both state and federal law to own a gun and use cannabis at the same time.
As you navigate the complexities of gun ownership and marijuana use in Virginia, educating yourself on the existing laws and regulations is crucial.
Understanding the potential legal consequences of simultaneous firearm possession and drug use is essential to ensure you stay within the bounds of the law.
Can You Consume CBD and Own a Gun in Virginia?
Yes. In Virginia, CBD oil made from hemp that has no more than 0.3% THC is allowed. Keep in mind that CBD oil can also come from marijuana.
Marijuana-derived CBD oils are banned in Virginia for general consumption.
However, the state lets people who participate in the medical cannabis program buy CBD oils made from marijuana.
Even if your health condition qualifies you for Virginia's medical marijuana program, you must show that you have tried and failed at least two traditional treatments before you can be registered to use CBD oil made from marijuana through the state's medical marijuana program.
CBD oils made from marijuana usually have at least 5 mg of CBD and tetrahydrocannabinol-A (THC-A), but no more than 10 mg of THC.
By changing the meanings of marijuana, CBD oil, and THC, HB 1839, which was passed in 2019, brings the Commonwealth of Virginia in line with the federal 2018 Farm Bill.
It does this by excluding industrial hemp, hemp products, and oil with less than 0.3% THC.
According to HB 1839, any licensed grower, buyer, or handler who breaks the law must follow the Commissioner of Agriculture and Consumer Services' plan for fixing the problem.
In 2019, the state passed SB 1557, which allowed nurse practitioners and physician assistants to register with the Board of Pharmacy and have the authority to recommend THC oil and CBD oil to qualified patients.
SB 1557 says that qualified physician assistants and nurse practitioners can give written certificates for using THC-A and cannabidiol oil.
The bill instructs the Board of Pharmacy to make rules about how much CBD oil or THC-A oil can be given in one dose.
Each dose must have less than ten milligrams of THC.
In Virginia, it is against the law to sell smokable hemp products to people under the age of 21.
CBD made from hemp is also against the law for animals to eat.
As of the latest update, no explicit laws in Virginia prohibit individuals from using CBD while owning a gun.
The state's gun laws mostly deal with controlled drugs, especially those in Schedule I or Schedule II of the Drug Control Act.
Can I Own a Gun if My Spouse Has A Medical Cannabis Card in Virginia?
In Virginia, there are certain restrictions on firearm ownership, and individuals falling under the following categories are prohibited from owning a firearm:
Persons under 18 years of age


Persons acquitted of a crime by reason of insanity and committed to the custody of the Commissioner of Behavioral Health and Developmental Services


Persons adjudicated legally incompetent or incapacitated


Persons involuntarily admitted to a facility or ordered to mandatory outpatient treatment, subjects of temporary detention agreeing to voluntary admission, or found incompetent to stand trial and likely to remain so for the foreseeable future


Persons subject to a protective order


Persons convicted of two misdemeanor offenses for possession of a controlled substance within a 36-consecutive-month period


Persons subject to an emergency substantial risk order or a substantial risk order
Persons convicted of a felony


Persons adjudicated delinquent as a juvenile 14 years of age or older for specific violent crimes


Persons under the age of 29 who were adjudicated delinquent as a juvenile 14 years of age or older for an offense that would be a felony if committed by an adult

If your spouse has a medical cannabis card in Virginia, the law does not explicitly state that you can't own a gun.
However, since federal law still classifies marijuana as a Schedule I controlled substance, and possessing a medical cannabis card indicates previous or current marijuana use, it could potentially create legal complications if firearms are involved.
Given the complexities of firearm laws and marijuana regulations, it is essential to seek legal advice from experts who can provide guidance tailored to your individual situation.
Consulting with legal professionals will help you navigate the laws surrounding gun ownership and medical cannabis in Virginia to ensure compliance and avoid any potential legal repercussions.
Can I Own a Gun if I Have an Expired Medical Card?
While Virginia state law may not specifically prohibit gun ownership based solely on possessing an expired medical marijuana card, it's essential to consider federal regulations.
Under federal law, marijuana — including medical marijuana — remains classified as a Schedule I controlled substance.
As such, the federal government prohibits anyone who is an "unlawful user of or addicted to any controlled substance" from possessing firearms.
Since the federal government views marijuana as a controlled substance and a medical marijuana card indicates previous or current use, some legal risks could be associated with possessing a gun, even with an expired medical card.
If authorities suspect that you are an "unlawful user" of marijuana — including through an expired medical card — it could lead to potential legal consequences under federal law.
As gun laws can be complex and vary depending on the specific circumstances, it is advisable to seek legal advice from a local attorney well-versed in both firearm and marijuana regulations in Virginia.
An attorney can help you understand the potential risks and implications of owning a gun with an expired medical card and provide guidance based on your unique situation.
Can You Own a Gun if You Work at a Dispensary?
In Virginia, possessing a firearm while distributing, manufacturing, or intending to distribute controlled substances or marijuana is considered a serious felony and can result in severe punishment.
This offense is treated as a separate and distinct felony, and it can be an additional charge alongside any other drug or firearm-related offense. Violating this law can happen in three ways:
Possessing a firearm while having a Schedule I or II controlled substance


Having a firearm on your person while possessing a Schedule I or II controlled substance


Using a firearm in a threatening manner while engaged in selling, distributing, manufacturing, or possessing with intent to sell, distribute, or manufacture a Schedule I or II controlled substance or over one pound of marijuana, or attempting to commit any of these offenses.
There are no laws in Virginia that explicitly state that individuals employed at a marijuana dispensary are prohibited from owning, possessing, or transporting firearms — including concealed carry — while working at the dispensary.
However, doing so can be used against them if they are found to violate the firearm possession laws in conjunction with drug-related activities.
It is crucial for anyone who works in the marijuana industry — including at dispensaries — to be aware of this restriction and adhere to the law to avoid serious legal consequences.
If you are unsure about your specific circumstances, it is best to consult legal experts who can provide you with personalized advice and guidance in light of the applicable laws.
Get a Virginia Medical Cannabis Card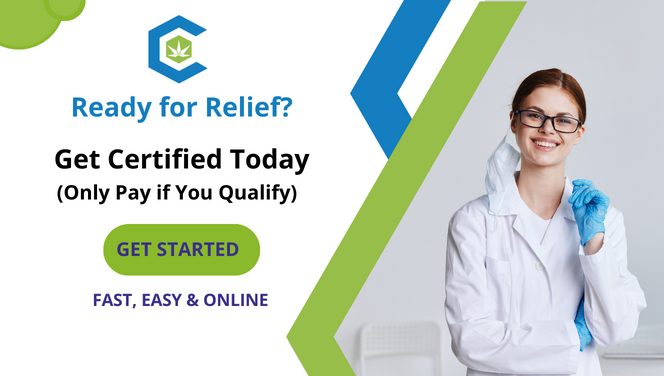 ---
Enjoyed this article? Read More!
In this guide, you'll learn how to make cannabis-infused coconut oil or MCT oil, decarboxylate cannabis, or choose to infuse cannabis into any oil of your choice.