Delta-8 The Quick Basics
Table of Contents
For years, the producers, processors, distributors, marketers, regulators, and consumers of cannabis have focused primarily on only two molecules produced by the plant: Tetrahydrocannabinol (THC) and cannabidiol (CBD).
Both are sold by thousands of companies in the United States, United Kingdom, and Canada.
Overview
The cannabis/hemp plant species produces three primary families of wellness molecules that, together, number in the hundreds.
There are approximately 146 cannabinoids, 20 flavonoids, and 200 terpenes, most of which have demonstrated significant medicinal efficacy, as revealed by thousands of peer-reviewed research studies since the late 18th century.
Before delving into the details of delta-8 THC, it is important to properly frame the topic.
Molecular Analogs
Most cannabis consumers are ignorant of the fact that the chemical compounds produced by cannabis are members of small groups called analogs (sometimes cited as isomers in research literature). In fact, the CBD family features seven distinct analogs, as does the cannabinoid cannabigerol (CBG).
THC is no exception. The analog with which most consumers are familiar is the infamous delta-9 variant (technically called the neutral analog), which produces sometimes significant psychoactivity.
The acidic precursor THCA also conveys no psychoactivity but significant wellness benefits and is popular as a juiced edible.
Yet another THC analog is the varin version, THCV, which conveys greater psychoactivity than delta-9, but only at more potent doses.
An Italian research study published in December 2019 discovered additional THC and CBD analogs, THCP and CBDP, respectively (the researchers dubbed them the phorols).
Delta-8 THC is yet another member of this collection of molecular analogs.
While molecular analogs sometimes share many of the same effects when consumed by humans (such as decreased systemic inflammation or alleviation of depression or pain), such homogeneity cannot be assumed. For example, while delta-8 and delta-9 THC stimulate appetite, THCV decreases it!
Another frequently confusing feature of cannabinoids is a characteristic called the biphasic response curve. This mechanism involves a molecule producing one effect at a low dose and a different—and sometimes polar opposite—effect at a stronger dose.
A good example of the mechanism of biphasic response curves is delta-9 THC. This molecule is known at low doses for helping consumers manage stress and decrease anxiety ("Netflix and chill, dude").
At more potent doses, however, the same molecule can cause increases in anxiety and paranoia and even result in panic attacks.
In the end, the differences between cannabinoid analogs are good because they provide additional options to patients and lifestyle consumers.
Crohn's disease and cancer patients undergoing chemotherapy sometimes experience extreme nausea and lack of appetite, leading to malnutrition and worsening their health.
Wellness molecules that function as effective appetite stimulants are of obvious value to such consumer populations.
THC Legal Status
Hemp and cannabis have been illegal in the United States since August 1937, when the Marihuana Tax Act was passed by Congress.
In December 2018, Congress reversed course after 81 years of prohibition by enacting the Farm Bill, which legalized samples of the plant containing below the 0.3 percent THC standard employed in North America, which it defines as "hemp."
Europe features a stricter 0.2 percent THC limit, although this may change to 0.3 percent, in alignment with global market leaders such as the U.S. and Canada, in the near future.   
Both delta-9 and delta-8 THC are currently considered Schedule I drugs by the U.S. Drug Enforcement Agency.
This means that all regulatory oversight and legal restrictions placed on delta-9 THC also apply to delta-8. Some of the companies producing delta-8 products are doing so legally under the laws of their home state, but, just as with delta-9 products, in defiance of federal oversight.
It must be emphasized that such companies remain legal only if they restrict sales of their product to within the borders of their home state. Any interstate commerce activity falls under the strict purview of federal authorities, including the DEA, and Schedule I status.
Confusion regarding these relatively new laws surrounds many interpretations of the legal status of delta-8 THC and emerging products.
Some parties believe that delta-8 derived from hemp (samples of the cannabis plant genome that feature <0.3 percent delta-9 THC) are a legal loophole that allows them to narrowly skirt any laws of prohibition at the state or federal level.
"You have a drug that essentially gets you high, but is fully legal. The whole thing is comical," said Lukas Gilkey, CEO of Hometown Hero CBD in Austin, Texas, during an interview with the New York Times.
However, many legal authorities paint a different picture. "Dealing in any way with delta-8 THC is not without significant legal risk," said Alex Buscher, a Colorado lawyer who specializes in cannabis law, during an interview for the New York Times article cited above.
Some companies have invested in the production and multi-state marketing of delta-8 products. Unfortunately, they are doing so under the false belief that their formulations are categorized as hemp under the Farm Bill and, thus, legal.
Unfortunately, this is not the case. Delta-8 and delta-9 THC fall under the identical categorization and carry the same enforcement mechanisms and penalties.
Delta-8 THC
Regardless of the legal status of delta-8 THC, let's compare and contrast the medicinal efficacy of both compounds.
Despite its reputation for helping consumers unwind from a stressful day, delta-9 THC has a nasty reputation for causing the opposite when consumed in strong doses: Elevated anxiety, paranoia, and sometimes panic attacks.
Disorientation, confusion, and other forms of distress resulting from too much delta-9 have been documented by hospital emergency rooms and psychologists for decades.
Delta-8 THC has been reported through formal research and anecdotal testimony, to deliver roughly two-thirds of the psychoactivity of the delta-9 isomer, but without the paranoia.
This provides an option for those who avoid delta-9 THC or cannabis overall due to a previous negative experience with the herb.
Find Relief and Get Your Medical Marijuana Card in Minutes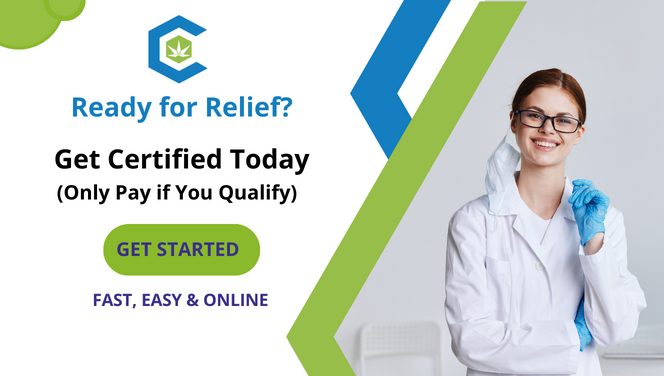 ---
Enjoyed This Content? Read More:
In this guide, you'll learn how to make cannabis-infused coconut oil or MCT oil, decarboxylate cannabis, or choose to infuse cannabis into any oil of your choice.