A Beginner's Guide to Different Types of Cannabis
Table of Contents
Medical cannabis has become more and more popular over the last few years. While it is still not legal in all 50 states, the number of states that have legalized medical cannabis is growing. There are many different forms of medical cannabis available, and each form has its own benefits.
The right medical cannabis can help deal with various health conditions and provide relief when other treatments don't work.
With a wide range of products available, it can be challenging to determine which cannabis consumption method is best for you.
Understanding the different methods is crucial to making an informed decision about how you want to consume cannabis. 
This article will explain some of the most common types of medical cannabis and their benefits and risks, so you can make an informed decision about using them for your situation.
Beginner's Guide: What Is Medicinal Cannabis?
Medicinal cannabis is using cannabis and its cannabinoids to treat disease or improve symptoms. The two main active cannabinoids in cannabis are tetrahydrocannabinol (THC) and cannabidiol (CBD). Cannabinoids interact with the body's endocannabinoid system to produce beneficial effects.
THC is the psychoactive component that produces the "high" associated with marijuana use, whereas CBD does not produce any psychoactive effects.
The most common forms of medicinal cannabis are marijuana and hemp-based products. Marijuana is known for its high levels of THC, while hemp-based products contain less than .3% THC. 
Medicinal cannabis can be taken in various forms such as:
oils
edibles
tinctures
lotions
inhalation methods, such as vaping or smoking
While medicinal cannabis has been known to help alleviate symptoms associated with certain medical conditions, it is essential to consult with your doctor before using any cannabis product to ensure it is safe.
What Symptoms Can Medical Marijuana Help With?
Medical marijuana— also known as medical cannabis — uses cannabis and its components to treat health conditions.
Marijuana has been used medicinally for centuries, but in recent years, there has been a much greater focus on the potential medical benefits of cannabis-derived products — instead of using the flower directly.
Medical marijuana can help treat various symptoms and conditions, including chronic pain, epilepsy, anxiety, depression, and nausea. 
While it's important to talk to your doctor before using medical marijuana or pursuing a medical marijuana card, that conversation can be a good one as some studies suggest medical cannabis may be beneficial in improving certain health conditions.
It's also important to note that cannabis use should always be done responsibly and with caution; like any medication or supplement, starting slowly and gradually increasing dosage if necessary is recommended.
Ultimately, the decision to use medical cannabis needs to be made by you and your doctor after careful consideration of your particular symptoms or condition.
What Are the different types of cannabis available?
Cannabis products come in many forms. Due to how your body processes the various forms, one form may be better suited to your specific needs. The readily-available forms of medical cannabis include:
Inhalation for a traditional cannabis method of consumption
Inhalation is the most popular method of cannabis consumption due to its quick onset and easy-to-dose effects. The two main inhalation methods are smoking cannabis flower and vaporizing cannabis oil.
Smoking Cannabis Flower Smoking cannabis flower is the most traditional method of consumption. You can roll cannabis flower into a joint or smoke it using a pipe or a bong.
When smoking cannabis flower, the active compounds are absorbed into the bloodstream through the lungs, resulting in a quick onset of effects.
Pros:
The quick onset of effects
Easy to dose
Wide range of strains available
Cons:
Health risks associated with smoking
Shorter duration of effects compared to other consumption methods
Requires more equipment (e.g., rolling papers, pipes, bongs)
Vaping for discrete use and quick onsets
Vaping Cannabis Oil Vaping cannabis oil is becoming increasingly popular due to its convenience and customizable effects. Consumers can also vaporize cannabis oil using a portable or tabletop vaporizer.
When vaporizing cannabis oil, the active compounds are inhaled as a vapor, which is less harmful than smoking.
Pros:
Healthier than smoking
More discreet than smoking
You can customize the effects based on the temperature of the vaporizer.
Cons:
It may require additional equipment.
It can be challenging to dose.
Some vaporizers can be expensive.
Cannabis Extracts for a Potent Experience
Cannabis concentrates, or extracts, are another popular method of consumption, particularly among experienced users.
Concentrates are highly potent extracts of cannabis that contain a high concentration of cannabinoids and terpenes.
These concentrates can be consumed through inhalation, oral consumption, or topical application, depending on the form of the concentrate.
Some of the most popular forms of cannabis concentrates include:
Shatter: A hard, translucent concentrate that shatters when broken. Shatter is typically consumed through inhalation methods, such as dabbing or vaporizing.

Wax: A soft, pliable concentrate that has a wax-like texture. Wax is also typically consumed through inhalation methods.

Live resin: A concentrate made from fresh, frozen cannabis flowers immediately processed after harvest. Live resin is known for its high terpene content and is typically consumed through inhalation methods.

Distillate: A highly purified concentrate containing high THC or CBD levels. Distillate is versatile and can be consumed through inhalation, oral consumption, or topical application.
While concentrates can provide a more intense and immediate high than other cannabis products, they can also be more challenging to dose accurately.
Due to their high potency, starting with a low dose and gradually increasing them as needed is essential.
It's also important to note that the production of cannabis concentrates can be dangerous if not done correctly.
Some DIY methods involve using flammable solvents, which can lead to explosions and other safety hazards.
Purchasing concentrates from a licensed and reputable dispensary is always recommended to ensure safety and quality.
Cannabis Oils to Treat Numerous Conditions
Cannabis oils are a form of medical marijuana gaining traction in the medical world.
This form of cannabis contains a concentrated extract of cannabinoids, terpenes, and other bioactive compounds mixed with a carrier oil like olive or hemp seed oil. Oils can be taken orally, applied topically, or inhaled via vaporization. 
Compared to traditional forms of medical marijuana, cannabis oils offer a higher dosage of active ingredients without the smoke and combustion associated with smoking.
Cannabis oils are being used to treat numerous conditions, such as chronic pain, cancer-related symptoms, seizures, anxiety, depression, and more. 
As research continues to expand on the potential benefits and uses of cannabis oils, new treatments will likely continue to be developed in the near future.
Topicals for Localized Pain Management and Relief
Topicals are a form of medical marijuana that can treat various conditions. They are applied directly to the skin and offer localized relief without producing psychoactive effects.
The active ingredients in topicals can penetrate the skin, interacting with receptors for cannabinoids such as THC and CBD.
These compounds can reduce inflammation, pain, and other symptoms associated with certain skin conditions or injuries. 
Medical marijuana topicals come in various forms, including creams, balms, salves, oils, and sprays.
Some products may also contain additional ingredients that provide additional therapeutic benefits, such as reduction of pain and inflammation and faster healing of skin issues, including eczema and even acne.
Pros:
Targeted relief for pain and inflammation
Non-psychoactive
No intoxicating effects
Cons:
It may be less effective for systemic issues.
Can be expensive
Limited product options
Topicals are an effective treatment for those seeking relief from specific medical issues without worrying about becoming intoxicated from using cannabis products.
Oral Consumption for Convenience and Long-Lasting Effects
Oral consumption involves ingesting cannabis products, such as edibles or tinctures, through the mouth.
Oral consumption methods are popular among individuals who want long-lasting effects and a more discreet form of consumption.
Tinctures for Precise Dosing
Cannabis tinctures are liquid extracts infused with cannabis compounds. Tinctures can be taken orally by placing a few drops under the tongue, resulting in a rapid onset of effects.
Alternatively, you can add tinctures to food or drinks for a slower onset of effects.
Tinctures are a form of medical marijuana that provides a convenient and discreet way to ingest cannabis.
The advantage of tinctures is that they can be quickly absorbed into the bloodstream without going through the digestive system.
Tinctures have a precise dose, which makes it easier for patients to manage their dosage.
Tinctures also have a longer shelf life than other forms of cannabis, meaning they can be stored for up to two years without losing their potency. 
Pros:
The quick onset of effects when taken sublingually
Can be added to food or drinks
Easy to dose
Cons:
It can have a strong taste.
It may not be as discreet as other oral consumption methods.
Effects can be unpredictable.
For people who prefer not to smoke or vape their medical marijuana, tinctures are an excellent option as they offer a fast-acting and easy-to-administer alternative.
Edibles for A Tasty Way to Consume
Edibles are cannabis-infused foods, such as gummies, brownies, and chocolates. When consuming edibles, the active compounds are absorbed through the digestive system, resulting in a slower onset of effects.
The effects of edibles can last up to 8 hours or longer, making them an ideal option for individuals who want long-lasting effects.
They are a popular form of medical marijuana that provide an alternative to smoking or vaping. Edibles come in many forms, including gummies, chocolates, brownies, and cookies. The edibles category also includes drinks, such as tea and soda.
Edibles offer the same benefits as other forms of cannabis but allow the patient to ingest their medicine rather than inhaling it.
Patients should always follow dosage instructions when taking edibles to avoid any adverse reactions.
The effects of edibles can last for several hours so patients should be aware that their symptoms may not be alleviated immediately. 
Pros:
Long-lasting effects
Discreet method of consumption
Wide range of products available
Cons:
Slow onset of effects
It can be challenging to dose.
Effects can be unpredictable.
With proper education on dosage and effects, edibles can provide a safe and effective way for those with chronic health conditions to find relief from their symptoms.
---
Related
How to Make THC Gummy Bears with canna Oil
4 Fast and Easy cannabis-Infused Mug Cakes
---
Which cannabis consumption method is best
Choosing the proper cannabis consumption method depends on your preferences, medical needs, and lifestyle. Consider the following factors when selecting a method:
Desired effects: Do you want quick onset and shorter duration or long-lasting effects? Inhalation methods provide speedier onset and shorter duration, while oral consumption provides longer-lasting effects.
Dosage: How much cannabis do you want to consume? Inhalation methods are easy to dose, while oral consumption methods can be more difficult to dose accurately.
Health considerations: Smoking cannabis can pose health risks, and some individuals may prefer alternative consumption methods.
Taste preferences: Some individuals may prefer the taste of specific consumption methods, while others may find them unappealing.
With the wide range of cannabis consumption methods available, it can be overwhelming to choose the right one.
However, by understanding the pros and cons of each method, you can make an informed decision based on your personal preferences and needs.
Whether you prefer inhalation, oral consumption, or topical application, there is a cannabis consumption method that can meet your needs.
Always start with a low dose, increase as needed, and consult with a medical professional before using cannabis for medical purposes. Happy experimenting!
Ready to Get a Medical Cannabis Card? Get Certified in Minutes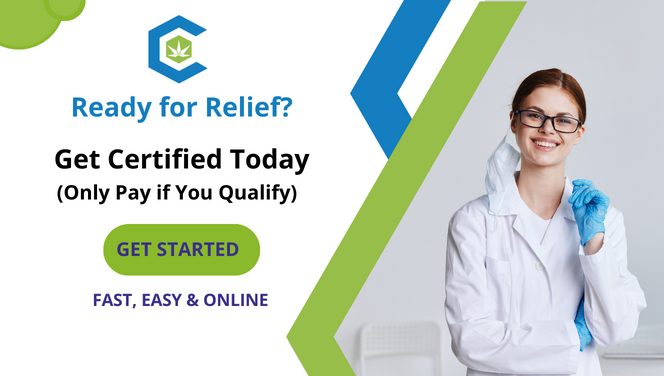 ---
Enjoyed This Content? Read More:
In this guide, you'll learn how to make cannabis-infused coconut oil or MCT oil, decarboxylate cannabis, or choose to infuse cannabis into any oil of your choice.