Is Medical Cannabis Legal in Texas?
Table of Contents
Texas is one of the most conservative states in the country and has been notoriously strict when it comes to marijuana legalization. Prior to 1973, Texas had the strictest cannabis prohibitions in the US, with possession of any amount of the drug being a crime punishable by two years to life in prison.
Possession was outlawed in the state.
Recreational cannabis use is prohibited in Texas. Possession of up to two ounces is a class B misdemeanor punishable by a $2,000 fine and/or 180 days in prison. However, several of the state's larger cities have passed measures to reduce penalties or limit enforcement.
Texas has authorized medical marijuana since Gov. Greg Abbott signed the Texas Compassionate Use Act into law in 2015. However, not everyone who requires assistance is served.
"Low-THC Cannabis" is defined under Texas Occupations Code Sec. 169.001 as "the plant Cannabis sativa L. and any component of it, as well as any compound, manufacturing, salt, derivative, mixture, preparation, resin, or oil containing: Not more than 0.5% by weight of tetrahydrocannabinols."
Currently, THC content allowed was increased from 0.5% to 1% with a doctor's approval, for medical use.
Texas Compassionate Use Act of 2015
The Compassionate Use Act of 2015, better known as the Compassionate Use Act, was the first bill introduced in the state legislature that sought to legalize access to marijuana for medical purposes.
On May 29, 2015, the law was enacted that made low-THC cannabis products legal for patients with intractable epilepsy, so they can legally and safely use those products for medical purposes.
This bill only allows patients to use cannabis products for medicinal use if they are certified by a physician.
This law also allows for the cultivation, possession, and distribution of medical cannabis at licensed establishments. Medical cannabis can only be dispensed in dried form.
The law does not allow for the creation of marijuana products, like edibles, which require a different regulatory framework.
During 2019 and 2021, the program was extended to cover additional illnesses.
The Texas Department of Public Safety (DPS) oversees the Compassionate Use Program (CUP). DPS is required to create the Compassionate Use Registry of Texas (CURT), a system that allows doctors to register individuals with specified medical problems and prescribe low-THC cannabis to them.
Once a prescription has been written, dispensing organizations can look up the patient in the system and fill the prescription.
CURT was designed to prevent multiple qualified physicians from registering as the prescriber for one patient.
It allows physicians to input safety and efficacy data resulting from the treatment of patients who are prescribed low-THC cannabis, and it is accessible to law enforcement agencies and dispensaries to verify patients of low-THC cannabis.
DPS also oversees licensing businesses that provide low-THC cannabis to Texas Compassionate Use Registry patients.
Medical Expansion of the Program
Governor Abbott signed House Bill 1325, into law in June 2019, which legalizes the growing of industrial hemp, which is a cannabis plant containing less than 0.3%THC.
It also made owning and selling hemp-derived CBD products lawful without a doctor's approval.
House Bill 3703 was also signed in June 2019. The state's low-THC medical cannabis program is increasing its list of qualifying ailments for treatment.
House Bill 1535 was signed into law in June 2021, increasing the THC limit allowed from 0.5% to 1% and expanding coverage to include all types of cancer and post-traumatic stress disorder (PTSD).
Qualifying Conditions
At present, this program is open to patients with the following conditions:
epilepsy
seizure disorder
multiple sclerosis (MS)
spasticity
amyotrophic lateral sclerosis (ALS)
autism
cancer
post-traumatic stress disorder (PTSD)
incurable neurodegenerative disease
Qualifying Patients
A patient can be accepted into the program only if the following conditions apply:
The patient is a permanent Texas resident.
The patient has been diagnosed with one of the qualifying conditions listed above
The qualified physician determines the risk of the medical use of low-THC cannabis by a patient is reasonable in light of the potential benefit for the patient.
The age of the patient is not restricted by law.
Legal guardianship may be required for patients under the age of 18. The dispensing organization will require patients or legal guardians to present evidence of identification, so having an ID for the legal guardian is a must.
Physician Qualifications
Only licensed physicians are authorized to prescribe medical cannabis. When prescribing low-THC, a physician must follow certain guidelines, including:
being registered with DPS and licensed to practice medicine in the State of Texas.
being board-certified in internal or family medicine, or both, and board-eligible in pain medicine or palliative medicine.

Physicians in pain medicine or palliative medicine are required to be at least board-eligible in one of these fields.

being active members of the Texas Medical Association (TMA) or the Texas Osteopathic Medical Association (TOMA).
proof of one or more board certifications in a medical specialty relevant to the treatment of each patient's specific medical condition from an American Board of Medical Specialties or Bureau of Osteopathic Specialists-approved specialty board.
Dispensaries
According to Texas Health and Safety Code Ch 487, the department is only required to license a minimum of three dispensing companies, provided that these three applicants meet the legislative standards.
Employees of the dispensing organizations will distribute medications and fill prescriptions over the counter. Low-THC products can only be tested by licensed dispensing organizations.
CBD, Delta-8 and Delta-9
Texas modified its legislation following the 2018 Farm Bill, removing hemp and its extracts from the list of controlled substances.
Governor Greg Abbott signed HB 1325 into law in mid-June 2019. This new bill provided the foundation for new hemp legislation in the state and certain lax controls for hemp farming, manufacture, and sales.
Cannabidiol (CBD) products containing less than 0.3% Delta-9 tetrahydrocannabinol (THC) were now permitted in Texas.
Delta-8 THC is a cannabis-derived chemical that has THC of more than 0.3%.
By designating Delta-8 as a Schedule I controlled substance, the Texas Department of State Health Services recently modified its consumable hemp program guidance to explain that it is not legal.
All other forms of THC, including Delta-8 at any concentration and Delta-9 with a concentration more than 0.3%, are classified as Schedule I restricted substances.
Note that a lawsuit is now being filed in Texas to determine the legal status of Delta-8.
Any time the DEA modifies its laws on controlled substances, individual states are entitled to select whether or not to implement the changes or continue with their present rules.
Other Texas Medical Cannabis Laws
Texas Occupations Code, Chapter 169
This section of Texas law permits competent physicians to prescribe low-THC cannabis to certain individuals who meet specified criteria.
"Low-THC cannabis" is defined in this chapter as a cannabis plant or derivative with less than 1% tetrahydrocannabinols (THC) by weight.
Texas Administrative Code, Title 25, Part 1, Chapter 1, Subchapter D, Rule 1.61
In Texas Occupations Code Chapter 169, new administrative regulations are in effect on December 5, 2019, which specify the incurable neurodegenerative disorders that can be treated by low-THC cannabis.
A neurodegenerative disease is considered incurable if there is no known cure for this condition, which happens when nerve cells in the brain or peripheral nervous system lose function over time. 
New Texas Cannabis Laws
Several Texas cities have recently passed ordinances to accommodate cannabis-related laws:
Pecan Grove has moved forward with a medical cannabis dispensary ordinance that will allow for the creation of both storefront and micro-businesses, but the city council has yet to vote on whether to make recreational cannabis legal.
 The city council  of Austin passed an initiative in May 2022 to  prohibit Austin police from issuing any fines or arrests for minor marijuana possession charges and prohibiting the use of no-knock warrants.
Cities like San Antonio have even proposed licensing recreational cannabis lounges for use in public establishments. A medical cannabis bill is also in the works in the Texas Legislature.
Get Your Medical Cannabis Card in Texas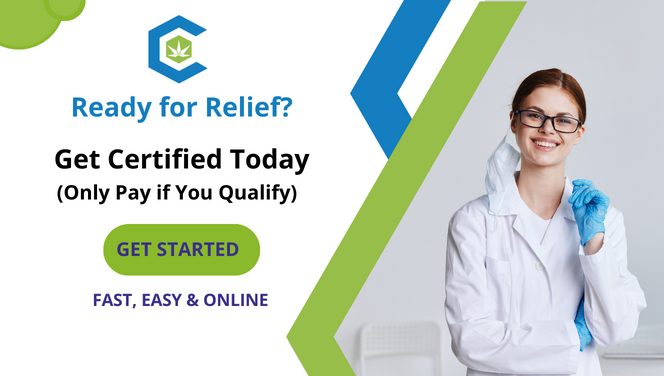 ---
Enjoyed This Content? Read More:
In this guide, you'll learn how to make cannabis-infused coconut oil or MCT oil, decarboxylate cannabis, or choose to infuse cannabis into any oil of your choice.