Maine Gun Rights Guide for Medical Cannabis Patients
Table of Contents
The state of Maine has allowed the prescription of medical marijuana since 1999, with restrictions on its possession. The lack of a distribution system, however, raised concerns about potential violations of federal law.
Fortunately, the Maine Medical Marijuana Act was approved by voters in 2009, making Maine the fifth state to offer medical marijuana stores to those with severe and persistent illnesses.
It extended the state's program and decriminalized possession of up to 2.5 ounces (71 grams) of cannabis.
In February 2019, the Maine Department of Administrative and Financial Policy (DAFS) established the Office of Marijuana Policy (OMP) to manage all aspects of marijuana legalization, including the current Maine Medical Use of Marijuana Program (MMMP).
Qualifying patients must receive permission from their physician, osteopath, or nurse practitioner in order to participate in the MMMP.
A patient needs a state-issued ID and the physician certificate to buy marijuana from a dispensary in ME. If they wish, patients can sign up and get a registration card.
The cards are free to use and there is no list of prerequisites for those seeking medical marijuana.
Patients who meet the requirements may name a caregiver to help them use marijuana for medical purposes. The caregiver must be at least 21 years old and cannot have a criminal drug conviction on their record.
The Maine Department of Health and Human Services provides the licenses and enforces regulations for non-profit dispensaries to grow and dispense prepared marijuana to registered patients.
Does Having a Medical Cannabis Card Mean Not Being Eligible for a Gun License in ME?
The short answer is "yes".
The Federal Gun Control Act of 1968 forbids anybody who is "an illegal user of or is addicted to any controlled drug and as a result is barred from possession of a weapon."
Maine law (15 M.R.S.A. §393 (G)) prohibits marijuana users from possessing firearms, mirroring the federal prohibition.
This rule was challenged in court in October 2019 by a person who, despite being a registered medical marijuana user, was stopped for a traffic violation in Maine and accused of having illegal guns on his person.
This person also had 5 1/2 ounces of cannabis on him. The man was not convicted of the allegation of furnishing drugs, but was found guilty of the charge of possessing guns.
Possessing a handgun does put a law-abiding Maine medical marijuana user or caregiver at an elevated danger of penalties and jail time on both the federal and state levels.
---
Understandably, many believe that the government ban on medical marijuana users possessing weapons violates their Second Amendment rights. Until the law is changed, patients and caregivers should be aware of the significant legal hazards of gun ownership.
Can You Take Your Gun to a Dispensary in ME
The Department of Public Safety, through the Maine State Police, issues concealed weapon licenses in Maine, which is a shall-issue, permitless carry state.
The purchase of a handgun from a private individual does not necessitate a permit, background check, or weapons registration.
Without a permit, open and concealed carry are both permitted in Maine. Anyone legally allowed to own a handgun at least 18 years old is eligible for open or concealed carry.
Maine also provides licenses for reciprocity-related reasons. It is necessary to complete a state-approved firearms training course in order to get a Maine Permit to Carry Concealed Handgun (CCH).
With a few extremely specific exceptions, the following locations still prohibit gun owners from having a handgun in their possession on their premises:
Schools
Courthouses
State Capitol area
Private property when forbidden by the property owner
Establishments licensed for on-premises consumption of liquor if the establishment has posted signs banning guns on their premises. Note that even if there is no posted prohibition, carrying on these premises while under the influence of intoxicating liquor or drugs is illegal.
Any hotel, lodging house, or campground when prohibited by the innkeeper or campground owner
Wildlife sanctuaries
Labor disputes and strikes
Baxter State Park [Park Rules]
Allagash Wilderness Waterway [Park Rules]
Any location where carrying a firearm is forbidden by federal law or state law or regulation
Unless the owner forbids it in Maine, you are permitted to bring a pistol inside a dispensary. But remember, there are no state laws to protect you when you do, so take extra precautions.
Can You Consume CBD and Own a Gun in ME?
Cannabis regulations in Maine are relatively liberal. CBD from hemp and marijuana are both legal. Medical marijuana is legal in Maine. It's also legal to consume marijuana recreationally.
LD 630 was enacted in February 2019 to make Maine's laws compliant with the 2018 Farm Bill. According to the 2018 Farm Bill, as long as hemp's THC content is less than 0.3%, it is no longer regarded as a restricted drug.
As long as it was grown and processed in accordance with federal and state rules, all of its components can now be utilized legally.
So, owning a gun and using CBD is perfectly fine in the state of Maine.
Get Your Maine Medical Cannabis Card in Minutes!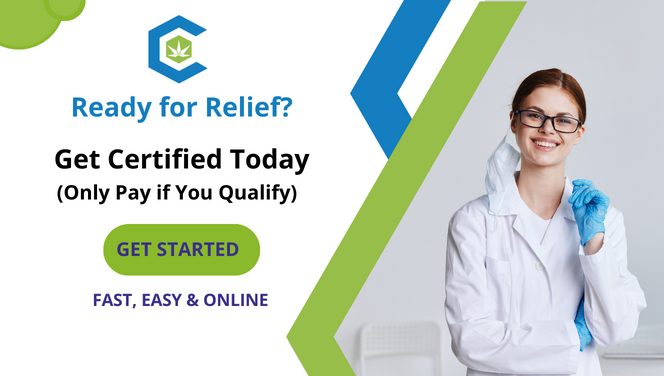 ---
Enjoyed This Content? Read More:
In this guide, you'll learn how to make cannabis-infused coconut oil or MCT oil, decarboxylate cannabis, or choose to infuse cannabis into any oil of your choice.