Minnesota Gun Rights for Medical Cannabis Patients
Table of Contents
The Minnesota Medical Marijuana Act (SF 2470) was signed into law by Minnesota Governor Mark Dayton in 2014, making it the 22nd state in the US to legalize medical marijuana.
The Act offers legal protections for individuals with qualifying medical conditions who acquire a doctor's prescription for the use of medical cannabis products.
After the medical cannabis law was passed, the Minnesota Department of Health created the Office of Medical Cannabis.
The Task Force on Medical Cannabis Therapeutic Research was also established by the statute to analyze the effects of medical cannabis usage and review Minnesota's and other states' medical cannabis-related activities.
On June 1, 2015, the program's patient registration opened, and on July 1st of the same year, medical marijuana started to be distributed.
Due to the few medical illnesses that qualify and the limited types of cannabis that are permitted initially, the Minnesota medical marijuana original statute was regarded as the most restricted in the country.
But the statute came to amendments in the following years.
The latest condition added was Chronic pain and Age-Related Macular Degeneration (AMD) in 2019. As of mid-2022, there are a total of 14 qualifying conditions that are recognized to be eligible for the state's medical marijuana program.
MN citizens must first obtain a certification from a healthcare professional recommending medical marijuana for the condition they are treating.
Patients must register with the Minnesota Department of Health (MDOH) and once their application has been granted, they can visit one of Minnesota's 14 medical marijuana dispensaries, where a pharmacist will review their case and recommend a particular strain and dosage.
Does Having a Medical Cannabis Card Mean Not Being Eligible for a Gun License in Minnesota?
The federal government considers marijuana as an illicit narcotic on par with heroin, and anyone who takes an "illegal" substance is not allowed to purchase a weapon.
This means the thousands of patients in Minnesota's medical marijuana program cannot own firearms under the current federal legal framework.
State Representative Rod Hamilton, a Republican from Mountain Lake, Minnesota, has been seeking changes to allow medicinal cannabis users to get gun licenses since 2019.
He participates in the state's medicinal marijuana program and suffers from multiple sclerosis.
In a 2021 interview, Hamilton said he could not renew his permission to carry a pistol or lawfully use a rifle for hunting. Hamilton stated, "The bill I am proposing would make medical cannabis a Schedule 2 drug — legal with a prescription but yet allowing you to renew your permit to carry and hunt with a firearm if you so choose".
Several pro-gun rights and pro-legalization organizations and lawmakers pressed the Legislature during a special session in 2021 to let the Minnesota Department of Health request an exception from the federal government.
The amendment is being discussed as part of the state's health, human services, and public safety budget legislation.
If successful, Minnesota would be the first of the states that permit medical marijuana to make a direct appeal to the federal government on behalf of its patients.
Having a medical marijuana card and a weapons license at the same time is not allowed at the moment, but it's possible that a law may be created shortly to permit it.
Can You Take Your Gun to a Dispensary in Minnesota?
The Minnesota sheriff's office in the county where the applicant resides issues permits on a local basis.
When purchasing a handgun from a private individual, no license, background check, or registration of firearms is necessary.
Both open carry and concealed carry are permitted with a Minnesota Permit to Carry a Pistol (PCP) or a permit from a reciprocal state.
Candidates must have completed a weapons training course and be at least 21 years old.
Getting a permit to transport, store, or maintain a handgun at home or a place of business is unnecessary.
However, the following places are off-limits even if you have a PCP:
Public or private elementary, middle or secondary school building and grounds


School buses


Portion of a building or facility under the temporary, exclusive control of a public or private school where signs prohibiting firearms are posted


State correctional facilities


State hospitals and grounds

Private establishments that have posted a sign banning guns on their premises


Places of employment, public or private, if employer restricts the possession of firearms by its employees


A child care center while children are present


Any public place when under the influence of alcohol, a controlled substance, or any combination thereof


Minnesota Zoological Garden


Innkeepers may refuse to admit or refuse service or accommodations to any person the innkeeper reasonably believes is bringing firearms into the hotel


State game refuges


The Bayport WMA in Washington County, the Hastings WMA in Dakota County, and the Raguet WMA in Scott and Carver Counties


A church may prohibit firearms from its property, including parking facilities and parking areas owned or operated by the church, and may notify its employees and the public in any manner it chooses


Any place where the carrying of firearms is prohibited by federal law or state law or regulation
You are allowed to carry your gun inside the dispensary if you have a PCP as long as the owner permits it.
Can You Consume CBD and Own a Gun in Minnesota?
In Minnesota, CBD is permitted as long as it comes from industrial hemp and has less than 0.3% THC.
Patients with qualifying conditions may use higher-THC CBD products under the state's medicinal marijuana program.
When federal legislation permitted hemp farming, Minnesota embraced it. But it took some time for state laws to differentiate between marijuana and industrial hemp.
This created a legal gray area for CBD. Over time, confusion was resolved, and now Minnesota has clearly legalized hemp-derived CBD.
So in Minnesota, owning a gun is okay when consuming hemp-derived CBD.
Get Your Minnesota Medical Cannabis Card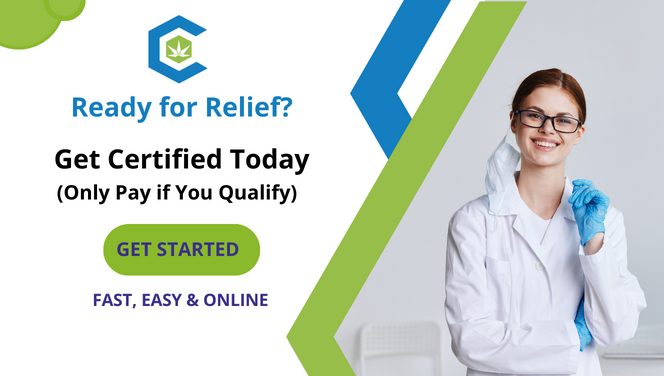 ---
Enjoyed This Content? Read More:
In this guide, you'll learn how to make cannabis-infused coconut oil or MCT oil, decarboxylate cannabis, or choose to infuse cannabis into any oil of your choice.