Oklahoma Gun Rights Guide for Medical Cannabis Patients
Table of Contents
Cannabis is illegal in Oklahoma for recreational use, but is lawful for medical use with a state-issued license. CBD oil made from industrial hemp is also legal without a license.
The Oklahoma Medicinal Marijuana Legalization Initiative (also known as Question 788) was an initiative to legalize medical marijuana in the state that appeared on the ballot for the general election on June 26, 2018.
With nearly 56% in favor, it was approved.
The Oklahoma Medical Marijuana Authority (OMMA) is the state's marijuana regulatory body.
Oklahoma citizens must provide identification, residency documentation, a passable photo, and a completed Physician Recommendation Form signed by a licensed physician to obtain a medicinal marijuana adult patient license.
Any person who receives a medical marijuana license from the state is permitted to use marijuana legally and to possess up to 85 grams or 3 ounces of marijuana.
License holders may legally consume smokable forms of medicinal marijuana wherever tobacco products may be smoked and can lawfully consume edible forms anywhere.
As long as medical marijuana remains illegal under federal law, holders of medical marijuana licenses on federal land — such as military bases, National Park Service lands, or Department of Agriculture lands — are not immune from federal prosecution for cannabis possession.
Does Having a Medical Cannabis Card Mean Not Being Eligible for a Gun License in Oklahoma?
No. According to the 2019 Oklahoma Statutes Title 63, a medical marijuana patient or caregiver licensee's ability to purchase or carry a firearm, ammunition, or firearm accessories cannot be restricted due to their position as a patient or caregiver.
Nobody will inquire about your gun ownership status when you apply for a medical marijuana card in Oklahoma.
Both the licensees under the Self-Defense Act (handgun licensing) and those under the medical marijuana program have their own independent databases. The federal government uses the criminal background system (NICS) to conduct background checks.
Still, state health department representatives oversee the medical cannabis database and do not upload information to NICS.
Can You Take Your Gun to a Dispensary in OK?
As long as they have a valid reason and aren't infringing any other laws, Oklahomans who are of legal age can open and concealed carry firearms without a permit, including inside a dispensary.
The licensing requirement for carrying a concealed firearm was abolished in Oklahoma in 2019. In addition, Oklahoma issues concealed carry permits to Oklahomans traveling to states that require them.
Locations where carrying a weapon is prohibited by state law include:
Bars
Colleges, universities, or technology center schools
Courthouses
Jails and prisons
Legal gambling establishments
Government buildings or Offices used for public business
Publicly owned sports venues during pro games
Schools
Can You Consume CBD and Own a Gun in OK?
Oklahoma has legalized hemp production and permitted the use of CBD in a range of foods, dietary supplements, topicals, and other products.
The Hemp Farming Act successfully removed industrial hemp and its natural byproducts from the definition of a controlled substance.
However, the only source recognized for lawful CBD products is industrial hemp. The most crucial thing a customer needs to remember when purchasing CBD is that it must contain less than 0.3% THC by dry weight.
If CBD products are created from any cannabis strain that has more than 0.3% THC, they are not federally-permitted products.
So, owning a gun is not against the law as long as you adhere to CBD consumption and possession limits.
---
Get Your Oklahoma Medical Marijuana Card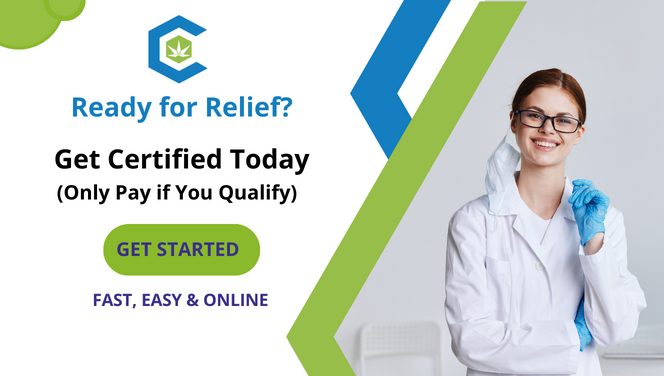 ---
Enjoyed This Content? Read More:
In this guide, you'll learn how to make cannabis-infused coconut oil or MCT oil, decarboxylate cannabis, or choose to infuse cannabis into any oil of your choice.