Oregon Gun Rights Guide for Medical Cannabis Patients
Measure 67, aka: the Oregon Medicinal Marijuana Act, was passed by the people of Oregon in 1998, making it the second state in the US to legalize medical marijuana.
Oregon was the first state to decriminalize marijuana. Measure 67 guarantees legal protection for eligible patients, requires a doctor's written certification of the patient's qualifying debilitating medical condition, permits help from a caregiver, and requires a registration process with the Oregon Health Authority (OHA).
The Oregon Medical Marijuana Program (OMMP) — which is under the direction of the Oregon Health Authority — manages the cardholder registry for medical marijuana users.
This State has some of the most lenient medical marijuana regulations, making it simple for citizens to obtain cannabis.
However, there are still many advantages to possessing a legitimate medical marijuana card, such as increased possession, growing limitations, and reduced product taxes.
Holders of a medical card can possess up to 24 ounces of medical cannabis product and pay no sales tax.
A medical cannabis card can be obtained by anyone over 18 with a history of one or more qualifying conditions and a doctor's recommendation.
Some of the qualifying ailments that the program considers are epilepsy, HIV/AIDS, cancer, cachexia, chronic glaucoma, and Alzheimer's disease. Cardholders may, at their discretion, also designate a primary caretaker and a grower.
A cardholder and their primary caregiver can jointly possess up to 24 ounces of marijuana.
Does Having a Medical Cannabis Card Mean Not Being Eligible for a Gun License in Oregon?
Both medical and recreational marijuana are permitted under law. Gun ownership or transfers to marijuana users are not illegal.
However, it might be against the law to possess both marijuana and a gun at the same time. If the firearm was used in a commercial drug offense or another felony, that could be considered a crime or an aggravating sentencing factor.
According to a 2011 decision by the Oregon Supreme Court, sheriffs cannot refuse medicinal marijuana cardholders concealed handgun licenses (also known as "carry permits") solely on the grounds that they use marijuana.
Can You Take Your Gun to a Dispensary in Oregon?
There is no license needed to buy a handgun or open carry in Oregon. Oregon is a "shall-issue" state when it comes to concealed carry, which means that if the applicant complies with the basic requirements stated by state law, the issuing authority (county sheriff, police department, etc.) will grant a license.
Anybody who has a valid license to carry a concealed weapon may do so.
Although Oregon is an open-carry state, local governments are able to prohibit anybody without a license from carrying loaded weapons in public.
Loaded weapons are prohibited for those without a license in all public spaces in the cities of Portland, Beaverton, Tigard, Salem, and Independence, as well as in Multnomah County.
As lenient as the state is when it comes to cannabis and firearms, it's best to check first whether bringing a gun into a dispensary is allowed in the specific city or county where the dispensary is located because different laws may apply in different cities and counties.
Can You Consume CBD and Own a Gun in Oregon?
Some people use CBD to enhance their daily lives, while others use it to treat a number of health issues, such as anxiety, pain, inflammation, sleeplessness, seizures, and neurodegenerative illnesses, and residents have some of the most liberal access to CBD of anyone in the United States.
In addition to being one of the first states to legalize cannabis for medical use, the state was also among the first states to legalize cannabis for recreational use, by doing so in 2014.
Before the 2018 Farm Bill, CBD derived from hemp and marijuana were permitted in the state. The Department of Agriculture is in charge of the state's hemp program.
Hemp is characterized under this program as cannabis with less than 0.3% THC by weight, which is the same definition as per federal law.
Additionally, the Hemp Program establishes the guidelines for the state's legal hemp market, which is often open and available.
Since the state has legalized both marijuana and hemp, possessing a gun and consuming CBD is not a problem.
Related Reads:
---
Get an Oregon Medical Cannabis Card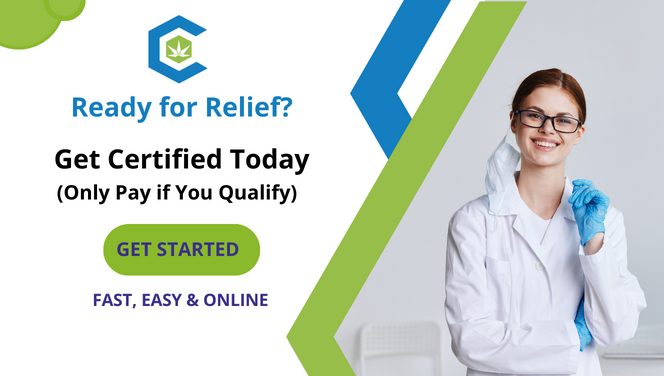 ---
Enjoyed This Content? Read More:
In this guide, you'll learn how to make cannabis-infused coconut oil or MCT oil, decarboxylate cannabis, or choose to infuse cannabis into any oil of your choice.