Farnesene: What You Need To Know About This Cannabis Terpene
Table of Contents
Farnesene is a group of terpenes that is found in cannabis and many other plants. 
It's known for its sweet and fruity profile which is found in high concentrations in green apples and gardenias. In cannabis, farnesene is found in small concentrations.
This article will cover the many benefits of this unique and sweet terpene.
What Are Terpenes?
You've likely heard of the term essential oil to refer to a plant's particular aroma; these essential oils contain unique combinations of smaller compounds known as terpenes that are widely responsible for the smell, flavor and attributes of these oils.
Terpenes are a group of naturally forming compounds known as hydrocarbons, and are found in plants and some animals – terpenoids are their oxygenated derivatives.
In plants terpenes are not only responsible for their distinctive smells like lemon, pine or lavender – terpenes also play an important part in a plants survival by repelling predators, attracting pollinators, and more.
Cannabis contains a higher concentration of terpenes than other plants, so you may have heard of them associated with this plant.
Terpenes have a long history of use by humans for their medicinal properties, aroma, and flavors. Many cannabis terpenes have antioxidant and anti-inflammatory properties.
Some terpenes can produce calming or sedative effects, while others can be mood boosting or energizing. Research shows that certain terpenes may be beneficial for depression and anxiety.
Some terpenes are even used by the medical and cosmetics industry because of how they work along with other compounds, such as aiding absorption.
Terpenes can have a variety of effects for the consumer and the amount consumed as well as the combination with other compounds may affect the desired results.
What Is The Entourage Effect?
The entourage effect is a term used to describe the theory in which the compounds in cannabis work together in synergy for the consumer.
Cannabinoids and terpenes each have their own individual potential for therapeutic benefit, however it is when they are combined that they produce effects greater than when consumed in isolation.
The terpenes in cannabis are considered to be responsible for this enhanced effect.
For example, some terpenes have the ability to increase the uptake of endocannabinoid receptors in the body which may cause increased effects with less consumption.
Terpenes could even have an entourage effect for treating mood and anxiety disorders.
While information regarding this phenomenon is limited, research into the entourage effect is ongoing and it seems that this theory holds some merit.
What Is Farnesene?
Farnesene is a terpene found in many plants, including chamomile, gardenias, and even potatoes. It is the main terpene in green apple skins and is responsible for their sweet, fruity smell.
It is known for its calming effect. Inhalation of farnesene produces a resting state, which can be reflected in EEG scans. It also has sedative properties and is helpful as a muscle relaxant.
Farnesene is found in trace amounts in the cannabis plant and was considered to be a characteristic of 'sativa' strains, though it is also found in cannabis strains known for their sedative effects.
While studies have not been completed on farnesene's role in the entourage effect, it has been shown to cross the blood-brain barrier into brain tissue, which indicates its potential for treating neurodegenerative diseases, like Alzheimer's.
More research could shed further light on farnesene's role in combination with other terpenes.
It1aroma has been described as fruity, warm, sweet, fresh, green, earthy, citrusy, and even woody.
While it's responsible for green apples' iconic taste and smell, this complex aroma can vary with the amount and combination of isomers used, and with conditions like oxidation.
Chemical Structure of Farnesene
Farnesene refers to a set of six chemical structure variations that are sesquiterpenes. Unlike monoterpenes which contain two isoprene units, sesquiterpenes consist of three isoprene units with a chemical structure of C15H24. 
Their larger structure makes them less volatile than monoterpenes and their fragrance is typically stronger, which is why we often find them in smaller concentrations.
Like monoterpenes, sesquiterpenes can be cyclic or contain rings; oxidation and rearrangement can create their different isomer structures.
Additional sesquiterpenes present in cannabis strains include Nerolidol, Bisabolene, and Caryophyllene.
Farnesene exists as α-farnesene and β-farnesene which are isomers and differ at the location of one double bond.
α-Farnesene
There are four variations of α-farnesene, known as stereoisomers, which vary at two of its three internal bonds. (E-E)-α-farnesene is the most common natural isomer that is found in the skin of green apples and other fruits.
Its oxidation is the cause of the deterioration of the fruit in a condition known as scald.
β-Farnesene
β-Farnesene has two stereoisomers whose geometry varies at its central double bond.
E-β-Farnesene is the main alarm pheromone emitted by aphids and some plants —like potatoes — which acts as a natural insect repellent.
Farnesene is popular as a flavoring agent, in cosmetics and perfume, and has many other uses.
What Are the Effects of Farnesene?
Studies have shown that farnesene may have therapeutic effects.
Like other terpenes, Farnesene is considered to be anti-inflammatory, potential anti-carcinogenic, anti-fungal, sleep-supportive and other health benefits.
Other uses of farnesene rich plants include:
Ease anxiety
Induce mental calm
Muscle relaxation
Decrease swelling
Prevent tooth decay
Improve gut health
Neuro-protective potential for Alzheimer's
Insect repellant
If you suffer from digestive issues, farnesene could act like nature's Pepto Bismol with its potential to aid gut bacteria and reduce inflammation, cramps, and painful flatulence.
What Cannabis Strains Are High In Farnesene?
While farnesene is not found in large amounts within the cannabis plant, some strains have a higher concentration than others. Knowing which strains are high in farnesene can be beneficial for those looking for specific types of relief with cannabis-derived products.
You can find farnesene in the following strains:
Cherry Punch
Cherry Wine Hemp
Comatose OG
Dutch Treat Haze
Gainesville Green
Goliath Hemp
Sour Space Candy Hemp
Special Sauce Hemp
White Rhino
Zookies
There is even development of new strains with high concentrations of Farnesene, Titan F1 and Milky Way F1 are examples of this.
Where Can You Find Farnesene Besides Cannabis?
Most of us know about terpenes from the profiles of our favorite cannabis strains or from full-spectrum CBD oils.
But it's important to know that farnesene and other terpenes can be found all over nature, not just in cannabis plants.
Farnesene is also found in these plants:
Basil
Cedarwood
Chamomile
Gardenias
Grapefruit
Green Apples
Hops
Myrrh
Patchouli
Potatoes
Sandalwood
Turmeric
Ylang-ylang
Farnesene is a unique terpene with many applications.
While found in lower concentrations in the cannabis plant, this sweet terpene is sure to be one that cannabis consumers search out for years to come.
---
Get a Medical Marijuana Card in Minutes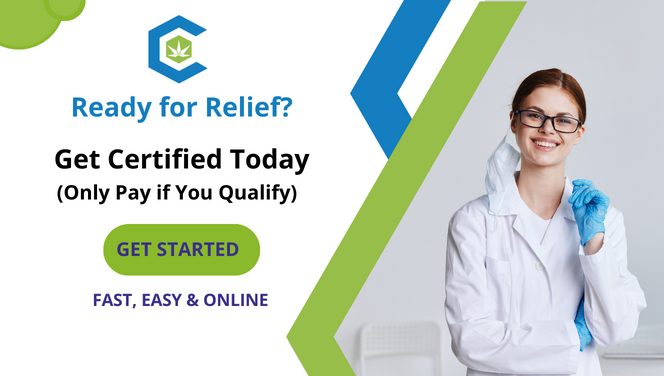 ---
Enjoyed This Content? Read More:
In this guide, you'll learn how to make cannabis-infused coconut oil or MCT oil, decarboxylate cannabis, or choose to infuse cannabis into any oil of your choice.