Making Cannabis Butter: Ultimate guide For Crockpot, stovetop, or Mason Jar
Table of Contents
This recipe was completely updated in September 2023
---
The Ultimate Guide to Making Potent Cannabis Infused Butter with Clarified Butter
Hey there, fellow "canna" enthusiasts! Ever wondered what's making waves in the kitchen and giving grandma's tried and true recipes a fresh, elevated twist?
It's cannabis butter, or as some affectionately call it:
Cannabutter
Cannabis-infused butter
Marijuana butter
Weed butter
Budder
This delightful concoction has taken the culinary and medical cannabis worlds by storm, and for good reason! It's one of the most basic ways to infuse just about anything!
This guide covers everything you need to know about making potent cannabis butter.
Decarboxylation
Clarified butter and Ghee
What equipment is needed
How to infuse on top of the stove
How to infuse with a slow cooker Crockpot
Learn an all-in-one "low and slow" method of making weed butter
Having cannabis butter available is a convenient and easy way to infuse about any recipe.
Whether you're whipping up brownies, sautéing veggies, or slathering it on your morning toast, cannabis-infused butter adds flavor and potential health benefits to the mix.
It's especially popular among medical cannabis patients as an enjoyable way to get their dose without always having to smoke or vape.
Fear not if you're breaking out in cold sweats at the thought of donning an apron!
Crafting cannabutter with clarified butter isn't like diffusing a time bomb; it's more like making a cup of tea, with a few extra steps.
By the end, you'll not only know your way around cannabis butter, but you might also discover a newfound passion for cooking, all while reaping the benefits cannabis has to offer.
Read my frequently asked questions before you begin for an added boost in your canna-cooking confidence!
---
Ingredients Needed to Make Cannabis Butter
1 cup or 2 sticks Unsalted Butter or Clarified/Ghee butter for every 7-10g of dried cured cannabis flower.
Equipment Needed to Make Cannabis Butter
Need Equipment? Grab it Here
Understanding Cannabutter Infusion
"Infusion is the process of extracting chemical compounds or flavors from plant material in a solvent such as water, oil, or alcohol by allowing the material to remain suspended in the solvent over time (a process often called steeping).
An infusion is also the name for the resultant liquid."
The concept of making cannabis-infused butter is quite similar to brewing tea. Cannabis plant chemicals are soluble in fat. For tea, water acts as the solvent.
When you immerse cannabis plant material in oil (butter), you extract its plant chemicals and incorporate them into your chosen oil or solvent.
Similar to making tea, the plant material is immersed or steeped, then removed, leaving the phytochemicals suspended in the solvent.
While water is the solvent for tea, cannabis's beneficial plant chemicals are fat-soluble, not water-soluble.
Decarboxylating Your Weed: Why And How
The first step in infusing butter is to decarboxylate, or decarb," your cannabis flower. What's that? In simple terms, it's a way to activate the helpful parts of the cannabis, like THC and CBD.
"In their natural form, CBs (cannabinoids) such as Δ9-tetrahydrocannabinolic acid (THC-A) and cannabidiolic (CBD-A) acid are inactive at these receptors, while their decarboxylated forms (Δ9-tetrahydrocannabinol and cannabidiol, respectively) are potent ligands at CB receptors."
These helpful parts are in a "sleeping" form in your cannabis. To convert the THC-A, CBD-A, and other cannabinoid acids
(e.g. THCVA and CBDVA) into their active forms, such as THC and CBD, all you need to do is add heat and "wake" them up.
How to Decarboxylate Cannabis
Preheat your oven to 240°F (115°C).


Break down the cannabis buds into smaller pieces with your hands, a grinder, or scissors.


Spread the cannabis evenly on a baking sheet.


Bake 45 minutes at 240ºF. Bake for 30-40 minutes. The cannabis should turn a medium brown color and be dried.

Tips On Decarbing
Many cooks advise against using a grinder, as that will cause the removal of many of your trichomes as they fall into the kief catcher.

Ideally, we'd like for as much of the trichomes to stay on the buds as possible, as they contain all the cannabinoids, terpenoids, flavonoids, and many other components of the Cannabis plant.


Spread your hand-ground bud across a baking pan lined with aluminum foil, parchment paper or a silicone baking mat.

The more ground and dispersed the cannabis is, the more of its surface area will be exposed to heat and thus effectively decarboxylate.


You may prefer a covered Pyrex baking dish or a handy decarboxylation box. The DecarBox from Magical Butter Machine is a silicone box with a built in thermometer.

The box helps to prevent the loss of valuable plant compounds and lock in the smell of the cannabis.


Drier cannabis buds can spend less time in the oven, as they will need less time to decarb.

Once your weed is nice and toasty after spending the appropriate time in the oven, it's decarbed and ready to be infused into butter and enjoyed.


Through this decarb process, the goodies in your cannabis can now be active when orally consumed and pass through your gut, encountering first-pass metabolism by your liver.


Placing your decarbed weed in the freezer for an hour will allow the trichomes to fall off easier and optimize the upcoming infusion process!

How to Clarify Butter
Our next step is to prepare your butter for infusing. Clarified butter may be a new culinary term for you, but don't fear this step.
Clarifying butter removes water and milk solids, leaving pure butterfat. This results in a higher smoke point (prevents burning), a longer shelf life, and a pure medium for cannabis compounds to infuse.
Ghee is a type of clarified butter, commonly used in Indian cuisine.
It's made by simmering butter until all the water evaporates and the milk solids brown and settle, giving ghee its nutty flavor.

After this, the liquid fat is strained off.
Both ghee and clarified butter involve separating the water and milk solids from butter fat.
However, ghee is cooked longer, allowing the milk solids to brown, which gives it a distinct taste.
Clarified butter retains a more neutral flavor.
Ghee is pretty common now in most health food, organic, or international sections of your local grocery store if you choose not to make your own clarified butter.
Steps to Clarifying Butter
In a medium saucepan, melt the unsalted butter over low heat.


Once melted, you'll notice a foamy layer on top. This is the milk solids separating from the fat.


Skim off this foam using a spoon and discard.


Allow the butter to simmer gently. The remaining milk solids will settle to the bottom.


Carefully pour off the clear golden liquid (the clarified butter) into another container, leaving the milk solids behind.
By using clarified butter or ghee, your cannabutter will have a purer taste and texture, be free from any unwanted milk solids, and offer a more consistent infusion of cannabis.
How to Make Cannabis Butter using a Stovetop Saucepan
The last step is the process of infusing your butter.
Use one cup or 2 sticks of unsalted clarified butter for every cup (7-10g) of cannabis flower. (The cannabis weight is before decarboxylation.)


Melt a cup of butter in your saucepan.


(An optional step is to add a cup of water to your saucepan. The water helps prevent the scorching or burning of the butter by regulating the temperature and covering the herb.

To remove water, freeze or refrigerate the finished butter until it is solid and pour off the remaining water.)


Once the butter starts melting, stir in your ground herb ( If you still have larger nuggs, break them up as you stir) and let the mixture simmer (not a full boil) for 2-4 hours (around 160 degrees Fahrenheit but ideally not above 200 degrees Fahrenheit).


Stir the mixture occasionally and ensure it does not get too hot! Overheating the mixture will destroy certain cannabinoids and terpenoids, so going "low and slow" is a must.


Strain the final product multiple times to remove plant material. Refrigerate your cannabutter or start cooking!
Overheating the mixture will destroy certain cannabinoids and terpenoids, so going "low and slow" is a must.
Best Methods For Straining Cannabis-infused butter
There are many ways to strain your finished butter to ensure that no gritty plant matter is left behind.
A cheesecloth-lined strainer used to be the most common method, but there are better and easier ways!
The very first strain can be with a tightly woven mesh strainer. This removes the bulk of unwanted cannabis material.
Next, a reusable coffeemaker filter is perfect! You can pick these up in grocery stores for a few dollars, and the fine screen is great for filtering out plant debris.

Place your filter in the mouth of a jar or container and slowly pour. You can strain a second time by adding a paper coffee filter to the reusable filter for a final strain.
You will need some patience.
If you've made large batch, you can purchase a straining bag like this Magical Butter Reusable 25 Micron Filter Bag. These are also sold as hash bags or nut milk filtering bags.
Making Cannabis Butter With a Slow Cooker Crockpot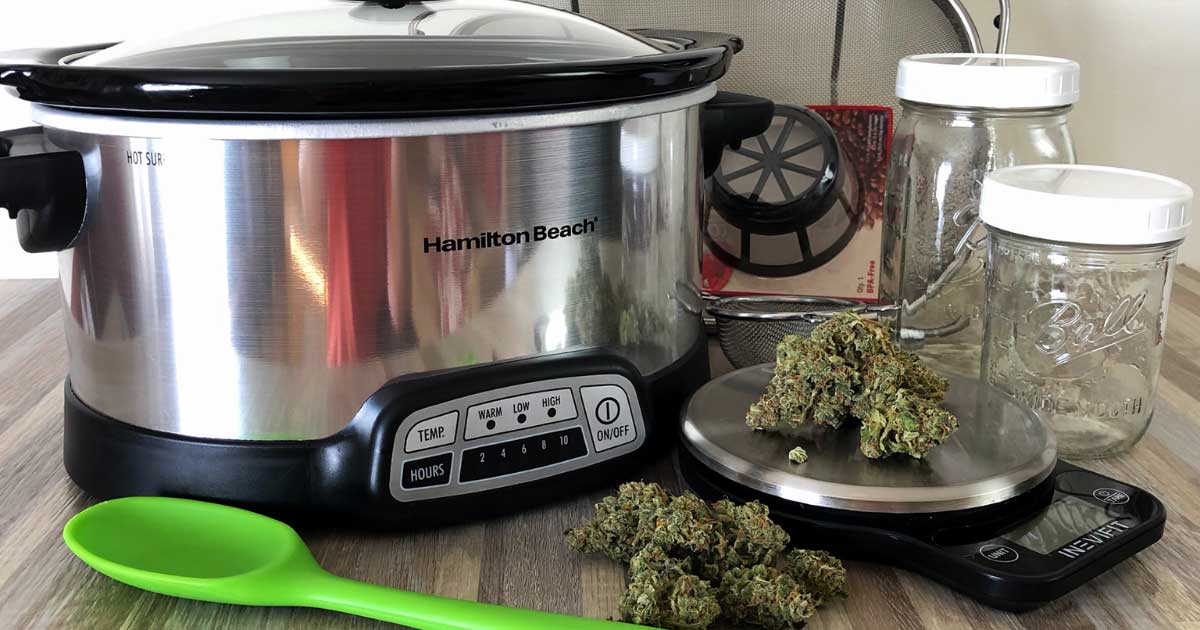 Using a slow cooker can accommodate a much larger batch of cannabis-infused butter. It's also great because you don't have to stay as close by.
Once you are more comfortable with processing cannabis and understand some of the science behind infusion, you may want to combine your processes.
I process or infuse my oil for about 4 hours if my cannabis is already decarbed.
I eventually learned that I could "cook" low and slow for about 8 hours and achieve all the steps in one process.
I feel I lose less of the beneficial phytochemicals of the plant this way. This method also reduces some of the smell if you need to keep a low profile.
People will waste time arguing over methods and decarboxylation. There are many ways to complete a job.
Choose a method that fits your lifestyle, that you believe in, and, most importantly, that works for you!
Steps to making Cannabis Butter in a slow cooker:
Add melted clarified butter or ghee to slow cooker/crockpot. Use one cup of unsalted clarified butter for every cup (7-10g) of cannabis flower. (The cannabis weight is before decarboxylation.)


Add decarboxylated cannabis (An optional step is to add a cup of water to your slow cooker). The water helps prevent the scorching or burning of the butter by regulating the temperature and helps cover the herb.

To remove water, freeze or refrigerate the finished butter until it is solid and pour off the remaining water.)


Process decarboxylated cannabis in the oil for about 3-4 hours OR process and decarboxylate all in one step for 8 hours. This process works for any cannabis oil.

You still need to monitor your temperatures! Keep the setting on low if you aren't able to set an exact temperature.

Use a candy thermometer or laser thermometer to monitor the temperature.

Maintain around 200 degrees Fahrenheit. Stir the mixture occasionally and ensure it does not get too hot!

Overheating the mixture will destroy certain cannabinoids and terpenoids, so going "low and slow" is a must.


Cool product enough to work with. Pour all contents into a very tightly woven strainer. This is your first straining.


Strain a second time through a small micron filter. A reusable coffee filter basket works great. Repeat the straining with tighter woven filters until all the sediments are removed and the oil is clear.

Making Small Batches of Cannabutter in a Mason Jar ( Sous Vide)
Sous vide is like giving your cannabis a warm bath! It's a method where you seal food in a bag or container, let it float in a water bath at just the right temperature, and wait.

The reward? Perfectly even-cooked, juicy, and delicious meals every time. You can certainly experiment with this method when infusing with cannabis.
There are Sous Vide "kits" available, but today, we will use common household items to achieve the same results. Grab a mason jar (canning jar) and boil some water!
Water boils at 212°F. While 212°F isn't quite hot enough to decarb at, it's a great temperature to infuse already decarbed cannabis at.
Add melted prepared butter to a canning jar

Add decarboxylated cannabis and seal jar with lid

Place in boiling water on the stovetop for 2-3 hours.

You can also use a crock pot filled with water to set the jar in for longer and slower processing. Don't leave your stove unattended.

This is basically a Sous Vide method of Infusing cannabis into an oil.
Every 30 minutes or so, use oven mitts to shake the mason jar gently to mix the cannabis and butter inside

Let the jar sit until cool or overnight.

Strain the oil to remove plant material.

Strain a second time through a small micron filter. A reusable coffee filter basket works great.

Repeat the straining if desired with tighter woven filters until all the sediments are removed and the butter is clear.

Store your finished cannabis infused oil in the refrigerator or freezer until you're ready to use it to protect and preserve the phytochemicals you worked so hard to capture.



---
Here Are Some Recipes to Try Out Your Cannabis Butter!
Frequently Asked Questions About Weed Butter
What is cannabis butter, and what are its benefits?

Cannabutter is just butter that's been infused with the goodness of cannabis. It's a popular way to consume cannabis because you can use it in a ton of recipes. From cookies to gravy, cannabis butter will elevate your recipes to new heights.

It's a super chill way to enjoy the therapeutic vibes of cannabis such as pain relief, anxiety reduction, and better sleep, without the need to smoke or vape. It's also very discrete.

Can I use cannabis trim, leaves, and stems to infuse butter or oil?

Many people use cannabis and hemp trim, leaves, and stems to infuse oil. Cannabis buds/flowers usually produce the most potent oils, but there are plenty of great cannabinoids found in the rest of the plant.

Mix these often discarded parts with your flower or consider them for topicals.

Make sure the plant material is properly stored and kept clean if you're using it for food.

Can I use salted butter instead of unsalted butter to make cannabis butter?

Unsalted butter is always recommended in recipes for two main reasons.

1. Salted butter can affect the taste of your recipes, and it is harder to control the salt level in your dish.

2. Salt acts as a preservative, so the freshest butter is unsalted. You may use either one for infusing!

What is the difference between clarified butter, ghee, and regular butter, and which one should I use?

Regular butter contains water, milk solids, and butterfat removes water and milk solids, leaving pure butterfat. Ghee is similar to clarified butter but is cooked longer to brown the milk solids before they are removed

Cannabinoids are fat-soluble.

Both clarified butter and ghee have more fat, which means they can soak up more of the cannabis cannabinoids. Either works great, but clarified butter or ghee may give you a more potent cannabutter.

They also have a higher smoke point (prevents burning), and a longer shelf life.

What kind of cannabis should I use for making cannabutter?

It's totally your call! If you're looking for that classic 'high' feeling, go for cannabis with a lot of THC. Choose a CBD-rich strain if you're after the therapeutic benefits without the buzz. Or mix it up with a bit of both.

How can I calculate the potency of my cannabis butter?

To calculate the potency, you'll need to know the percentage of THC or CBD in your cannabis. For example, if you have 10 grams of cannabis with 10% THC, you have 1000 mg of THC in total. If you infuse this into 1 cup of butter, then 1 cup of your cannabutter will contain 1000 mg of THC.

Divide this by the number of servings to get the dosage per serving. Remember to account for any loss during the cooking process.

How long does cannabutter last, and how should I store it?

Most sources state that cannabutter can last up to 2 weeks in the refrigerator or 6 months in the freezer. Store it in an airtight container for the best flavor. But we doubt you'll have difficulty finding ways to quickly use it. 

How do I decarboxylate cannabis, and why is it necessary?

Decarboxylation is the process of heating cannabis to activate its compounds. Raw cannabis contains THCA and CBDA, which are inactive. Heating it converts these to THC and CBD, which are active and have therapeutic effects.

To decarboxylate, spread your cannabis evenly on a baking sheet and bake at 240°F (115°C) for 45 minutes. If your cannabis is extremely dry or old, you may need to reduce the time by 10 minutes or so. 

What is the ideal THC dosage for my cannabutter?

The ideal dosage varies from person to person. It's best to start with a lower dosage, like 5-10 mg of THC per serving, and then adjust based on your tolerance and preference.

Can I make Cannabutter without a stovetop or slow cooker?

Yes, for sure! You can also use an oven. After decarboxylating your cannabis in the oven, mix it with melted butter and bake at a low temperature (around 200°F or 93°C) for 2-4 hours, ideally not above 200 degrees Fahrenheit. Don't let it boil.
Cannabis Safety Disclaimers:
Dosing: Start low, go slow. Effects can be delayed with edibles.
Legal Age: For legal-age adults only. Follow local laws.
Impairment: Cannabis can impair driving and machinery operation.
Storage: Keep out of reach of children and pets. Clearly label cannabis products.
Medical Concerns: Consult a doctor if you are pregnant, nursing, or have medical conditions.
Potency Variability: Homemade cannabis items can have varied potencies. Consume with caution.
Allergies: Check ingredients for allergens. Beware of potential cross-contamination.

While you're here, check out our Marijuana and Pot Aprons
Say high to your new favorite cook and bakeware. Great for baking, cooking, and sprucing up your style in the kitchen. Click below to order your marijuana apron now!