Is Cannabichromene (CBC) the Future of Cannabis Medicine? Examining the Latest Research
Table of Contents
Cannabichromene (CBC) is one of over 100 cannabinoids found in the cannabis plant, along with its more well-known counterparts, THC and CBD.
Despite being one of the lesser-known cannabinoids, CBC has shown promising potential as a therapeutic agent, with research suggesting that it may have anti-inflammatory, anti-viral, anti-depressant, and anti-cancer properties.
Unlike THC, CBC is non-psychoactive, meaning it does not produce the "high" associated with cannabis use.
This article will explore the therapeutic potential and mechanisms of action of CBC and its interactions with other cannabinoids in the cannabis plant.
Therapeutic Potential Benefits of Cannabichromene
Anti-inflammatory Properties of CBC
Inflammation is a natural process in the body that helps protect against injury and infection.
However, chronic inflammation can contribute to various diseases, including arthritis, diabetes, and cardiovascular disease. CBC has been shown to have the potential as an anti-inflammatory agent.
In a 2010 study published in the National Institute of Health's Library of Medicine, CBC reduced inflammation in animal models of acute and chronic inflammation. Another study found that CBC reduced edema, or swelling, in a mouse model of arthritis.
While more research is needed to fully understand the anti-inflammatory effects of CBC in humans, these findings suggest that CBC may have potential as a treatment for inflammatory conditions.
Anti-Viral Properties of CBC
Viral infections can cause various health problems, from the common cold to more serious conditions like HIV and hepatitis. Preliminary research has suggested that CBC may have anti-viral properties.
While these findings are promising, more research is needed to determine the potential of CBC as a treatment for viral infections.
What Does the Research Say About Cannabichromene?
In a 2013 study, it was found that CBC increased the viability of NS/PCs, promoted their proliferation, and induced their differentiation into neurons, suggesting that CBC may have neurogenic and neuroprotective effects.
The conclusion of the study was that CBC may have potential therapeutic applications for the treatment of neurodegenerative diseases.
Another study found that CBC reduced intestinal inflammation and normalized intestinal motility, suggesting that CBC may have therapeutic potential for treating inflammatory bowel disease (IBD).
The conclusion of the study was that CBC might be a promising candidate for the development of new treatments for IBD.
One study published in 2010 in the journal Pharmacology, Biochemistry, and Behavior found that CBC produced significant anti-depressant effects in mice.
The study showed that CBC increased levels of both anandamide and 2-arachidonoylglycerol (2-AG), two critical endocannabinoids involved in regulating mood and anxiety.
Additionally, CBC was found to promote neurogenesis in the hippocampus, a region of the brain that is involved in learning and memory and is thought to play a role in regulating mood.
While these studies suggest that CBC may hold promise as a potential treatment for depression and anxiety disorders, more research is needed to understand its mechanisms of action and potential clinical applications fully.
Nevertheless, these early findings are encouraging and suggest that CBC may represent a valuable addition to the arsenal of treatments available for these conditions.
Related reads: Does Cannabis Cause or Treat Anxiety?
Interaction with the Endocannabinoid System
The endocannabinoid system (ECS) is a complex network of cell receptors and neurotransmitters found throughout the body responsible for regulating various physiological and cognitive processes, including mood, appetite, pain, and inflammation.
The ECS comprises two primary receptors, CB1 and CB2, which are activated by endocannabinoids produced naturally within the body and by phytocannabinoids found in cannabis, such as CBC.
CBC interacts primarily with the CB2 receptor, although it has also been shown to have some affinity for the CB1 receptor.
This interaction with the ECS is believed responsible for many of CBC's therapeutic effects, including its anti-inflammatory, analgesic, and anti-depressant properties.
Interaction with Other Cannabinoids
In addition to its interaction with the ECS, CBC also has the potential to work in conjunction with other cannabinoids found in the cannabis plant, such as THC and CBD, to produce enhanced therapeutic effects.
This phenomenon, known as the entourage effect, suggests that the different cannabinoids found in cannabis may work together synergistically to produce a more significant overall effect than they would individually.
For example, studies have shown that CBC may enhance THC's analgesic effects while reducing some of its psychoactive effects.
Additionally, CBC has been shown to have synergistic effects with CBD, including enhancing its anti-inflammatory properties and potentially improving its effectiveness in treating anxiety and depression.
Further research is needed to fully understand the entourage effect's mechanisms and how it may be harnessed to produce more effective cannabis-based therapies.
However, the potential for CBC and other cannabinoids to work together synergistically holds great promise for developing new and innovative treatments for various medical conditions.
Did you enjoy this article? Let us know, and share it with others!
Looking for Cannabis? Get a Medical Marijuana Card in Minutes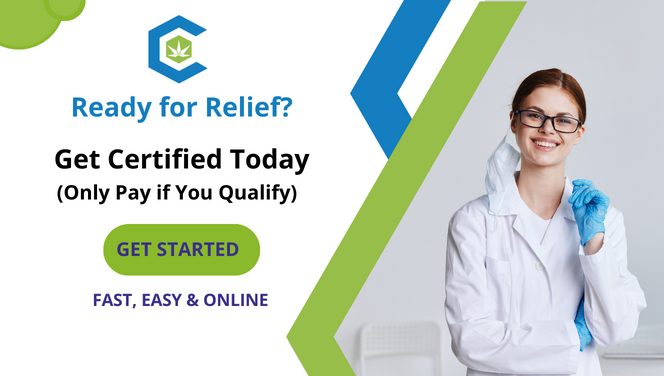 ---
Enjoyed This Content? Read More:
In this guide, you'll learn how to make cannabis-infused coconut oil or MCT oil, decarboxylate cannabis, or choose to infuse cannabis into any oil of your choice.