South Dakota Gun Rights for Medical Cannabis Patients
In South Dakota, there were attempts to legalize medical marijuana on the ballot in 2006 and 2010, but both times they failed.
South Dakota finally joined the club of states that allow medical marijuana on November 3, 2020, when it passed Ballot Measure 26. The ballot became South Dakota Codified Law (SDCL) 34-20G.
As of July 1, 2021, medical marijuana was legal in South Dakota and qualifying patients could buy, keep, and use cannabis to treat their painful conditions.
The state printed and gave out the first medical cannabis cards on November 18, 2021, and on July 27, 2022, the first medical dispensary in the state opened.
Since then, the South Dakota Medical Cannabis Program has been overseen by the South Dakota Department of Health (DOH), which has made sure that patients, students, and the public are safe in this new industry by creating a set of rules.
According to DOH, specific debilitating conditions include:
AIDS and HIV
ALS, also known as Lou Gehrig's disease
Multiple sclerosis (MS)
Cancer associated with severe or chronic pain, nausea or severe vomiting, or cachexia or severe wasting
Crohn's disease
Epilepsy and seizures
Glaucoma
Post-traumatic stress disorder (PTSD)
To get a medical cannabis card, a doctor must first certify in writing that a patient has a qualifying medical condition and could benefit from medical cannabis in a therapeutic or palliative way.
This could be an MD or DO-trained primary care provider.
The State of South Dakota will get a copy of that certification. The patient can then apply for an ID card from the registry.
Once approved, the patient will receive an ID card from the state's registry, which will enable them to buy medical cannabis treatments from a registered medical cannabis dispensary.Get a Medical Cannabis Card in South Dakota
Does Having a Medical Cannabis Card Mean Not Being Eligible for a Gun License in South Dakota?
Both hunting licenses and gun permits have different rules in each state. Adults can carry guns in South Dakota without a permit.
At the moment, getting a hunting license does not depend on whether or not you use medical marijuana.
John Kanta, section chief for the South Dakota Game, Fish, and Parks Department, said, "If they just have a medical marijuana card, we wouldn't check that, and it wouldn't stop them from getting a license."
Kanta also said that a hunter shouldn't have any trouble with cannabis use unless a game officer catches them shooting while high or breaking other hunting rules.
Matthew Schweich, a cannabis activist, doesn't think it's possible to lose a hunting license or even the right to own a gun.
"It's really just a question of whether the (US Bureau of Alcohol, Tobacco and Firearms) would try to get records from states on medical cannabis and use them to say that someone was dishonest on the forms," said Schweich, "At this point, I'm not aware of that ever happening." 
Schweich said that, in the end, the difference between federal marijuana laws and state laws that allow medical or recreational use —38 states have one or both — is likely to keep people worried about gun rights.
If Congress did something to change how cannabis is categorized, these hypothetical worries would go away.
With that said, medical marijuana patients in South Dakota shouldn't worry about losing their gun licenses.
Can You Take Your Gun to a Dispensary in South Dakota?
South Dakota is currently a shall-issue, permitless carry state. The sheriff's office takes care of permits at the county level. If you want to purchase a firearm from a private citizen, you don't need any permits, registration, or background checks.
In South Dakota, you don't need a permit to carry a gun in public. The minimum age is 18 years old. Based on an unofficial Attorney General opinion from 2004, handguns in a car must be in plain sight if you don't have a permit.
South Dakota is also now a permitless carry state. This means that anyone over 18 who can legally own a gun may conceal carry a firearm without a concealed carry permit.
For reciprocity, the state gives Concealed Pistol Permits (CPP) to South Dakota residents, military members, and their spouses stationed there.
These places are off-limits even with a permit/license:
A public elementary or secondary school premises, including school vehicles or buildings


A county courthouse, the state capitol, although enhanced permit holders can carry in these locations following 24-hour prior notification to the superintendent of the Highway Patrol


An establishment licensed to serve alcoholic beverages on the premises if the establishment derives more than 50% of its sales from alcoholic beverages


A game preserve or refuge


Any place where the carrying of firearms is prohibited by federal law or state law or regulation

Yes, you can take your gun to a dispensary in South Dakota.
Can You Consume CBD and Own a Gun in South Dakota?
The cultivation of industrial hemp with a THC level of less than 0.3% was made lawful by the United States Farm Bill (Agricultural Improvement Act of 2018).
Cannabidiol (CBD) extracted from hemp with less than .3% THC is legal in the United States. 
House Bill 1008 makes it legal in South Dakota to sell, buy, and carry CBD oil and other CBD products made from hemp that has less than 0.3% THC.
In South Dakota, CBD oil made from marijuana is against the law. Section 2 of House Bill 1008 says anyone caught carrying or selling cannabidiol products made from marijuana could face legal trouble.
It's legal for gun owners to consume CBD products as long as it is derived from hemp.
Get Your Medical Cannabis Card in South Dakota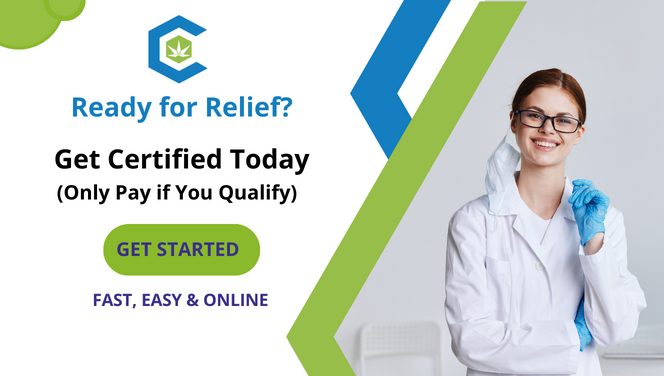 ---
Enjoyed This Content? Read More:
In this guide, you'll learn how to make cannabis-infused coconut oil or MCT oil, decarboxylate cannabis, or choose to infuse cannabis into any oil of your choice.