Indoor Cannabis Grows: What You Need to Know to Get Started
Table of Contents
If you're looking to start an indoor cannabis grow, there are several factors you need to consider before beginning.
Growing cannabis indoors is a delicate process that requires knowledge and experience. Knowing what equipment you need, how to set up the grow space, and how to care for your plants is essential for success.
In this article, we'll discuss everything you need to know to start an indoor cannabis grow so that you know exactly how to grow cannabis at home. You'll learn some tips and tricks for growing healthy plants with abundant yields.
So if you're ready to start your indoor cannabis grow, let's dive in!
What Is Cannabis?
Cannabis is a plant that contains several compounds called cannabinoids. Among the many compounds found in cannabis, the two most active cannabinoids are tetrahydrocannabinol (THC) and cannabidiol (CBD).
Cannabis has been used for centuries for medical and recreational purposes. Medical marijuana refers to the use of the plant or its derivatives to treat certain medical conditions, while recreational marijuana is used for enjoyment.
Cannabis can be dried and smoked, ingested in edibles, or taken as an oil or tincture. Its effects vary depending on the cannabis strain, dosage, and method of ingestion. The plant has been used to treat pain, inflammation, anxiety, depression, insomnia, nausea, seizures, and other medical conditions. Research into potential benefits continues to grow as more states legalize cannabis for medical and recreational use.
What Are the Benefits of Growing Cannabis Indoors?
Growing marijuana indoors is becoming increasingly popular among beginners because it allows them to have full control over the cannabis cultivation process.
The reason why growing indoors is the best choice for many marijuana users is that it gives growers the ability to customize their environment and plants to their specific needs. In addition to saving dollars down the road, there are other reasons you might consider growing your own cannabis at home.
Some advantages of indoor cultivation include faster growth cycles, longer harvest periods, and fewer pest problems. Indoor growing can be done virtually anywhere as long as access to electricity and a room with adequate space for plants to grow.
Growers can monitor and adjust the temperature, humidity, light intensity, and ventilation to ensure optimal plant health. 
Although more expensive than outdoor cultivation due to setup costs, indoor growing has many benefits that make it an ideal choice for beginners who want to take control of their cannabis production.
What Do You Need To Know To Start an Indoor Cannabis Grow?
If you're interested in cultivating cannabis indoors, there are a few key factors to know before starting. Firstly, it's critical to understand your local guidelines and regulations regarding growing marijuana indoors, as laws can differ significantly from state to state.
You must also understand the best lighting and ventilation options for an indoor grow space. Finally, you should familiarize yourself with the materials and equipment needed for cultivation, such as hydroponics systems and fertilizers. 
Choose the Right Environment When Starting an Indoor Cannabis Term
When starting an indoor cannabis term, choosing the right environment is vital. When selecting your space, it is crucial to consider factors such as ventilation, temperature, and humidity.
You'll also need to consider light sources — such as LED lights or high-intensity discharge lamps — and factor in the electricity and water usage cost when choosing an indoor environment.
Lastly, make sure to research different growing mediums and soil types that are best suited for your type of cannabis strain. 
Temperature and Humidity Levels
Temperature and humidity levels are essential factors in indoor cannabis growth.  Temperature affects the rate of metabolic processes, photosynthesis, and respiration.
The ideal temperature range for cannabis growth is between 64-77°F (18-25°C). Too high or too low temperatures can stress the plant and slow its growth. 
Humidity, on the other hand,  affects transpiration and the uptake of nutrients from the soil.  Humidity levels should be 40-60% during vegetative growth and around 50% during flowering.
Same with temperature, too high or too low humidity can harm your plant and cause nutrient deficiencies, fungal diseases, mold, mildew, pests, and other problems. 
It is essential to maintain proper temperature and humidity levels in an indoor cannabis grow room by using climate controllers such as dehumidifiers, humidifiers, and fans to regulate airflow.
Check a VDP chart to ensure you have the optimal environment throughout your plant's growth.
Lighting Requirements
Proper lighting systems are essential for plant growth, development, and yield. They also affect the nutrient uptake, photosynthesis, and overall health of cannabis plants.
Depending on your growth style and setup, you may need different types of lighting to maximize your yields and produce quality buds.
LED lights provide a wide spectrum range of light that can be used throughout the entire growth cycle. They are energy-efficient and create less heat than other lights, making them the preferred lighting choice for indoor cannabis growing.
High-intensity Discharge (HID) lamps require a combination of metal halide and high-pressure sodium lights to provide the optimal spectrum. Alternating between the two types of lights, from vegetative to bloom growth, can be cumbersome to new growers.
HID lamps are more powerful than LEDs but require more energy and produce more heat, which requires additional cooling options. This can be beneficial for unheated basement growing where the extra heat from these lights could save on heating costs. 
Compact Fluorescent (CFL) bulbs provide spikes in the RGB light frequencies rather than the wide-sloping range found in LEDs and the HID combination.
When used alone, this can cause some stretching and a lack of density in your plants. They are popular among indoor growers due to their affordability and availability.
CFLs also provide good coverage when combined with other lighting sources such as LEDs or HIDs.
Soil or Soilless Setup
Soil and soilless setups are both critical in indoor cannabis growth. Soil is an effective medium for growing cannabis, providing essential nutrients to the plant while regulating moisture levels.
It's an excellent option for beginning growers due to its lower maintenance and less frequent PH issues. When using this medium, it is good to maintain a PH between 6.3-6.8, with 6.5 being ideal. 
Coco Coir may seem similar to a soil-based medium. However, its treatment is very different and is considered a soilless medium. Coco provides excellent drainage and aeration, which allows more space for root growth and is almost impossible to overwater.
However, it can build up salts more easily and must be watered more frequently.
Coco also requires special nutrients formulated for Coco and fed more frequently than soil. With a PH of 5.8-6, Coco is ideal for cannabis growth.
However, since it cannot buffer the PH as effectively as soil, it's important to have nutrients with a PH between 5.5-6.5, with 5.8-5.9 being ideal, with minor fluctuations depending on the growth cycle.
If using a combination of Coco with organic material like worm castings or soil, you will want to maintain a PH between the two.  
Hydroponics offers a more controlled environment and greater efficiency in nutrient delivery; however, it requires a more hands-on approach with frequent maintenance to ensure proper nutrient levels.
Breakdown of system components such as seals, valves, and pumps, and clogging from root growth should be monitored closely when choosing this option. 
You will want to maintain a PH of 5.3-6.1, with 5.8 being ideal.
Both soil and soilless setups offer advantages for indoor cannabis growth, so choosing the right one depends on individual needs and preferences.
Regardless of the chosen setup, proper lighting, environmental conditions, and regular maintenance are all essential elements of successful indoor cannabis growth.
Choose the Right Strain for Your Space and Goals
Different strains have different characteristics, from size and shape to overall yield, which can significantly impact your space and goals.
Indicas tend to be shorter and bushier, with a generally smaller yield than sativas making them ideal for smaller spaces.
Sativas are typically taller and thinner, requiring more vertical space for optimal growth. Hybrids offer a combination of traits from both sativa and indica parents. 
If you are dealing with a smaller space, sativas and their leaning hybrids aren't entirely off-limits. You can use growing techniques like shortening the vegetative growth cycle and low-stress training to make the plant work for your space.
Remember – your yields will be smaller since the plant won't reach its optimal size.   
In addition to height and width considerations, it's also vital to research yield potential, flowering time, climate requirements, pest resistance, cannabinoid content, and terpene profiles before deciding what strain is best for you. A little research on where to find the best cannabis seeds goes a long way!
Use Fertilizers and Nutrients Effectively
Fertilizers and nutrients provide plants with essential elements not found naturally in the soil, such as nitrogen, phosphorus, potassium, calcium, and magnesium. These elements help increase plant production and quality.
When working with soil, these nutrients are typically average until around 4-6 weeks of growth.
Beneficial microbes can also be introduced to increase the bioavailability of organic substances in your soil and boost root health.
When working with a soilless medium, you will add specialized nutrients more frequently and closely monitor levels. 
With proper use of fertilizers and nutrients, indoor cannabis growers can maximize their crop yields and produce better quality buds.
These substances allow for more efficient water absorption from the soil, which further aids in improving the quantity of yield.
Try Pest Control Methods
Any indoor environment where cannabis is grown must be kept as clean and healthy as possible to maximize the plant's needs.
This means controlling pests that may try to eat away at the leaves, stems, and roots of a cannabis plant. 
Good pest control for your cannabis grow begins with the following:
Maintaining a clean growing space

Ensuring your starting soil is not contaminated from improper storage 

Removing dropped foliage

Making sure there isn't air intake from an outdoor space

Changing into clean attire to enter your growing space if you have been outdoors
After all this preparation, don't fret if your grow becomes contaminated with pests. There are a few standard methods for pest control that can be used in an indoor cannabis grow, including using:
Natural predators like ladybugs, spiders, and praying mantises feed on harmful insects

Beneficial bacteria that will feed on pests in the soil or on the plant

Sticky traps to trap insects, and using chemical pesticides when necessary as a last resort.
It is also vital to ensure that any insecticide used does not contain harsh chemicals which may affect the quality of the cannabis plant. A good starting point is the EPA-approved pesticide list for hemp.
Prune for Larger Yields
Pruning helps control the shape and size of your plant and removes any unhealthy parts. Larger yields are also necessary, as certain branches must be removed to encourage more growth and higher productivity.
It's important to remember that the larger fan leaves help feed the entire branch or node above them, so you don't want to remove all of those feeder leaves, as your flower production will suffer.
You can safely remove any lower leaves and branches that don't get adequate light penetration and any damaged leaves — take care not to remove the leaves that will provide nutrients to your desired bud sites.   
Pruning is essential because it removes excess foliage and allows the plant to focus its energy on producing buds. It also encourages air circulation, which is needed for healthy growth.
Pruning can be complicated, but it is essential if you want your marijuana plant to reach its full potential and produce higher yields.
Learn Harvesting and Curing Techniques
Proper harvesting and curing techniques will ensure that your plants produce the highest quality of buds possible. Depending on the strain, you should harvest your plants when they reach peak maturity, usually after 8-12 weeks of bloom growth.
After harvesting, it is essential to properly cure your buds so that they develop the desired flavor and potency.
Curing involves drying the flowers for several days before storing them in airtight containers.
Drying should be done in a space with adequate airflow, but not directly on your plants, in a dark space with a temperature around 60-68°F (15.5-20°C), and 50-55% humidity until your buds reach a moisture level between 10-15%.
Your stems should snap easily rather than bend, and buds should feel dry but not brittle.  
While you can use your harvest immediately, curing will provide optimal flavor. Once adequately dried, your harvest should be moved to curing bags or jars where humidity should be closely monitored for the next 4-8 weeks.
You will want to maintain humidity around 60% to prevent mold accumulation, which may require frequently airing the jar or adding humidity packs to help maintain proper levels.
This technique helps to preserve terpenes and cannabinoids, delivering an enhanced flavor profile and more potent effects from growing cannabis indoors.
Anyone interested in learning how to grow cannabis indoors must first understand the basics of creating a suitable environment.
This includes setting up appropriate grow lights, controlling the temperature and humidity, and providing the right nutrients for plants to flourish.
Once the growing environment is established, it's time to begin the flowering growth stage.
This is where you must monitor your plants closely and determine when they are ready for harvest. With the proper knowledge and experience, anyone can create an indoor cannabis grow space to produce healthy plants with high yields.
Need a Medical Card to Grow Cannabis? Get Certified Today!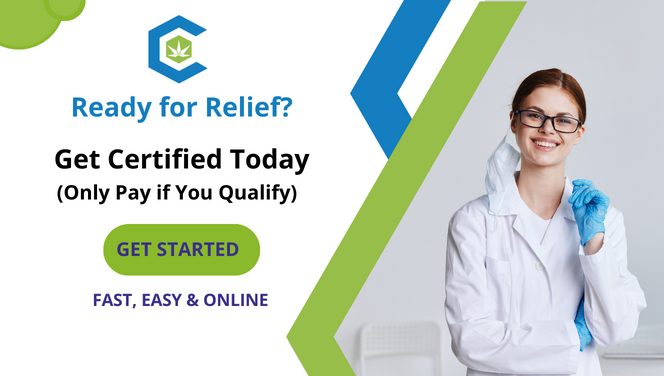 ---
Enjoyed This Content? Read More:
In this guide, you'll learn how to make cannabis-infused coconut oil or MCT oil, decarboxylate cannabis, or choose to infuse cannabis into any oil of your choice.