What to Know Before You Start Growing Cannabis at Home
Table of Contents
Cannabis is a plant that has been used for medicinal and recreational purposes for thousands of years. It's now making a resurgence as more and more people realize the benefits of cannabis.
If you're thinking of growing cannabis at home, this beginner's guide will help you get started.
Check State Regulations
You must first determine whether you are permitted to grow in your state. Some states allow for the use of home grow. Some may restrict you to a certain amount, while others may only allow you to grow at home if you have a medical card.
Also, some states may have specific rules for their home grow laws, so you must research your state's laws before you start. 
As of this article's publication, only 25 US states (including DC) and 2 territories have legalized people cultivating their own cannabis at home. Washington and Illinois, have recreational markets, but only allow homegrown cannabis if you have a medical card.
New Jersey has recreational cannabis, but doesn't allow anybody to produce their own, including medical patients.
Here is a list of states where cannabis can be grown at home.
State
Legal to Grow?
How many plants?
Alaska
Yes
up to 6 plants (up to 3 mature plants)
Arizona
Yes
up to 6 plants
California
Yes
up to 6 plants
Colorado
Yes
up to 6 plants (3 flowering plants at one time)
max. of 12 plants per household
Connecticut
Yes
up to 6 plants (3 mature and 3 immature plants)
max. of 12 plants per household
Hawaii
Yes
up to 10 plants (whether immature or mature, jointly possessed by the qualifying patient and the primary caregiver)
*the location of the grow site shall be stated on their valid 329 registration card
Illinois
Yes
up to 5 plants of more than 5 inches tall
Maine
Yes
up to 3 mature and 12 immature plants, and an unlimited number of seedlings per resident aged 21 yrs old and up
Massachusetts
Yes
up to 6 plants
max. of 12 plants per household
Missouri
Yes
up to 6 flowering plants per patient
*$100 fee required
Montana
Yes
up to 2 mature plants and 2 seedlings
up to 4 mature plants and 4 seedlings for medical marijuana card holders
New Mexico
Yes
up to 6 mature and 6 immature plants
max. of 12 plants per household
New York
Yes (still pending)
up to 6 plants (3 mature and 3 immature plants)
max. of 12 plants per household
Oklahoma
Yes
up to 6 mature plants and 6 seedling plants
Oregon
Yes
up to 6 mature plants per patient (up to 8 patients per caregiver)
*$200 grow site fee if growing more than 12 plants
Rhode Island
Yes
up to 6 plants, (not more than 3 mature plants)
South Dakota
Yes
up to 3 cannabis plants (or as prescrbied by physician)
*must have medical marijuana card
Vermont
Yes
up to 2 mature cannabis plants and 4 immature cannabis plants
Virginia
Yes
up to 4 plants per household
Washington
Yes
up to 4 plants per household
*requires a permit and tracking of plants throughout the state, with enforcement jurisdiction shared between the Washington State Liquor and Cannabis Board (WSLCB) and local authorities
Washington D.C.
Yes
up to 6 marijuana plants (not more than 3 mature plants)
Furthermore, compared to breaking cannabis possession or consumption regulations, breaking homegrow rules carries the highest punishments and fines. Many state legislatures appear to assume having a home grow implies distribution rather than personal use.
Consider the Season
For Outdoor Grows
While cannabis growing seasons vary by region, you should aim for optimum light during the summer and maximum growth before the fall season begins. Farmers and gardeners of cannabis, like other crops, typically plant as soon as the weather is warm enough and the days are long enough.
Cannabis is an annual plant that grows best in the warm season.
An annual plant is defined as germinating, blossoming, producing seeds, and dying in the same year. 
Cannabis grows in the spring or early summer as soil temperatures warm up. They blossom with flowers and produce seeds in fall, but are killed by frost during winter.
Many species of cannabis can germinate throughout the summer, if the conditions are right. 
Growing cannabis can begin as early as March or as late as May in the northern hemisphere, with the flower harvest beginning in September and lasting until November. Farmers and gardeners can start planting as early as April by starting seedlings indoors.
In the southern hemisphere, seed sowing occurs from September to November, while harvesting occurs from March to May. In the tropics, though, cannabis can be harvested outside all year.
Temperature, altitude, rainfall, and other climatic parameters, in addition to season and location, influence the optimal growing season.
For Indoor Grows
Indoor grows, however, are less dependent on the season and can be cultivated year-round, assuming the plant's environment is carefully controlled.
Space and Environment
Cannabis may be cultivated in tiny or huge spaces, but it's crucial to know how much space you have before you start planting. If growing indoors, consider planting indicas, which grow shorter and bushier and are more suited to tiny spaces.
Some strains thrive in open spaces and are simpler to grow outside, while others grow short and stout, making them ideal for indoor cultivation.
Furthermore, some strains require more maintenance and are more prone to pests, so a climate-controlled setting may be beneficial. It's a good idea to talk to other local producers to find out which strains thrive in your area.
Growth and Development
Cannabis grows and develops in phases, just like any other plant. Cannabis growers aim to time their plants' growth and development for optimal results.
When cultivating cannabis plants, you must be aware of the many growth phases and the requirements for each.
Germination Stage
If you're starting from seed, the first stage of your cannabis plant's life is germination. It takes 3-10 days to fully mature and requires 16 hours of daily light.
You'll notice two tiny, spherical leaves that will sprout when your seed pushes through the soil. 
Seedling Stage
The plant still requires 16 hours of light each day during this period, which lasts about 2-3 weeks. The plant will start to generate classic cannabis fan-shaped leaves at this point.
A healthy seedling should have a bright green tint to it.
Vegetative State
During the vegetative stage, your plant needs 16 hours of light daily, including 6 hours of direct sunlight outdoors, lasting 3-16 weeks. Growth accelerates at this point, with deeper roots and more leaves developing.
The leaf will spread outward into a large bush and upwards towards the ample sunlight for weeks.
Flowering State
The flowering period of cannabis plants lasts 8-11 weeks, and your plant will require 12 hours of light per day during this time.
The buds are where you can see the results of all your hard work.
Figure Out Your Source
You can start cultivating cannabis with either cannabis seeds or cannabis clones.
Planting and growing both seeds and clones into mature, flowering cannabis plants is possible.
Cannabis Seeds
Female cannabis plants, like other blooming plants, can generate seeds with genetic variations of their own. These peppercorn-sized ovular seeds can be planted and nurtured into full-fledged cannabis plants.
The most traditional method of cultivating cannabis plants is from cannabis seeds. It's also the most popular approach, particularly among home gardeners.
This is partly because cannabis seeds are more readily available than clones.
When you grow a seed, you receive the genetics of the seed and nothing else. That seed hasn't been exposed to mold, insecticides, or illnesses in its growing environment.
However, growing seeds also has its downside. Seeds take longer to develop into fully mature plants than clones because they must go through each phase of the development process.
Germination, seedling, vegetative, and blooming are the four stages of this process.
Cannabis Clones
Cannabis clones are cuttings from a live cannabis plant known as the mother plant. They have the same genetic makeup as their mother plant, hence the term "clones."
Clones have the great advantage of having an identical replica of their mother plant's DNA. So, if you like the genetics of the mother plant, you'll appreciate the genetics of the cloned plant.
But not everyone has access to high-quality cannabis clones, which are much more difficult to come by than high-quality cannabis seeds.
Another significant disadvantage of cannabis clones is that they may inherit undesirable characteristics from their mother plant. If the mother plant of a clone had pests, illnesses, or mildew, the clone will also have them.
And, because the clone is an identical genetic replica of the mother, if the mother had any genetic abnormalities, the clone will as well.
Decide Whether to Grow Indoors or Outdoors
One of the most important decisions you'll have to make is whether to grow your crops outdoors or indoors.
Outdoors
Because cannabis plants grow naturally in the wild, an outdoor setup will provide a more natural, organic product.
Cannabis grown outdoors provides a more natural taste and smell, and the plants will grow bigger and fuller since they have more room to flourish.
In reality, the majority of outdoor cannabis operations create higher yields.
The disadvantage of this more natural approach to cannabis farming is that you must rely on the cannabis plant's natural life cycle.
Outdoor crops take longer to mature, and most strains may only be cultivated once a year due to the growing season.
Indoors
Due to the high amount of control that indoor growth enables, it is the preferred method of cultivating cannabis. The possibility of theft, climate change, bugs, or natural disaster ruining the product is also eliminated with an indoor grow operation.
Growers have complete control over the climate thanks to the lighting and irrigation systems, which eliminates many risks of growing cannabis outside.
But, indoor cannabis plantations can be expensive.
Purchasing the necessary grow lights, watering systems, and ventilation systems can be costly, as can the associated electricity bills.
What Does a Cannabis Plant Need to Survive and Thrive?
Cannabis plants develop quickly and without much assistance. They do, however, benefit from well-balanced nutrition.
The right nutrients can help plants grow faster, strengthen them, and boost their resilience to illnesses. They also aid cannabis plants in producing high harvests of the high-potency buds that humans like.
Water
All living creatures rely on water for nutrition. This is especially true with cannabis plants, where water plays a variety of important roles in their long-term survival.
Water is what gives cannabis its vitality and adaptability. It also controls the internal temperature of the plant.
But be mindful that overwatering causes the roots to suffocate as they fight for oxygen. On the other hand, if not watered enough, plants can get thirsty and unable to control their temperature.
Source of Light
Cannabis plants require a lot of light to convert carbon dioxide into sugars. As a result, not enough light is harmful to growth.
When a cannabis plant doesn't get enough light, it may stretch to get closer to the source. If this happens, you'll end up with narrow plants with very few leaves. Too much light, on the other hand, can burn and weaken leaves. 
Simply change the distance of the plant to its light source to easily control the right amount of light it should absorb.
Air
If you want healthy plants with big buds, ensure enough fresh air. This also helps to reduce the unpleasant odor that the plants can create.
When you're cultivating cannabis plants outside, ventilation is probably the last thing on your mind. Indoors, however, a well-ventilated growth chamber is essential.
Carbon Dioxide
Carbon dioxide is required by cannabis plants to maintain their overall health.
As previously stated, this element is turned into sugar, which plants transform into energy.
Correct Humidity and Temperature
The appropriate temperature and humidity are critical for healthy cannabis plant growth. You want a mild, consistent heat during the germination phase.
The optimal temperature for the plant as it matures is between 68 and 78 degrees Fahrenheit (around 25 degrees Celsius).
Cannabis plants may lose substantial moisture in hot weather, putting them under stress. On the other hand, extremely low temperatures can cause the plant to stop absorbing and circulating essential nutrients.
The same may be said of humidity. That's why monitoring temperature and humidity levels are one of the greatest strategies for developing healthy cannabis plants.
Soil
Before you begin growing cannabis, you must first choose the best quality soil available. You can end up with weak and diseased plants if you start with subpar soil. Look for potting soil that has a balanced pH level and good drainage.
How to Pick a Cannabis Strain to Grow
Choosing your cannabis strain is an important decision since it will define the rest of your growing experience.
Deciding on a cannabis strain depends on what you're looking to get out of your cannabis plant. What kind of high are you looking for?
Do you want a strain that produces a head high, a body/head high, or a full-body high? What is your desired yield out of a single bud? 
After all, you want to grow a strain that you enjoy.  You don't want to spend a lot of time and effort producing a cannabis plant only to wind up with a strain you don't like.
Everyone has distinct tastes and preferences, and different strains have varied effects on different people.
Select a Cannabis Strain That Is Appropriate for the Size of Your Garden
For those who don't have access to large plots of land, the height of the garden and the available area should be considered.
Some cannabis strains grow vertically, which means they'll take up a lot of vertical area in your garden. Some of these plants can grow to be as tall as 8 feet, which could cause a 'ceiling height issue' or a 'neighbors can see it' issue.
If you have a small indoor garden, choose from strains that can thrive in a little space while still producing significant buds and harvestable leaves. In a greenhouse or tent, small strains can easily thrive.
Select Hardy Cannabis Strains That Will Flower at Any Time of the Year
Cannabis can be found in auto-flowering strains. These strains aren't susceptible to light intensity or duration variations. In the case of indoor cultivation, the intensity and duration of the lights that are left on all the time are fixed.
This is why auto-flowering cannabis strains are so beneficial, as they may bloom with or without regular light. 
Choose Cannabis Strains According to Your Desired Effects
It's only natural that you'd want to grow a cannabis strain that you enjoy. However, learning about the consequences of a particular strain on other people is equally critical.
Indica-dominant strains, for example, are typically grown for therapeutic purposes. They are known for their full-body effects, including deep relaxation and insomnia reduction.
Recreational users are more familiar with Sativa-dominant strains. Sativas are known for their "high" effect, which can help ease anxiety and stress while also enhancing creativity and concentration.
Experiment With Different Strains
Different strains should be tried. This can be a great way to learn about the many effects of cannabis while also finding the ideal strain for you.
Because not every dispensary carries every variety of cannabis, you should do your homework before going.
Ask for recommendations on strains people have tried and liked, or read internet reviews. Once you've chosen a few promising strains, give them a shot.
Basic cannabis production is relatively straightforward. It doesn't take long to grasp the fundamentals, but it takes years of research and practice to master the subject properly.
With each successful growth, you'll learn from your failures and continue to improve. Maintain your efforts, and you'll be an expert in no time!
---
You can show your love for the plant and support The Cannabis Community by purchasing cannabis-themed merch in our shop! We not only love the plant, but we also love providing you with free educational content.
---
Need a Medical Cannabis Card to Grow Your Own?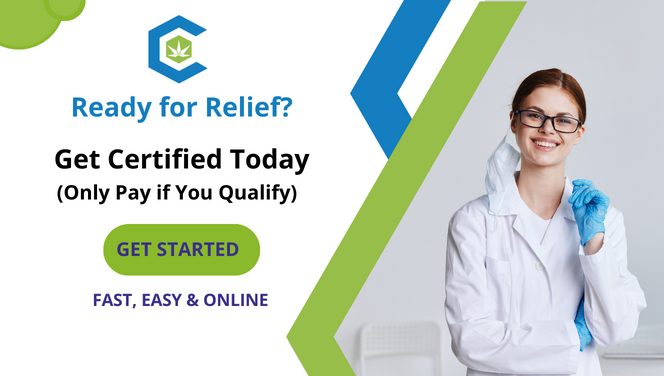 ---
Enjoyed This Content? Read More:
In this guide, you'll learn how to make cannabis-infused coconut oil or MCT oil, decarboxylate cannabis, or choose to infuse cannabis into any oil of your choice.