Vermont Cannabis and Gun Laws: A Quick and Essential Guide
Table of Contents
On May 19, 2004, Governor James Douglas said he would let Senate Bill 76 pass without his signature, which made Vermont cannabis legal in the state.
The law established a patient registry and legal safeguards for qualified patients and their primary caregivers who possess or cultivate limited amounts of medicinal cannabis. In June 2007, Senate Bill 7 was also passed without Governor Douglas's signature.
This bill made the state medical cannabis laws even stronger and permitted patients to grow up to two mature plants and seven immature plants.
Qualified doctors in nearby states were allowed to prescribe cannabis to Vermont residents. 7 also added to the list of qualified illnesses any chronic, debilitating condition or its treatment that causes serious pain, severe nausea, seizures, or wasting syndrome.
The adult-use and medicinal cannabis programs in the State of Vermont are overseen by the State of Vermont Cannabis Control Board (CCB).
The board controls the production of hemp and CBD products.
The State's Medical Cannabis Program is devoted to assuring quality and affordability for individuals enrolled in the program and works to ensure that registered patients and their caregivers can quickly obtain cannabis for the treatment of their health conditions.
Staff members examine and process applications, provide Vermont residents who have proven debilitating medical conditions with registration identity cards, and assess the compliance of licensed dispensaries.
To be eligible for the program, a patient must live in Vermont and have a debilitating physical disease.
For Vermonters, the following health conditions are considered to be debilitating:
Cancer
Multiple sclerosis
HIV or AIDS
Glaucoma
Crohn's disease
Parkinson's disease
Post-traumatic stress disorder (PTSD)

PTSD requires attestation that the patient is an active therapy client. This can be provided through the Mental Health Care Provider form, or by simply providing the contact information for your therapist.


Medical conditions that produce one or more of the following symptoms also may qualify:


Wasting syndrome
Chronic pain
Severe nausea
Seizures
Does Having a Medical Cannabis Card Mean Not Being Eligible for a Gun License in Vermont?
Vermont is one of the states where both medical marijuana and gun ownership are allowed.
But it's important to think about how state and federal rules about marijuana and guns affect each other.
Under federal law, it is still illegal to have or use cannabis, even for medical reasons. The Bureau of Alcohol, Tobacco, Firearms, and Explosives (ATF) has made it clear that under federal law, using or having marijuana can make it illegal to own a gun.
People who want to buy a gun have to fill out Form 4473, which is a government background check form that asks about drug use.
As far as marijuana laws go, the federal government lets legal states make their own laws and put them into effect.
Even though Vermont has approved medical marijuana, federal limits on marijuana can make it hard to own a gun.
To learn about the exact rules and laws about medical marijuana and gun Vermont gun rights, it's best to talk to lawyers or local officials who specialize in gun laws.
They will be able to give you advice based on the latest laws and how they are being applied in your area.
Can You Take Your Gun to a Dispensary in Vermont?
Vermont is a constitutional carry, does-not-issue state.
Unless the transfer is to a family member, every sale of a firearm must be handled by a registered firearms dealer.
Buyers under the age of 21 must have passed a Vermont hunters course (or an equivalent), be active-duty or retired members of the National Guard, or be in police enforcement. Both licenses and registration for weapons are not required in Vermont.
In Vermont, it is acceptable to carry openly and concealed without a permit. Anyone who is lawfully entitled to own a firearm and is at least 16 years old (federal legislation stipulates that this age must be 18) is allowed to carry either openly or covertly.
The carrying of firearms is forbidden in certain areas in Vermont, including:
Any elementary, middle, or high school, including buildings and grounds and on a school bus

Mud Creek Controlled Hunting Area in Alburg

Residential Treatment Program Properties

Any private preserve without written consent of the owner or person having the exclusive right to take fish or wild animals on such lands

The Bomoseen State Game Refuge

Courthouses

Any state institution

Any state building

Any place where the carrying of firearms is prohibited by federal law or state law or regulation.
On March 25, 2022, Gov. Phil Scott signed S. 4 into law, which restricts the possession of firearms in hospital buildings.
This bill took effect on July 1, 2022.
Can You Consume CBD and Own a Gun in Vermont?
Both hemp and marijuana are permitted under state law.
Despite the fact that both plants are allowed in Vermont, various rules for CBD oil apply depending on where it is derived from.
Under the amended 2018 Farm Bill, the US federal government legalized hemp. This law reclassified hemp as an agricultural product and removed it from the list of prohibited drugs.
This means that Vermont's dispensaries, pharmacies, vape shops, and organic food stores all have hemp-derived CBD oil available for purchase over the counter.
A prescription is not required to purchase supplements made from hemp.
Also in 2018, Vermont legalized marijuana possession for people over 21. The penalty for having up to an ounce of marijuana was eliminated under the new law.
In Vermont, it is legal for adults to purchase marijuana and anything derived from it, such as CBD oil.
You are permitted to keep up to two mature plants in your home if you live in Vermont.
There won't be any issues if you own a firearm and consume CBD oil produced from hemp.
Consuming CBD oil derived from marijuana is also OK as long as you don't go over the allowed limits for possession.
Can I Own a Gun if My Spouse Has A Vermont Cannabis Card?
Vermont has made both medical cannabis and gun ownership legal, but it's important to think about how state and federal rules about marijuana and guns affect each other.
Under federal law, it is still illegal to have or use cannabis, even if it is for medical reasons. The ATF has said that under federal law, using or having marijuana can make it illegal to own a gun.
The ATF may consider that living with someone who uses marijuana — even for medical purposes —, violates federal law, which might have an impact on your right to bear arms.
To get correct and up-to-date insights, it's important to talk to lawyers who specialize in Vermont's gun rules and regulations.
Laws and how they are applied might vary, and your situation can have specific characteristics or exclusions.
A local attorney will be able to advise you based on the most recent laws and regulations in your area.
Can I Own a Gun if I Have an Expired Medical Card in Vermont?
Since marijuana is classified as a Schedule I controlled substance at the federal level, individuals who use marijuana — including for medical purposes — may be considered unlawful users under federal law.
However, state laws regarding medical marijuana and firearm ownership can vary.
In Vermont, state law allows for the medical use of marijuana, and there is no specific provision in the state statutes that explicitly prohibits individuals with expired medical marijuana cards from owning firearms.
It's important to note that state laws can change, so it's advisable to consult with legal professionals or relevant authorities in Vermont for the most up-to-date and accurate information regarding firearm ownership and medical marijuana cards.
If state law allows firearm ownership with an expired medical marijuana card, it's still essential to consider the potential implications of federal law and the intersection between state and federal regulations.
Federal authorities may still enforce federal laws regarding firearms and marijuana, which could result in legal consequences. It's important to understand and adhere to both state and federal laws to ensure compliance and avoid any legal issues.
Vermont Gun Rights: Can You Own a Gun if You Work at a Dispensary?
Federal law prohibits individuals who are engaged in the business of selling or distributing controlled substances, including marijuana, from possessing firearms.
Since marijuana is classified as a Schedule I controlled substance at the federal level, individuals who work at a cannabis dispensary may be considered to be engaged in the business of selling or distributing controlled substances.
Vermont passed a law in 2015 that says people who have been convicted of a serious crime can't own a gun.
In 2018, Vermont also passed a law that lets prosecutors use an Extreme Risk Protection Order to briefly take firearms away from people who pose a risk to themselves or others.
Respondents who are subject to these orders are not allowed to buy, own, receive, or have a firearm in their possession or control for up to six months while the order is in effect.
Vermont has no laws that make it illegal to buy or own guns by:
People who have had mental problems in the past

People with protection orders against them for domestic abuse

People who have problems with drugs or alcohol

Juveniles who have broken the law
There are no explicit laws in Vermont that forbid employees of dispensaries from possessing firearms.
Even if they work in a dispensary, employees can still own guns.
Get Your Vermont Medical Cannabis Card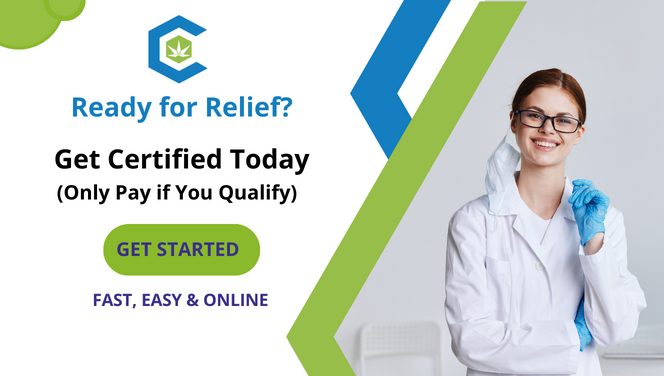 ---
Enjoyed This Content? Read More:
In this guide, you'll learn how to make cannabis-infused coconut oil or MCT oil, decarboxylate cannabis, or choose to infuse cannabis into any oil of your choice.