Discover the Top 5 Amazing Benefits of Camphene: The Uplifting Cannabis Terpene
Table of Contents
Camphene is a terpene found in various cannabis strains. It possesses distinct properties contributing to the rich tapestry of aromas and flavors in cannabis.
It has also shown promise in offering potential therapeutic benefits, making it an intriguing compound worthy of exploration.
This article'll delve into the fascinating world of an uplifting cannabis terpene, exploring its characteristics, potential benefits, and how it contributes to the overall cannabis experience.
What Are Terpenes?
Terpenes are organic compounds found in various plants, including cannabis, that contribute to their distinct aromas and flavors.
These compounds are synthesized in the same glandular trichomes as cannabinoids, highlighting their close relationship within the cannabis plant.
Terpenes are responsible for producing a wide range of scents and tastes, ranging from citrusy and floral to earthy and piney.
Terpenes play a significant role in the cannabis industry, as they help differentiate between various strains and can contribute to the overall experience of using cannabis.
There are over 100 different terpenes found in cannabis, and each one has a unique scent and potential therapeutic benefit.
Terpenes are not just about sensory pleasure. When combined with cannabinoids in what is known as the entourage effect, terpenes can enhance the potential health benefits of cannabis.
Beyond cannabis, terpenes can be found in fruits, herbs, and spices, and are even used in aromatherapy and natural remedies.
Understanding terpenes is crucial for cannabis enthusiasts and medical users alike, as this understanding allows for a more personalized and informed cannabis experience.
What Is The Entourage Effect?
The entourage effect refers to the synergistic interaction between different compounds, such as cannabinoids, terpenes, and other plant components found in cannabis.
When these compounds work together in their natural ratios, they enhance and amplify each other's therapeutic effects. The combined effect of multiple compounds is believed to be more potent and effective than the isolated effects of individual components. 
The entourage effect suggests that the overall therapeutic benefits of cannabis are influenced by the intricate interplay and harmony among its various components.
This concept underscores the importance of utilizing whole-plant extracts or consuming cannabis products that retain the full spectrum of compounds to maximize the potential health benefits and achieve a more comprehensive therapeutic experience.
What Is Camphene?
Camphene is a terpene that is commonly found in cannabis plants. It is a colorless liquid organic compound that has a woody, earthy aroma with a hint of citrus, similar to fir needles.
Its flavor profile is quite complex, with sharp, woody notes reminiscent of pine needles, balanced by a refreshing sweetness similar to that of lemon or lime. 
It is used in a variety of ways due to its unique properties. It is sometimes used as a coloring agent in food and drinks or as a part of a recipe for cooking or baking.
Its pleasant smell is often used in the fragrance and taste business to give cosmetics, perfumes, soaps, air fresheners, and cleaning products a fresh and energizing scent.
Some people also use this terpene in aromatherapy to promote relaxation and reduce stress and anxiety.
Camphene has a long history of traditional medicinal use and has been used to treat a variety of health conditions.
One of its distinctive characteristics is its ability to act as a bronchodilator, which may make it a valuable compound for individuals with respiratory conditions such as asthma.
It is believed that camphene can potentially be used as a natural insect repellent, which is why it is commonly found in cleaning and household products.
Chemical Structure of Camphene
Camphene is a bicyclic monoterpene with a molecular formula of C10H16 which means It contains a total of 26 atoms – 10 carbon atoms and 16 hydrogen atoms.
Its molecular weight is 136.24g/mol. The molecule has two double bonds, which are located in different positions relative to each other, leading to the existence of two isomers, alpha-camphene, and beta-camphene.
This structure results in its physical properties, which include a sweet, pungent odor and a clear, colorless appearance.

One of the unique features of this terpene is its ability to react with other compounds to form new molecules.
When it is exposed to oxygen in the presence of light, it can undergo oxidation to form camphor, a white, crystalline solid with a strong aroma commonly used in medicinal and industrial applications.
Camphene is soluble in alcohol and is used in the perfume industry and in the production of synthetic fragrances and flavors.
The simple structure of it makes it an interesting target for synthetic chemistry research, and its unique properties hold great promise for a wide range of applications in medicine, industry, and agriculture. 
What Are the Effects of Camphene?
Camphene is a versatile terpene that plays an important role in the sensory experience of many cannabis strains.
Its potential therapeutic benefits include:
Anti-inflammatory properties that may help to reduce inflammation and swelling, making it a valuable therapeutic option for those with conditions such as arthritis or other types of pain

Improving cardiovascular health

Helping to lower cholesterol levels

Positive effects on mood and perception

A sense of relaxation

Ability to reduce anxiety

Enhancing mental clarity and focus

Potential antimicrobial effects against pathogenic bacteria, including E. coli and Staphylococcus aureus

A neuroprotective effect that reduces oxidative damage in the brain, which highlights its potential use in conditions such as Alzheimer's and Parkinson's diseases

A positive impact on the respiratory system, helping to alleviate symptoms of asthma and other respiratory conditions
Even with these findings, further research is needed to fully understand the therapeutic potential of camphene and its potential side effects.
These preliminary studies on it provide a promising opportunity for future research into alternative natural therapies.
What Cannabis Strains Are High In Camphene?
Camphene is a terpene that is found in many different cannabis strains.
While it is present in smaller amounts compared to other terpenes, it still plays a significant role in the overall sensory experience of cannabis strains. 
Some of the strains that contain camphene are:
ACDC
Banana Kush
Ghost OG
Hazmat OG
Jack Herer strain
Lemon Skunk
Mendocino Purps
OG Kush
Sour Diesel
Strawberry Banana
White Russian
White Strawberry
The above strains have high camphene content, making them great choices for medical and recreational cannabis users.
Where Can You Find it Besides Cannabis?
While cannabis is certainly a popular source of camphene, there are many other plants and foods that contain high levels of this terpene.
Some of the most common sources of this terpene outside of cannabis include:
Camphor trees
Citronella
Conifer trees
Cypress trees
Ginger
Holy basil
Neroli
Nutmeg
Rosemary
Turpentine
Valerian
Camphene is an incredibly versatile compound with various applications in medicine, food, and everyday life.
Its unique properties make it an exciting terpene to study and explore, and there is still much research to be done on its potential uses and benefits.
Experience the Benefits of Cannabis – Get Your Card Today!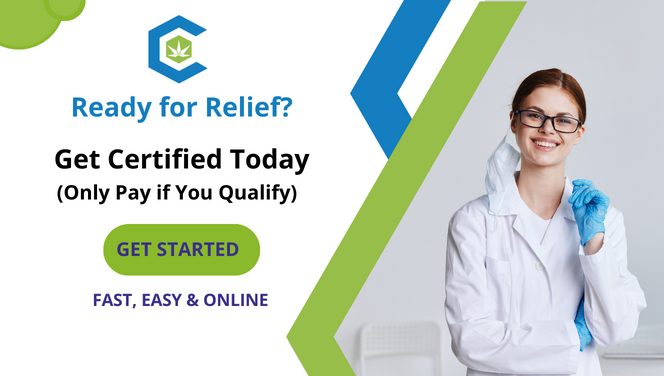 ---
Enjoyed This Content? Read More:
In this guide, you'll learn how to make cannabis-infused coconut oil or MCT oil, decarboxylate cannabis, or choose to infuse cannabis into any oil of your choice.