Unlocking the Potential of Cannabis for Crohn's Disease Management
Table of Contents
Crohn's disease is a chronic inflammatory bowel disease affecting millions worldwide. The condition causes digestive tract inflammation, leading to various symptoms, such as diarrhea, abdominal pain, and fatigue. While there is no known cure for Crohn's disease, various treatments can help manage its symptoms and prevent complications.
One potential treatment that has gained significant attention in recent years is cannabis. Cannabis is a plant that contains many active compounds, including cannabinoids, which have been found to have therapeutic benefits. In this article, we will explore how cannabis can help alleviate the symptoms of Crohn's and what steps individuals can take to obtain a medical cannabis card for its use.
Definition of Crohn's disease
Crohn's disease is a chronic inflammatory bowel disease affecting any part of the digestive tract. The condition causes inflammation, leading to various symptoms, such as abdominal pain, diarrhea, fatigue, weight loss, and malnutrition.
In severe cases, Crohn's can lead to complications such as bowel obstruction, abscesses, and fistulas.
Prevalence of Crohn's
Crohn's disease affects approximately 1.6 million people in the United States alone, with an estimated 70,000 new cases diagnosed yearly.
The condition is most commonly diagnosed in individuals between 15 and 35, although it can occur at any age. Crohn's can affect men and women equally and is more prevalent in developed countries.
Symptoms of Crohn's disease
The symptoms of Crohn's disease can vary from person to person and depend on the location and severity of inflammation in the digestive tract.
Some common symptoms of Crohn's include abdominal pain, diarrhea, rectal bleeding, weight loss, and fatigue. Individuals may experience severe fever, nausea, vomiting, and bowel obstruction.
Standard treatments for Crohn's
The standard treatments for Crohn's include anti-inflammatory drugs, immune system suppressors, antibiotics, and surgery.
These treatments can help reduce inflammation and manage symptoms but are not always practical for all individuals with the condition. Additionally, some treatments can cause side effects and carry risks, such as infection or developing other autoimmune diseases.
Overview of cannabis as a potential treatment for Crohn's
In recent years, cannabis has gained attention as a potential treatment option for Crohn's. Cannabis contains compounds known as cannabinoids, which have been shown to have anti-inflammatory and pain-relieving properties.
Many people with Crohn's have reported using cannabis to alleviate their symptoms, and some clinical studies have supported its use as a treatment option.
Cannabinoids in Cannabis
Cannabis contains over 100 cannabinoids, including tetrahydrocannabinol (THC) and cannabidiol (CBD). These compounds are thought to be responsible for many of the medicinal properties of cannabis.
How Cannabinoids Interact with the Body
Cannabinoids interact with the body's endocannabinoid system (ECS), a complex network of receptors and molecules that help regulate various physiological processes, including inflammation and pain.
When cannabinoids are consumed, they bind to ECS receptors, triggering a range of effects throughout the body.
The Endocannabinoid System and Crohn's Disease
Research has suggested that dysfunction of the Endocannabinoid System may play a role in the development and progression of Crohn's.
Specifically, studies have shown that endocannabinoids (cannabinoids produced naturally by the body) are reduced in patients with Crohn's disease, which may contribute to inflammation and other symptoms.
By using cannabis to boost endocannabinoid levels and activate ECS receptors, it may be possible to reduce inflammation and alleviate symptoms of Crohn's disease.
The Evidence Supporting Cannabis for Crohn's
Preclinical Studies
Preclinical studies have provided evidence supporting the use of cannabis for Crohn's disease. Animal studies have shown that cannabinoids can reduce inflammation in the gut and alleviate symptoms associated with inflammatory bowel disease.
Clinical Studies
Several clinical studies have been conducted to investigate the use of cannabis for Crohn's disease. While results have been mixed, some studies have shown that cannabis can improve symptoms such as abdominal pain and diarrhea and reduce the need for standard medications.
Patient Anecdotes and Case Studies
Many people with Crohn's disease have reported using cannabis to manage their symptoms, often with positive results. Case studies have also documented cases where cannabis has effectively treated severe symptoms of Crohn's disease, such as fistulas.
Comparison to Standard Treatments
While cannabis may not work for everyone with Crohn's, some patients have found it more effective than standard treatments.
Additionally, cannabis may offer certain benefits over standard medications, such as fewer side effects and a lower risk of addiction or dependency.
Overall, while more research is needed to fully understand the potential benefits and risks of cannabis for Crohn's, the available evidence suggests that it may be a viable treatment option for some patients.
How to Use Cannabis for Crohn's Disease
Forms of Cannabis
Cannabis can be consumed in various forms, including smoking or vaporizing dried cannabis flower, cannabis-infused edibles, or using tinctures or oils containing cannabinoids.
Dosage Recommendations
Dosage recommendations for cannabis use in Crohn's can vary depending on a patient's age, weight, and overall health. It is recommended that patients start with a low dose and gradually increase it until they achieve the desired effect.
Delivery Methods
Different delivery methods can also impact the onset and duration of the effects of cannabis. For example, smoking or vaporizing cannabis may produce more immediate effects, while consuming edibles may result in longer-lasting effects.
Potential Side Effects and Risks
While cannabis may offer certain benefits for Crohn's, it is crucial to be aware of potential side effects and risks. These can include dizziness, nausea, paranoia, and impaired cognitive function. Additionally, cannabis can interact with other medications, so it is critical to consult a healthcare provider before using cannabis as a treatment for Crohn's disease.
While cannabis may offer potential benefits for managing Crohn's symptoms, it is vital to approach its use with caution and under the guidance of a healthcare professional.
By understanding the various forms, dosages, and potential risks associated with cannabis use, patients can make informed decisions about whether it is a viable treatment option for them.
Get a Medical Cannabis Card for Crohn's Disease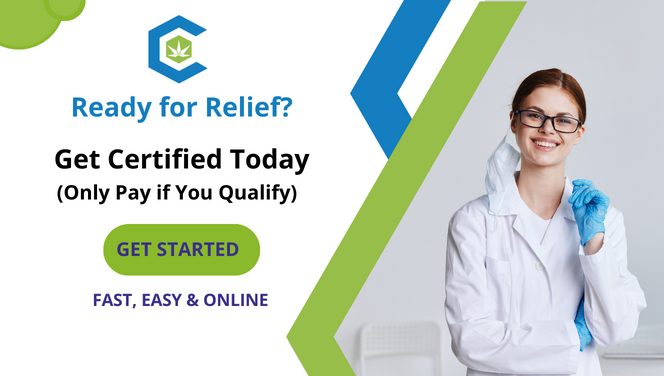 ---
Enjoyed This Content? Read More:
In this guide, you'll learn how to make cannabis-infused coconut oil or MCT oil, decarboxylate cannabis, or choose to infuse cannabis into any oil of your choice.
Related Reads:
What is Cannabis Hyperemesis Syndrome?
How Can Cannabis Help With Epilepsy?
Cannabis Basics Textbook: A Fun Evidence-Based Journey Into Cannabinoid Science Fundamentals