New York Medical Cannabis Home-Grow Finally Begins
Table of Contents
Beginning October 5, 2022, all registered New York medical cannabis (medical marijuana) patients and patient caregivers may legally begin to home-grow (cultivate) their medical cannabis in their private residences.
The official announcement came on September 20, 2022, during the Cannabis Control Board's (CCB) public board meeting that the amended regulations of home-grow had been resolved and adopted.
The original proposed rules received public comment and revisions over the past year, which was expected and welcomed by patients and advocates alike across the state.
But, unfortunately, the final version is less than we all had fought and hoped for.
If you'd like to watch or listen to past and future public meetings, read transcripts and files and follow along with updates, visit the Office of Cannabis Management's website.
What You Need to Know About New York Medical Cannabis Home-Grow
Although it's easy to only look at the negatives, we need to be reminded of the many historical wins with legalization here in New York State.
I'll attempt to break down exactly what you need to know and give you the resources to follow along with the ever-changing regulations.
The Following infographics were furnished by the: New York State Office of Cannabis Management
The regulations for home-grow are available to read and download by the New York State OCM.
Who Can Home-Grow Cannabis in New York?
When the MRTA (Marijuana Regulation and Taxation Act) was signed into law on March 31, 2021, it created a path for the legalization, regulation, and taxation of the adult use of cannabis.
The new law also stated that all New York residents 21 years old and older would eventually be allowed to home-grow ( home cultivate) cannabis in their private residences.
Unfortunately, the original language used in the MRTA gave residents and patients a false sense of when home-grow would begin.
It did clearly state, however, that certified patients and registered caregivers will grow first. All other adult residents will have to wait on future CCB regulations and retail sales to begin first.
All registered medical cannabis patients and registered caregivers that are 21 years old or older may begin to home-grow their medical cannabis on October 5, 2022.
Where Can You Cultivate or Home-Grow Your Cannabis?
As a patient or caregiver, you may only home-grow cannabis at your private residence. At this time, there is no opportunity or path for community gardens to be created.
(c) The personal home cultivation of medical cannabis may only occur in, or on the grounds of, a person's private residence.
(i) Immature cannabis plants and mature cannabis plants must be stored in a secure location within a private residence or on the grounds of such certified patient or designated caregiver's private residence; and reasonable measures must be taken to ensure that such plants, and any cannabis cultivated from such plants, is not readily accessible to anyone under the age of 21.
Such reasonable measures may include but are not limited to: (1) conducting cannabis cultivation in an enclosed area, which may not be plainly visible from public view, including from the street of the private residence or on the grounds of the certified patient or designated caregiver's private residence; and (2) locking and storing cannabis in a manner that prevents theft, loss, or access, which may include, but are not limited to locks, gates, doors, fences, and other barriers by an unauthorized person, including a person under the age of 21.
If you live in any federally subsidized housing, you can not home-grow cannabis. This would be a very good reason to find a caregiver to grow for you. We must push for federal legalization or at least rescheduling of cannabis.
(Read up on the candidates here: Federally Legal Cannabis After 2024's Presidential Election? )
(m) No landlord may refuse to lease, or otherwise penalize a certified patient or designated caregiver solely for engaging in medical cannabis activity as authorized by this Part and in accordance with Cannabis Law, except: (1) if failing to do so would cause the landlord to lose a monetary or licensing related benefit under federal law or regulations; or (2) if a property has in place a smoke free policy, it is not required to permit the smoking of cannabis products on its premises, provided no restriction may be construed to limit the certified medical use of cannabis.
How Many Plants are New York Medical Patients Allowed to Home-Grow?
(d) No certified patient shall plant, cultivate, harvest, dry, process or possess more than three mature cannabis plants and three immature cannabis plants at any one time.
(e) No more than six mature and six immature cannabis plants may be cultivated, harvested, dried, or possessed within any private residence, or on the grounds of any private residence at any one time.
(g) A certified patient or designated caregiver may lawfully possess up to five pounds of personal home cultivated cannabis in their private residence or on the grounds of such person's private residence per section five of penal law section 222.15.
What do the Regulations Say About Caregivers?
The Caregiver details are one area you will need to take your time and thoroughly read over. Advocates across the state worked very hard to get better plant counts and ease up on caregiver restrictions, to no avail.
I hope we can continue to work on these regs to better the medical cannabis program in the future!
(k) Designated caregivers growing on behalf of a certified patient may grow up to three mature cannabis plants and three immature cannabis plants for one certified patient. A designated caregiver that is also a certified patient shall not grow more than three mature cannabis plants and three immature cannabis plants for their own use, nor any one of their individual certified patient's use.
Provided however, if a designated caregiver grows for two or more certified patients, which may or may not include themselves, they shall not grow more than six mature cannabis plants and six immature cannabis plants on their own private residence at any one time.
A designated caregiver may grow on behalf of, but no more than, four certified patients at a time, which shall not include themselves if they are certified.
Where Do Medical Cannabis Patients Buy Cannabis Seeds and Plants?
This is another area of the regulations that the state OCM received a lot of comments on. Many of us commented that the state-registered organizations (ROs), otherwise known as Medical Dispensaries, should not be the only outlet for seeds and clones for patients to buy from.
I'm sorry to report, that there was no change made to the regs.
Cannabis isn't new to New York State, or the nation, by any means. Cannabis consumers have been growing, cloning, breeding, and swapping genetics for decades, and we all know you'll carry on those great genetics. Thank you for your dedication!
This isn't uncommon to see as a regulation in state medical programs. Illinois "requires" this as well. This won't stop our "growth" or our advocacy.
§ 115.3 Sale of Medical Cannabis for Home Cultivation. (a) No person or entity shall sell medical cannabis plants or seeds for home cultivation unless it has complied with the Cannabis Law, this Part, any other applicable federal and state rules, regulations and laws as amended for medical cannabis, and is a registered organization registered in accordance with Article 3 of the Cannabis Law or a licensee authorized by the Office of Cannabis Management.
Applicable federal law or rules and regulation shall not be construed as to include any such federal law, rules or regulation that is contrary to, or otherwise conflicts with this Part or the Cannabis Law.
Who Can Qualify to become a Medical Cannabis Patient in New York?
Did you know that New York made one of the most incredible improvements this year in its medical cannabis program in the entire United States?
You no longer have to identify with one specific illness or condition from a list of requirements. The list acts as the basis for approval into the program, but registered providers can now choose that medical cannabis will be a benefit for you based on their professional opinion. Honestly, that's pretty incredible!
Visit The Medical Cannabis Section of www.Cannabis.NY.gov to find all of the links and resources for patients and caregivers.
Please leave us your comments!
What do you think of the home-grow regs?
Was this guide helpful as a starting point?
Are there other questions you'd like an answer to?
Happy Home-Grow, New York!
Get a New York Medical Marijuana Certification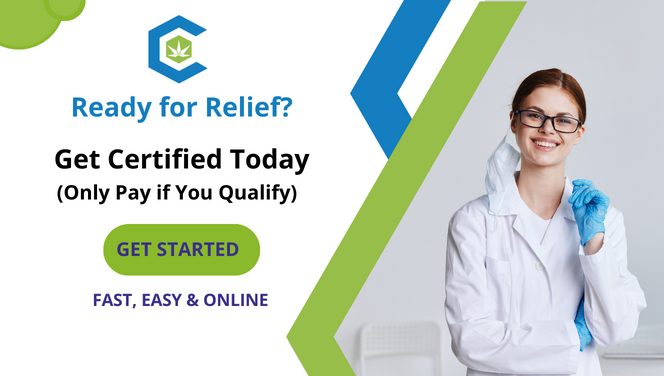 ---
Enjoyed This Content? Read More:
In this guide, you'll learn how to make cannabis-infused coconut oil or MCT oil, decarboxylate cannabis, or choose to infuse cannabis into any oil of your choice.