Legalizing Marijuana in Illinois: The Advantages and Disadvantages
Table of Contents
On May 31st, the Illinois House approved a bill that will be legalizing marijuana in Illinois, allowing it to become the 11th state to make the recreational use of marijuana legal.
The law, initially introduced as a bill by incumbent Governor J.B. Pritzker, will have a significant impact for the state.
According to the governor, it will create several opportunities many for communities in need.
The legalization of recreational marijuana isn't the only milestone achieved.
In passing the bill, Illinois has become the first state to create an industry around recreational use through legislation. In the other ten states, the law was passed by voter initiative.
The new law, which will come into effect January 1st, will grant Illinois residents over 21 years of age the legal right to possess:
500 milligrams of a THC infused product
5 grams of concentrated cannabis or
30 grams of cannabis
Those who aren't residents of the state are legally able to possess an amount of cannabis not to exceed 15 grams.
Though many people have celebrated the passing of bills to legalize marijuana, there are others who feel the new law will do more harm than good.
Both sides of the argument have their merit.
Advantages of Legalizing Marijuana in Illinois
The primary motivation for states legalizing the use of recreational marijuana is financial.
That is no secret to Governor Pritzker or anyone else.
Revenue from adult-use recreational and medicinal marijuana is expected to exceed $23 billion dollars by the year 2025. Several industries will benefit from the new influx of cash such as banking, retail, construction, transportation, and real estate to name a few.
But one of the most passionate arguments about the laws governing cannabis involves racial inequity when it comes to prosecuting the offenses.
Long-time advocates of legalization have consistently argued that the federal government's efforts to wage a war on drugs unfairly targeted minorities.
Many felt the penalties were unjust and prohibition destroyed communities instead of building them due to the highly disproportionate number of minorities arrested for low-level marijuana offenses.
Officials in states that were early to legalize marijuana (i.e. Colorado, Nevada, and Washington) declined to veto measures or take up bills that would have expunged the criminal records of those convicted of minor marijuana crimes before its legalization.
Fortunately, Illinois has chosen to do the opposite.
A portion of the revenue generated by the new taxes will be devoted to expunging the records of more than 750,000 individuals who were arrested for minor marijuana charges.
Other states have expungement provisions that have been added post-legalization, but Illinois is the first to have such comprehensive stipulations from the start.
Also, a percentage of residual revenue will be utilized to fund drug treatment initiatives and enhance current mental health counseling programs.
It's worth mentioning there are still those who could make a case against the legalization of cannabis.
Though the new laws have several perks, there are a few drawbacks as well.
Potential Disadvantages of Legalizing Marijuana
Tax revenue from marijuana sales is not the only way states will generate capital.
It doesn't take much imagination to create a scenario where the legalization of marijuana can increase the number of tickets being issued for driving under the influence.
In all 50 states, it's illegal to operate a vehicle while your faculties are impaired by prescription medications, alcohol or any other substance.
Not only will offenders incur the costs of tickets and fines, but depending on the number of infractions, they will also face jail time.
It's a fact that fatal traffic accidents in Colorado increased by 62% following the legalization of marijuana.
After conducting field sobriety tests, police officers around the country are seeing very high THC levels and an unprecedented number of impaired drivers behind the wheel.
Also, there is a statistic that isn't often shared.
Compared to the national average, the percentage of young people between the ages of 12 and 17 who use marijuana is higher in states that have legalized it.
Since the data was compiled, many states in the comparison have made adult-use marijuana legal, but that doesn't mean the information should be discounted.
The graphic below displays the current state of legalizing marijuana in the U.S. as of May 2019.
The Future of the Cannabis Industry
Whether a person is for or against the use of cannabis or its legalization, marijuana remains the world's most frequently cultivated and trafficked substance. Legalization in Canada and other countries has already started.
Despite being illegal on the federal level as a Schedule 1 drug (substances with a high potential for abuse), the cannabis industry topped $10 billion in 2018.
Polls continue to show an increase in the number of people in favor of the legalization of marijuana and the number of adults using it as well.
Numerous case studies share how medicinal marijuana, edibles, and CBD have helped people with chronic conditions. The term "CBD gummies" was one of the most searched terms in Google last year.
Those who use CBD share how it provides relief from anxiety, depression, and pain.
Forecasters for the CBD market have stated this isn't a fad in the health and wellness space.
Data and analytics company New Frontier Data has projected that the CBD product industry will surpass $1 billion by 2022.
The potential revenue and the decrease in societal stigma combine to ensure that marijuana is on a fast pace to become even more mainstream.
So, who has access to the most current information about the cannabis industry and its related trends?
Members of The Medical Cannabis Community of course!
Get a Medical Cannabis Card in Minutes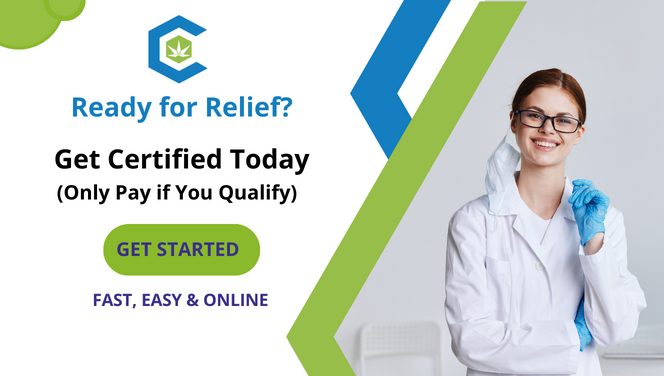 ---
Enjoyed This Content? Read More:
In this guide, you'll learn how to make cannabis-infused coconut oil or MCT oil, decarboxylate cannabis, or choose to infuse cannabis into any oil of your choice.