What Are Adaptogens? A Natural way to Increase Your Energy Levels
Adaptogens are natural substances used in traditional medicine for thousands of years to help the body cope with stress and improve overall health.
This article will explain what adaptogens are, how they work, and some benefits they provide. We'll also look at some simple ways to incorporate adaptogens into your daily routine so you can start feeling the positive effects right away. 
Whether you're looking for a way to reduce stress, boost your energy levels, or improve your overall well-being, this adaptogenic guide will help you get started.
Table of Contents
What Are Adaptogens?
Adaptogens are plants or herbs used for centuries to improve health and wellness. They are believed to help the body adapt to stress and restore balance, making them an excellent ally in promoting wellness.
Adaptogenic herbs are known for their ability to help the body cope with both physical and emotional stressors. 
The term adaptogen was coined in 1947 by Russian scientist Nicolai Lazarev who studied the effects of these herbs on the human body.
Since then, numerous studies have been conducted on different adaptogenic plants and their potential benefits, including improved immunity, decreased fatigue, improved mental clarity, and enhanced overall well-being.
Adaptogens have become increasingly popular as people look for natural ways to promote exceptional health.
Adaptogens are known to be natural supplement that helps the body to reduce stress and boost the immune system.
They help the body cope better with physical, mental, and emotional stressors while protecting against fatigue and illness. Adaptogenic herbs influence the glandular system to reduce the body's stress response. 
They also influence the adrenal glands, which control our stress responses. 
Adaptogens can be taken in supplement form or added to food and drinks as powders or tinctures to help reduce stress levels naturally without harsh side effects.
Are Adaptogens Legal in the U.S.A.?
While there is much research on the different positive effects of adaptogens, dietary supplements are not directly controlled by the U.S. Food and Drug Administration (FDA), and FDA clearance does not guarantee safety.
While the FDA oversees both completed dietary supplement products and their ingredients — such as adaptogen compounds — they can only do so much to control the quality of supplements before they go on sale.
As a result, it is up to the supplement manufacturers to ensure that their products include only safe and effective components, and the FDA cannot issue a recall of a potentially dangerous product unless it is brought to their attention.
Common Types of Adaptogens used in Traditional Medicine
Adaptogens exist in many different forms, including:
Herbs
Mushrooms
Roots
Berries
Each of these adaptogens has its own unique properties and benefits that can help you cope with physical or mental stress.
In addition to fighting fatigue and improving cognitive function, some adaptogens may even help protect against certain diseases or improve overall immunity.
With so many varieties of adaptogens available today, it is easy to find one that works for you. 
Here are some of the most popular adaptogens available today:
Ginseng
Ginseng is an herbal supplement used for centuries to improve physical and mental health. It is believed to have many positive effects on the body, including increased energy levels, improved cognitive function, enhanced immunity, and reduced stress.
Studies have suggested that ginseng can help protect against certain diseases, including cancer and heart disease. 
Ginseng is generally considered safe for most people, although those with certain medical conditions or taking certain medications should talk to their doctor before using it.
Ginseng can take many forms, including capsules, powder, tea, and tinctures. Its primary active ingredient is ginsenosides, compounds found in the plant's root that is believed to be responsible for its beneficial properties.
Ashwagandha
Ashwagandha is an herb that has been used in Ayurvedic medicine for centuries. It is known to help the body cope with stress, fatigue, and anxiety.
It can also aid in boosting energy levels, improving mood, and enhancing cognitive performance.
Ashwagandha is rich in antioxidants, which help protect the body from free radical damage. It also contains compounds like withanolides and alkaloids that have anti-inflammatory properties and can help reduce inflammation. 
Research has shown that ashwagandha may provide diverse health benefits, such as reducing blood pressure, improving heart health, aiding digestion, and supporting weight loss.
As a result, this powerful herb has become increasingly popular among those looking to improve their overall well-being.
Rhodiola
Rhodiola is an herb used for centuries to increase energy levels, reduce stress, and boost mental performance. It grows in cold climates like Siberia and Scandinavia and has been used medicinally by various cultures worldwide.
This herb increases the body's resistance to stress and helps it adapt to difficult situations. It does this by increasing the production of several hormones, including cortisol, serotonin, and dopamine.
Rhodiola can help improve focus and alertness while reducing fatigue associated with a lack of sleep or stressful events. 
Research has shown that Rhodiola can help reduce anxiety symptoms and improve mood.
Other potential benefits include improved athletic performance, enhanced immunity, improved cognitive function, reduced inflammation, increased stamina and endurance, better memory retention, and increased libido.
Rhodiola can be taken as a supplement or brewed as a tea.
Siberian Ginseng
Siberian Ginseng is a powerful adaptogenic herb used for centuries to help the body cope with physical, mental, and emotional stress.
This herb is native to Siberia and is known for its ability to strengthen the immune system, improve stamina, increase focus and concentration, reduce fatigue, and even protect against some diseases.
It contains different compounds that support the body's natural defenses. 
Siberian Ginseng is one of the most potent adaptogenic herbs available due to its combination of compounds.
It has been used in traditional Chinese medicine for centuries to treat various conditions, from viral infections to chronic fatigue syndrome.
As an adaptogen, it helps the body better regulate its response to stress to maintain balance and optimal health.
What Are the Benefits of Adaptogens?
Adaptogens are natural substances that can help the body adapt to any stressor. They work by reducing the production of cortisol, a stress hormone produced by the adrenal glands.
Adaptogens also help optimize the function of the central nervous system, which can help the brain focus better.
Adaptogens are excellent tools for helping people stay healthy and balanced during emotional or physical strain. 
Other benefits of adaptogens include:
Increases cognitive capacity
Helps to maintain high levels of activity
Better quality of sleep
Boosts immunity
Helps in hormone regulation
Decreases both mental and physical strain
Maintains adrenal function
Improves mood
Enhances concentration
What Are Adaptogenic Herbs Used For?
While most adaptogens have multiple benefits, people often use them for a single purpose. Some of the most popular reasons include the following:
Adaptogens For Endurance and Weight Loss
Recent studies suggest that adaptogens may be beneficial for exercise and weight loss. They may help improve endurance, reduce fatigue, boost energy levels, and improve mental clarity during physical activity.
They may also support healthy metabolism and weight loss by helping the body better regulate hormones associated with hunger and satiety.
Adaptogens For Stress and Depression and Coping with Stress
Adaptogens help the body cope with physical, mental, and emotional stress. These herbs help regulate hormones and balance the body's systems. They can be taken as a pill or powder supplement or added to teas and smoothies.
Adaptogens also work by normalizing physiological processes in the body, such as cortisol levels. This can be beneficial for people dealing with depression, as cortisol helps to regulate mood and reduce anxiety levels.
Research has shown that adaptogenic herbs can be helpful for people suffering from depression, especially when combined with other treatments, such as therapy or medication.
Adaptogens for Oral Health
Adaptogens work as a great way to boost your overall dental health. Adaptogens are natural substances that help the body adapt to stress and other environmental factors.
They can help improve the health of your teeth, gums, and mouth by reducing inflammation, fighting bacteria, and promoting healing. 
Adaptogens, such as turmeric, can be taken orally in supplement form or applied topically as an oil or ointment. They can also be incorporated into your daily diet as teas, smoothies, or juices.
Adaptogenic herbs have been used for centuries to improve oral health and promote well-being.
What Are the Side Effects of Adaptogens?
Adaptogens are herbal supplements that can be added to your diet to help reduce the effects of chronic stress on the body. While some research suggests that adaptogens may have beneficial effects, it is vital to remember that they are not without potential side effects.
Some potential side effects include:
Headaches
Dizziness
Nausea in certain individuals
Diarrhea
Constipation
Abdominal pain
Allergic reactions
If you plan to take adaptogens, starting with a low dose and gradually increasing your dosage over time is best. It is also important to talk with your doctor before adding any new herb or supplement into your diet, as some adaptogens may interact with other medications or supplements you are taking.
Overall, adaptogens may help relieve some chronic stress symptoms, but it is best practice to proceed with caution when adding them to your diet.
What Dosage Strengths and Forms Do Adaptogens Come In?
Adaptogens come in a variety of dosage strengths and forms. For example, adaptogenic herbs can be taken as tinctures, extracts, teas, capsules, and tablets. Some herbs are also available in powder form, which can be added to smoothies or other recipes. 
Adaptogens can also be found in topical creams and lotions that can be applied directly to the skin for localized relief. 
Depending on the type of adaptogen used, the recommended dosage will vary from person to person and is usually based on body weight.
Generally speaking, most adaptogens should be taken between 500mg and 2 grams daily, although some may require higher dosages for maximum effectiveness.
Most adaptogens are taken at low doses, typically 100-500mg daily. Some adaptogens can be taken in higher doses for more immediate effects, usually up to 1,000mg per day or even higher in some cases. 
It is important to start with a small dose and increase it gradually to assess the body's response and tolerance level before increasing it.
Adaptogens should also be taken under the guidance of a doctor or health care practitioner as they can interact with certain medications and have certain side effects that need to be monitored closely.
What Should You Do and Not Do With Adaptogens?
When it comes to using adaptogens, there are some things you should and should not do:
DO: Consult With Your Doctor Before Taking Any Supplement
Before using any new supplement — especially if you have a pre-existing health issue — it is recommended that you discuss your options with your doctor.
Your doctor will inform you if it harms your health or interferes with your medications. 
Once they give you their go-ahead, research factors such as the kind, brand, and dosage you should take. Your doctor may be able to advise on this but be prepared to do your own research if they can't.
DO: Read the Label Carefully and Follow the Dosage Instructions
Be sure to read and follow the instructions on the packaging of any adaptogen supplement you decide to use. It's possible they may cause unwanted side effects if you don't take them exactly as prescribed —for example, if you take them for too long or at the wrong dosage.
Like everything you put into your body, the most effective course of action is picking adaptogens tailored to your needs.
DO NOT: Replace Your Medication With Adaptogens
Adaptogens are intended to be taken in a supplementary capacity. They should not be used in place of routine medical care, particularly if you experience symptoms that persist over time.
It's possible that adaptogens and supplements are only a band-aid solution at times.
The purpose of adaptogens is to assist our bodies in developing resistance to the damaging effects of stress and to lessen the severity of those effects.
They are not a cure, and in severe or acute instances of anxiety or depression, it is possible that they will not be effective. Adaptogens are most effective when used with a well-balanced diet and sufficient hydration.
Time to Get a Medical Cannabis Card? Get Certified in Minutes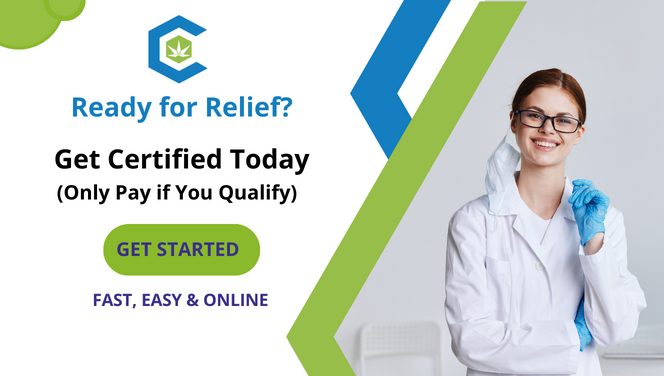 ---
Enjoyed This Content? Read More:
In this guide, you'll learn how to make cannabis-infused coconut oil or MCT oil, decarboxylate cannabis, or choose to infuse cannabis into any oil of your choice.